"Football clubs across the globe are realizing that the use of social media
is the future in terms of improving and expanding their business,
whether this be for marketing purposes or as a medium for directly
communicating with their fans."  (Kuzma et al., 2014)
I thought it would be interesting to look at the UEFA rankings in terms of how the UEFA club coefficients translate into or may be connected with the social media power of top football clubs? Digital market-orientation is vital for the future commercial direction of sports entities. In my research regarding 'hybrid sports branding' (see here or contact me for more information), it is obvious to emphasize that the development of football clubs' commercial and digital presence is interrelated with elements like current player roster, transfer market opportunities and thus club and individual player performances on and off the pitch[1]. So, there is a brand transfer process, which takes place between the club and its players. In this calculation, it is evident that players can see huge branding benefits from being associated with or transferred to a top club and clubs can see significant branding benefits and thus economic impact from being associated with or from buying top players that perform at a high level game after game or season after season. Players and clubs will see increases in the amount of Google searches or presence in the social media landscape in times of new signings or important sporting performances. These digital touch points involve tons of people and hold a monetary value and combining a club's existing CRM network with the potential of generating new revenues via digital touch points is vital for future commercialization efforts.
Infographic: Facebook power of top football clubs in Europe. Photo: UEFA club coefficients ranking (source: UEFA).
One of the interesting hybrid elements in answering the above-mentioned questions is to be found in the sense that good sporting performances definitely lead to competitive advantages concerning social media power and there is 'some' cohesion between the UEFA club coefficients and the social media power of Europe's top clubs. This is highlighted when looking at clubs like Real Madrid, FC Barcelona, FC Bayern Munich, Chelsea FC, Arsenal FC, Manchester United, Club Atlético de Madrid as top 10 clubs when measuring the club's current position in the UEFA club coefficients and holding that against a position in top 10 in terms of the club's official amount of Facebook likes (see infographic above). Juventus and Liverpool FC are not part of the UEFA club coefficients top 20 but appear relatively high on the Facebook power index but that is partly explained by the clubs' proud and successful sporting legacies and thus positions in people's domestic and international football mindsets. In recent years, Juventus has done extremely well in the Italian Serie A but has seen difficulties moving domestic success to UEFA Champions League success. SL Benfica is positioned as no. 5 on the UEFA club coefficients list but has just between 2.6 and 2.7 mio. Facebook likes whereas no. 5 in the Facebook power index Arsenal has more than 31 mio. Facebook likes while only taking a position as no. 8 on the UEFA club coefficients list.
Moreover, it is a significant hybrid element to acknowledge the commercial potential to be found in social media presence and power, which links with the integration of and interaction with key constituents from football's ecosystem, i.e. the interrelated behaviors and actions associated with sponsors, media, fans etc. One key argument is that these stakeholder groups from football's ecosystem hold a present capitalization value. However, it is more important to display that the present capitalization value will increase in value when tying optimal leadership and management of these stakeholder groups with future revenue generation strategies that include professional and well-segmented and well-targeted digital engagement and content production. The above-mentioned clubs are actors in a global race for potential on and off the pitch. Hence, they are capturing fans across national and market-borders and that shows the interconnection between ROEs, ROOs and ROIs.
Despite the relative minimum level of research conducted around Facebook, Twitter and other social media platforms and their abilities to assist in football clubs' income generation, there are patterns that show that social media platforms is an effective way to involve more fans in the life span of a football club and its players as well as acting as a platform to facilitate the general objective of maximizing fan numbers and good fan relationships given its direct and fast path to the wallets of fans and other stakeholders. The globalization of football and professional sports have brought along a paradigm shift in underlining that there is need for more commercial fan focus on top of the dialogue with fans in the stadium. I do not wish to neglect 'true fans' in the stadium because they add a charming authentic aspect to professional sports. However, it serves a purpose to acknowledge social media's power to assist in revenue generation and to build a proper long-term commercial strategy that must integrate ways to engage with fans that are in alignment with the most up-to-the-minute methods. A funny video from an off-the-pitch club event may be what generates identification from postmodern football fans as a supplement to attending games at the stadium. Some clubs, e.g. Manchester United, showed to be very slow in adopting specific platforms. This is exemplified when noting that Manchester United's official Twitter account was opened as late as in 2013 but the club has come to see the value in being present on Twitter with just below 4 mio. followers on its official account (see infographic below).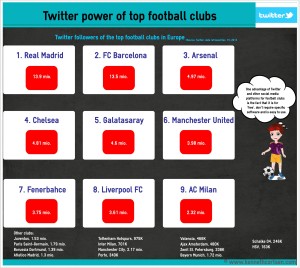 Infographic: Twitter power of top football clubs in Europe.
Engaging with a large population in a comparative inexpensive way is a modernized tactic to communicate with stakeholders in rather uncensored ways while leading these stakeholders to purchase tickets and merchandise or to be exposed for sponsorship messages. This communication with the current and future generations of football fans is only 'expensive' when you miss to take it on. Spanish clubs FC Barcelona and Real Madrid are also in top 2 when looking at revenue generation among the world's football clubs and this pattern may explain why these clubs are also leaders in social media power, which also includes newer platforms like Instagram and YouTube as well as Facebook and Twitter. The YouTube presence is a great way for fans in faraway regions to engage with their favorite football club.
To exemplify on all this, Manchester City's 'CityMatchdayApp' is an interesting and innovative fan-generated solution that highlights the importance of 'second screen' in football. Postmodern fan behavior is focused on the needs to be able to watch complementary live coverage from the matches, including in-venue replays and behind-the-curtains incidents while integrating key information and statistics from matches, which are also linked to individual players. The 'CityMatchdayApp' encompasses all that but also integrates the opportunity to compete with your social network and to win prizes, which are natural elements born to accomplish good fan engagement. This is a super effective method to tap into a very lucrative global market helped by the sporting and media appeal of the English Premier League. Thus, social media platforms also cater to the fan groupings far away from Manchester.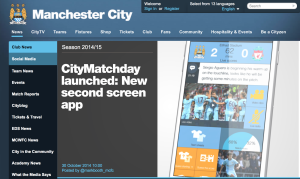 Photo: An explanation of Manchester City's 'CityMatchdayApp' (source: Manchester City). Please see video below for additional insight into this app.
Take a look at where some of these clubs were some years ago to understand the future potential:
Is social media always the perfect strategy? See video below:
---
[1] These elements are time-related given the fact that a club's legacy is derived from how the club and its players have performed in the past but also from how the performance levels are today.
Sources:  
Kuzma, J., Bell, V., & Logue, C. (2014). A Study of the Use of Social Media Marketing in the Football Industry. Journal of Emerging Trends in Computing and Information Sciences, 5(10), 728-738.