The evolution of professional sports demonstrates a growing tendency of stakeholder demands dominating the application of sound governance principles, enhanced transparency, and good corporate citizenship.
From corporate to activist athletes and branding in sports
At the individual athlete level, this development has sparked a paradigm shift for athlete branding in which some athletes have made a successful transition from corporate to activist athletes. Michael Jordan exemplifies the corporate athlete with a high level of strategic and commercial consciousness. In contrast, Colin Kaepernick is a recent example of an activist athlete, who sacrificed his playing career in the NFL for a bigger cause by taking an important stance for social justice.
Video: Nike featuring Colin Kaepernick and other sport stars and highlighting positive societal change.
The Peng Shuai case
With this change in mind, it is no surprise that The Women's Tennis Association (WTA) cancelled its tournaments on Chinese soil as a result of the disappearance of the Chinese player Peng Shuai. Her public invisibility and numerous questions about her safety occurred after alleged questions about her safety after she had accused a government official of sexual assault through her SOME-platform (now deleted).
Video: What is the current status for the Beijing Olympics following the Peng Shuai case (Source: Washington Post).
Navigating in difficult landscape
Earlier, in 2019,  the -then- general manager of the NBA team Houston Rockets Daryl Morey tweeted in support of protesters in Hong Kong. The global face of the league, LeBron James, was in China to promote the game of basketball and the NBA via exhibition games. He stunned many contemporary basketball fans and people in western democratic societies by saying that it wouldn't help much to articulate his opinion about the matter compared to the NBA's opinion. According to ESPN, James said that it was not the players' responsibility to debate a complex situation with racial, socioeconomic and geopolitical layers while visiting China and playing exhibition games. So just like Michael Jordan in the 1990s, James stands out as a corporate athlete, who is perceptive about the importance of the Chinese marketplace power while perhaps holding a different opinion regarding human rights and democracy.
Professor Stephen A. Greyser from Harvard Business School, who is a renowned expert on the intersection between the business of sports and stakeholder management, notes that:
Kudos to the WTA and its leadership for standing up for its own organizational values, and for "calling out" the Chinese government on its human rights transgressions — even at considerable financial cost. The recent Peng Shuai episode is only one of a number of internationally visible negative human rights actions taken by China. Back in 2001, when Beijing was awarded the 2008 Summer Games, the impression was that the IOC had received assurances that government behavior would not be embarrassing to broader international values.  Despite putting on substantively well-managed Games and [as I commented for Chinese TV] aesthetically excellent Opening Ceremonies, China did not live up to its promises in media accessibility and in human rights for parts of its populace.
Sacrificing the big check is a powerful narrative
WTA's decision to be politically aware is "the right thing to do" from an ethical/moral perspective, despite jeopardizing hundreds of millions of dollars in revenue. Commercialization is vital in a professionalized sports landscape but in my view not at any price. WTA recently engaged in a long-term host city agreement with Shenzhen (running until 2030), which symbolizes an infrequently long and financially fruitful agreement with a host city. The Shenzhen deal alone accounts for $140 mio. in prize money over a period of ten years. Along with it come Chinese commitments to other tournaments and investments in venues. These create media deals in the huge Chinese market for sports fans and represent a lucrative opportunity for WTA to link up with corporate brands from China or the US and elsewhere striving to build market relevance in China. Therefore, it is a strong message that WTA sends to China and the rest of the world.
Stephen Greyser adds:
Again, it is the WTA whose behavior deserves praise. It did take a stand,  it did declare it would withdraw its competitions from China, and its actions did carry financial risk.
The considerable economic expense to WTA is a new and welcoming signal in the hyper-commercialized sports world in which other major sports governing bodies have missed the target to navigate with a moral compass and express good corporate citizenship. Instead, they have gone for the big cheque without thinking about what comes with it.
Porsche's influence and market relevance
The season-end finals in Shenzhen is a strong revenue driver for WTA. One of the tournament's main sponsors, Porsche, invests similarly in the game of tennis. It is making a strong association between the affluent consumer profile in global tennis and China as the number one market worldwide for the German manufacturer of luxury cars. In 2020, Porsche delivered 88,968 vehicles to China.
WTA breaks through the clutter
Looking at the history of the WTA, its value proposition is to support women's sports, and the founder Billie Jean King's attempt to secure a level playing court of equal opportunity. Thus, the WTA has no choice than to stand tall in this matter and show a no-tolerance policy. WTA definitely pushes the boundaries in a totalitarian country context while emphasizing the importance of giving women in sports a stronger voice. Being silent in a case of accusations of sexual assault is morally wrong, but would also clash with the premises of WTA's foundation and its prominent role as a powerhouse for women's sports worldwide and a platform for empowering women.
The timing of the incident is interesting given the fact that China is soon to become the first nation to have a city (Beijing) which has hosted both the Summer and Winter Olympics. It happens while other prominent tennis names such as Serena Williams, Naomi Osaka and Martina Navratilova have expressed their support for Peng Shuai and hence put extra weight behind the words given their international super star status and the status of women's tennis being the no. 1 sport when measuring top female athletes on the ability to monetize on their sporting career.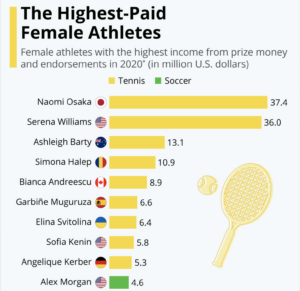 Infographic: Highest paid female athletes from June 2019 – June 2020 (Source: Statista).
Stephen Greyser emphasizes the importance
So why should 2021/2022 be any different, since the IOC awarded the 2022 Games to China and Beijing?  The IOC was willing to risk a repeat performance of infelicitous (by western standards) government behavior.  Criticism from advocates and observers make news — but carry little if any financial risk for the protagonists. Nonetheless there has been one very visible promised consequence of the concern and criticism, namely a "diplomatic boycott" of the Opening Ceremonies and the Games by some western governments. But their nations' athletes will compete. And Olympic sponsors headquartered in their countries will not withdraw their payments from the IOC.
WTA has entered a new era of being a frontrunner in this situation so I think it will be interesting to follow the responses and actions of other sports governing bodies and entities in relation to the 2022 Winter Olympics and to doing business with China. In an analogous situation, in Denmark, there has been much public criticism towards the FIFA World Cup in Qatar due to human rights challenges. However, China is a super power in international politics and business, so this case may evolve differently.