On May 2nd, I wrote about the involvement of Barclays in sports sponsorship. In that regard, I commented on Barclays' football sponsorship of the English Premier League. Football and especially the English Premier League is an entity, which is attractive for sponsors. According to Brandwatch, the Premier League offers sponsors the following benefits:
4.7 billion viewers (cumulative TV audience).
212 territories of coverage worldwide.
In-stadium, TV, online, and print visibility.
Brandwatch also analysed social media activity in relation to the Premier League and Barclays' title sponsorship to be able to conclude how the results from such an analysis may be beneficial for property owners and sponsors. From Barclays' point of view, it was significant to know that ¼ of all online conversations about the league contained 'the Barclays brand'. Though, this number decreased in comparison with the same period the previous year. Therefore, Barclays need to reconsider its strategies in terms of generating increased brand visibility. The decrease definitely reveals a need for additional brand input and intensive work to integrate Barclays' name in relations to the title sponsorship and conversations about the Premier League. The majority of all Premier League mentions were on news sites as reflected in one of the photo below. These news sites were also most likely to mention Barclays compared to other media types such as Twitter, forums, or blogs. This shows that although 'the Barclays name' was part of the official league title, a huge share of consumers did not adopt it. The study also found that the Premier League received valuable international recognition and so did Barclays and that is aligned with the company's future growth plans, e.g. Kuwait had the highest proportion of people most likely to mention Barclays within the framework of the Premier League.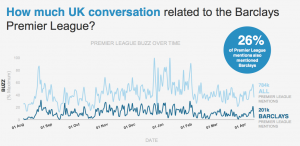 Photo: Brandwatch, 2013B.
The development displayed in the photo above shows that the buzz peaked at the start of the season (August 2012) and in January 2013 and the beginning of February 2013. This is linked to the transfer windows.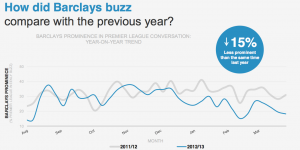 Photo: Brandwatch, 2013B.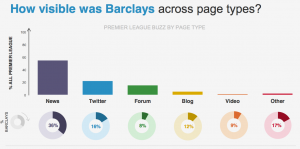 Photo: Brandwatch, 2013B.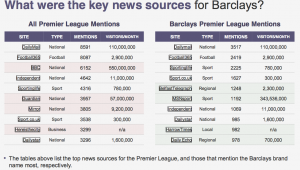 Photo: Brandwatch, 2013B.
Sources:
Brandwatch. (2013)A. "How Sports Sponsorship Benefits Brands: The Barclays Premier League".
Brandwatch. (2013)B. "Sponsorship and Social Media: A Brandwatch Analysis of Barclays Premier League Sponsorship".