Guest blog written by Malene Hejlskov Mortensen, BA in Sport Management, University College of Northern Denmark & MA in Sport Management, London Metropolitan University, passionate about sports and the business of sports – (Kenneth Cortsen, ed.).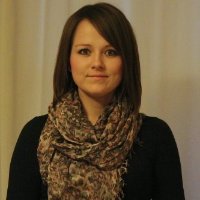 Photo: Malene Hejlskov Mortensen.
 "Sport is under threat but I urge all of you, don't let them win! We can beat them, we should, we must" – Declan Hill (2013)
Global sports corruption is an increasing issue, and is a huge risk to sport. Corruption in sport is not a new phenomenon; it has always been there but has never been seen to the extent of today. Global sports corruption has ruined many sports in Asia and Europe is now waking up to the threat as seen with the many investigations around Europe. Declan Hill's recent study indicates that the Asian match-fixers have reached Europe and countries like the Czech republic, Finland, Italy, Slovakia, Greece, Germany, Belgium and Switzerland to mention a few. Is Germany worse than Russia? No! You see many investigations in Germany but this picture is built on who reports it (Declan, 2013; Starnes, 2013; Wilson, 2009).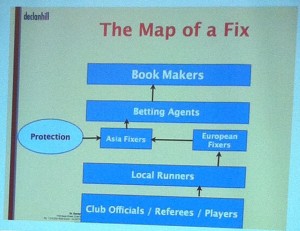 Photo: Lecture about match-fixing in football at University of London, Birkbeck School of Business.
Declan Hill calls the Italian Serie A 'a dead man walking'; more than 20 teams out of the top 40 are under investigation for match-fixing. In the Italian Serie C 40, teams are being investigated for 'money laundry'. Equally, he calls the Turkish league 'a dead man walking' except the top four teams. It's also a problem in Spain! The president of the Spanish football association said in October 2013 that at least 10 matches of a season are fixed. We know it's here and if nothing is done to stop match-fixing the sport will begin to die as experienced in Asia where fans have boycotted the national sports. No one is interested in watching football if the matches are fixed. Corruption and match-fixing is seen to ruin sports in the way that sponsors are dropping off, fans are staying away and the whole brand loses value. UEFA president Michel Platini says:
            "European football is afraid … European sport is afraid because of a match-fixing
phenomenon that is developing in connection with large-scale online betting activities
… If tomorrow we'll see a game and we already know the result, football is dead" (Starnes, 2013)
Declan Hill has studied football corruption and match-fixing for many years and has collected a wide range of statistical evidence to help prove the problem. As football fans many of us don't want to hear about it, and will not believe it's happening in Western Europe but it is and Declan Hill wants people to start talking about it. FIFPro is running an education and prevention programme 'Don't Fix It' to fight match-fixing, and chairman Tony Higgins also talk about the importance of raising awareness by stating that "one of the main objectives of the Don't Fix It project is to raise the awareness of match-fixing for people inside football and the general public" (FIFPro, 2013). To spread the word and in hope of winning this 'war', as Declan Hill refers it to, Declan recently launched his second book called 'The Insider's Guide to Match-Fixing in Football'. Declan Hill is hoping that the statistics will be ground breaking to the process of combating corruption. To fight the problem, we need to understand what the match fixers are doing and at this point many people don't. He believes, that by spreading the word more people will become aware of this increasing global problem and the easier it would be to win the battle.
"Match-fixing is difficult to control, 99% of people don't know what match-fixing is about, they don't have an idea, there's much more in it", says Franz Tabone from the Maltese FA. Franz Tabone continues and points out that match-fixing is not football, it's a criminal activity. (Declan, 2013)
The market
To give a picture of how big the Asian market is, starting at 0% of the size of the world's sports gambling market you find gambling institutions and Las Vegas, and moving up to 30-40% you find the various betting companies like Bet 365 and William Hill, the rest is the Asian market and is estimated to be 60-70% of the total world's sports gambling market. Declan Hill gives an example that IBC Bet, which not many people are aware of, has 4-5 times the gross revenue of adidas', which is a brand that most people know. Looking at the profit, IBC Bet only gains 1-2% profit margin of 40-50 billion dollars whereas adidas' profit margin is 10% of 10 billion dollars, in which case it doesn't make it a fair estimate. However, it helps to image the size of the gambling market (Declan, 2013). It's hard to estimate the full size of the market; the president of World Lottery Association estimates it to be 90-94 billion dollars while Remote Gambling Association, a private gambling company in Brussels, estimates it to be 330 billion dollars. Interpol believes it's 500 billion dollars, and an executive from a Hong Kong Jockey club estimates it to be one trillion dollars – for that reason Declan Hill doesn't give a figure.
Why match-fix?
The big question is why would you match-fix? There are many different reasons why you would match-fix; for many it's about the money as it's profitable but in Asian countries like Vietnam it's also done for political reasons. It is important to remember that there's a difference between gambling and fixing, and there are two sides of match-fixing. There's match-fixing for the gambling market, which is all about making money, and then there's everything else; a team winning over another, political reasons, sponsorships, relegation or promotion.
Match fixing can be seen as business model as seen in some clubs in many countries in Europe; try to win 20-30 games and lose 10. By fixing those 10 games you can make more money than winning the 20-30 games. It's proved that matches has been fixed in top tournaments and individual matches:
Total Cup
Europa League
Champions League
World Cup Qualifying Matches
Gold Cup Tournament
Women's World Cup Tournament
African Nations Cup
150 International Matches
There are many different variables to why players would match-fix, i.e. age, financial situation, religion and marriage. It may sound like a joke but Declan Hill found that quite often being married leads to corruption; you're no longer single and you have a family you need to support. The most robust variable he found was however age. Again you would think players at the age of 25 or below are most likely to match-fix; you are young and attractive, everything is going well but suddenly it goes to your head, you lose it, you start match-fixing. Though, in the age group 0-24 years, there is a lower percentage of players, who are match-fixing in relation to the players of this age group playing in the league. It is the players above 30 years of age, who are most likely to be involved in match-fixing. These facts from the study conducted by Declan Hill were consistent so the above-mentioned conclusions do not reveal a coincidence.
Many players sign contracts but aren't getting paid. It's not uncommon to see that African players play at the World Cup while not being paid. Non-paid players or players that haven't been paid for a longer period of time are more likely to be approached. It's a massive problem and it's important not only to care about the young players but also about players above 30 years of age.
How it works?
It's important to understand how the match-fixers operate, what they do, and the work they are doing. Knowing that Declan Hill is confident that they can be beaten, he says "I think we can win, I think we can beat them". (Declan, 2013)
Match-fixing is a great business and includes big money. When you borrow money you become a slave to the lender – when players get involved in gambling and match-fixing they become slaves too, and it is very hard to get out of. It starts with a dinner where they ask you to bring a couple of friends, there will be women attending to give attention, you do that 3-4 times, and then you start explaining how they can make money, you put money on the table, more than they have ever seen in cash before, and so it continues. When the players have got enough money they want to get out of it, they know it's wrong, but now they can't. This is what has caused more than 200 suicides in Chinese soccer, and has destroyed most of the Asian sports market including football, Korean sumo wrestling and basketball.
What can be done?
You see different rules and regulations in many countries such as banning betting on own matches. However, more should be done and universal sports specific laws should be implemented worldwide and it should be a legal obligation for any person to report it if they suspect match-fixing. Moreover, anti-corruption education/E-learning is needed for all players, club officials and referees and FIFPro is an active asset in this process. Declan Hill also encourages the European politicians to get involved to fight the increasing problem, and he's not alone:
(Declan, 2013, Starnes, 2013)
"We have to bring in governments to change legislation and laws. Many countries do
not have laws to fight match manipulation" – Ralf Mutschke (FIFA Director of Security)
"Match-fixing shakes the very foundations of sport, namely fair play, respect and discipline"[1] – Sepp Blatter (FIFA President)
"Financial fair play was established in order to ensure the long-term sustainability of European clubs" – Michel Platini (UEFA President)
"It's time that we tackle this problem in a very serious way and that people who cheat are punished in a very severe way. – Arsene Wenger (Arsenal FC Manager)
"Doping effects one individual athlete but the impact of match fixing effects the whole        competition. It is much bigger." – Jacques Rogge (IOC president)
(BBC, 2013; BBC, 2011; Gibson, 2013; Wilson, 2013; Bond, 2011)
It is critical to make it a united approach. This approach must involve football associations, betting companies but an independent international corruption agency to fight the growing problem and stop it before it's too late should also be implemented – equivalent to the anti-doping agency. In many ways, it's comparable to the doping issue in cycling and other sports; just look at how much a doping scandal affects a brand. Remember Lance Armstrong and Michael Rasmussen? We all do! Declan Hill's call for transparency about the issue in the sport seems to be effective in cycling; the biological passport and coorporation with former doping riders. Unless the athletes step forward and want to corporate and fight the issue it will only grow.
It's a long process and without working together and thus collecting detailed facts and information, it will be going on forever and become completely out of control. Declan Hill, Franz Tabone and Tony Higgins all suggest that all stakeholders in sports start to make some research on corruption and match-fixing in football and begin to create an opinion about it – the info needs to get out there!
Sources:
BBC (2011) Fifa unveils anti-match fixing plan. [ONLINE] Available at: http://www.bbc.co.uk/sport/0/football/13333791. [Accessed 17 November 13].
BBC (2013) Football officials urge corruption action at Malaysia meeting. [ONLINE] Available at: http://www.bbc.co.uk/news/world-asia-21515491. [Accessed 17 November 13].
Bond, D. (2011) IOC targets match fixers. [ONLINE] Available at: http://www.bbc.co.uk/blogs/davidbond/2011/03/match_fixing_is_now_a.html. [Accessed 17 November 13].
Declan H. (2013) The Insider's Guide to Match Fixing in Football: Declan Hill. [ONLINE] Available at: http://www.sportbusinesscentre.com/events/the-insiders-guide-to-match-fixing-in-football-declan-hill/. [Accessed 11 November 13].
FIFPro (2013) FIFPro welcomes Hill's book: 'An invaluable resource'. [ONLINE] Available at: http://www.fifpro.org/news/news_details/2414. [Accessed 18 November 13].
Gibson, O. (2013) Uefa's Michel Platini renews call for European sports police force. [ONLINE] Available at: http://www.theguardian.com/football/2013/may/24/uefa-michel-platini-sports-police. [Accessed 17 November 13].
Starnes, R. (2013) Starnes: The soccer fix is in. Ottawa journalist Hill paints disturbing picture in new book. [ONLINE] Available at: http://www.ottawacitizen.com/sports/Starnes+soccer/9172617/story.html. [Accessed 15 November 13].
Wilson, J. (2009) Former mafia boss Michael Franzese sounds warning over match-fixing. [ONLINE] Available at: http://www.telegraph.co.uk/sport/5517996/Former-mafia-boss-Michael-Franzese-sounds-warning-over-match-fixing.html. [Accessed 17 November 13].
Wilson, J. (2013) Arsene Wenger: our game is full of drug-fuelled 'legends' and needs to be cleaned up. [ONLINE] Available at: http://www.telegraph.co.uk/sport/football/teams/arsenal/9858938/Arsene-Wenger-our-game-is-full-of-drug-fuelled-legends-and-needs-to-be-cleaned-up.html. [Accessed 17 November 13].
Extra links to support
Slater, M. (2013) European police blame Asian gangsters for match-fixing. [ONLINE] Available at: http://www.bbc.co.uk/sport/0/football/21383423. [Accessed 17 November 13].
Singh, P.P. (2013) How does illegal sports betting work and what are the fears? [ONLINE] Available at: http://www.bbc.co.uk/news/business-21501858. [Accessed 17 November 13].