The preaching vision of Real Madrid's commercial partnership with the 'Microsoft Cloud' brand is to open the stadium to 450 million fans. The vision tells the story of technology being a great facilitator of fan engagement and sponsorship activation.
One of the biggest challenges for sports properties in the postmodern era is to establish meaningful relationships with their fans. Professional sports enterprises have to look beyond physical and local borders and gain insight into how they can stage intimate fan engagement solutions while accommodating the wish for wider reach. The Microsoft Cloud partnership enables Real Madrid to theme its fan relationship management activities in a personalized way by building an individual bridge to fans ranging from local fans in Madrid to global fans in New York City or Shanghai. Given the improvements and increasing consumption patterns in the development of mobile technology, it pays off for sports entities to accept and understand that it is not the device but the people that are 'mobile'. Real Madrid is buying into that tendency and thus gives its global fan base the chance to 'live the Real Madrid brand' wherever they are in the world and no matter whether these fans are on the move or not.
This commercial mindset is very much aligned with the smart business objective of delivering distinctive experiences to a global fan base. Living the brand for a sports fan means to be able to access demanded content whenever he/she wants it with no restrictions due to geographic location. Commercialization of sports entails a perfected detonation of the passion of as many fans as possible; in the end of the day this business approach assists revenue generation from the interrelated market places surrounding a sports entity's core product.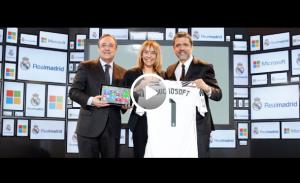 Photo: Real Madrid revealing its partnership with Microsoft (source: Real Madrid).
Emphasizing the notion of commercial partnerships in sports, this case example offers Microsoft a great point of reference in breaking through the clutter and boosting sales of Microsoft Cloud solutions. What other perfect example than a top-notch acclaimed football brand serves this purpose for an organization like Microsoft that applies sport as a powerful marketing vehicle. Microsoft caters the message that its product can aid a flexible CRM-solution helping top sports entities and other corporations manage information about their fans (i.e. customers) in all market places. Providing deep insights about fans (and customers) qualifies directed distribution of concentrated content.
The implementation of a comprehensive technology solution based on the Microsoft Cloud platform facilitates the club's aim to deliver better overall fan experiences. The platform allows Real Madrid to gain a better understanding of its fans as this fan engagement platform stores all fan interactions, e.g. mobil check-ins at the venue, digital fan profile updates via the Real Madrid official web site and online merchandise sales. Additionally, the platform provides the fans with an expanded video range of new and historical matches and the usability benefit of selecting very specific games, e.g. finding games where the club scored a specific number of goals. The overall solution also offers a mobile interactive app, which works with iOS, Android, and Windows platforms and is designed for access via mobile phones, tablets and other wearable devices. The app may be used to virtually access the stadium before, during and after each match and to search for statistics from chosen games and that adds a more comprehensive fan experience. Through telemetry and data analysis, the club can analyze its fan data at a very detailed level and the solution also integrates popular social media sites, e.g. Facebook.
From a holistic sports marketing perspective, this offers a brilliant way to engage one-on-one with millions of fans and distances the club from the earlier old-fashioned one-way communication processes. Personal fan preferences are taken into account when packaging and delivering more relevant content and loyalty-based in-venue offers and thank you notes to fans for their club support. With this in mind, it has become easier and more effective to launch intimate real-time promotional activities. A creative and intelligent sensitive identity that appeals to all senses and that is reflected in the brand experience of Real Madrid fans makes the brand come to live and helps to transform the business operations of this football club, which is an important lesson for other clubs.