The 2018 Winter Olympics and Paralympics is taking up our screens and minds at the moment.  People are watching as the world's most elite athletes compete to take home a medal for their country (Sochi, 2014, para. 1). I love to witness the beauty of the opening ceremony, how it uniquely embodies each hosting country, the unification of the world as we cheer for the underdogs and established favorites, and of course, the thrill of competition and glory of success. But before the grand opening ceremony another rivalry takes place, a fight for which sports will have the opportunity and honor to compete in The Games. About 7 years in advance, the International Olympic Committee (IOC) evaluates a multitude of international sport federation bids and considers the impact each sport contributes towards cultural legacy, Olympic values, and popularity among younger generations.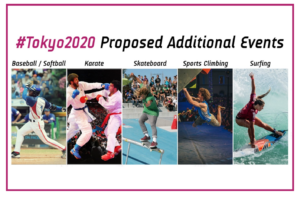 Photo: picture of each of the five new temporary Olympic sports for Tokyo 2020, baseball/softball, karate, skateboard, sports climbing, and surfing (source: ECHO – East Chapel Hill Observer) .
The goal of the Olympic Movement is to "contribute to building a peaceful and better world by educating youth through sport…" (IOC, 2017, para. 3). In order to accomplish this, the IOC must focus on customer relationship management (CRM) including providing relevant and interesting content for its viewers and participants. The IOC recognized this need by allowing each Organizing Committee to propose new temporary sports for their individual hosting of The Games (Jones, 2016, para. 2). In response, 26 of the 35 recognized Olympic sports bid for a chance to compete at Tokyo 2020 Games. In the end, the IOC approved 5 new sports, baseball/softball, karate, skateboarding, sports climbing, and surfing (Jones, 2016, para. 1).
"Sport climbing is like asking Usain Bolt to run a marathon and then do the hurdles" https://t.co/iVA5uw6EKz @IFSClimbing @shaunacoxsey pic.twitter.com/s6RbvlcBav

— IOC MEDIA (@iocmedia) September 20, 2017
Tweet: Shauna Coxsey participating in sport climbing.
"We want to take sport to the youth. With the many options that young people have, we cannot expect any more that they will come automatically to us. We have to go to them. … Taken together, the five sports are an innovative combination of established and emerging, youth-focused events that are popular in Japan and will add to the legacy of the Tokyo Games" – IOC President Thomas Bach (Jones, 2016, para. 5)
This genius agenda change benefits the Olympics in a plethora of ways starting with expanding their fan base as each sport draws its own unique and loyal fans and athletes. A more numerous fan base draws new sponsors and allows current sponsors to engage with a higher amount of customers triggering the sponsorship exchange relationship. The addition of sports and sponsors allows for original and exciting activations catered to the highly sought after Millennial target market. Additionally, the nuance of the rule change will attract greater media coverage which broadcasts to families across the world, effectively bringing the sport to the youth and hopefully peaking the children's curiosity to engage in a new activity.
Allowing a contemporary federation, such as sport climbing, brand itself alongside the Olympic name and iconic rings provides immense value and prestige within the sport itself. The worldwide media coverage attracts new athletes from all ages and abilities desiring to participate recreationally and compete professionally. This calls for new climbing facilities, more coaches, and raises the existing climbing competition. This coveted branding, while temporary, validates the new sport in the eyes of the world and the benefits remain long after the Olympics have completed.
While many sports did not make the Tokyo 2020 Games, this isn't stopping them from applying for Paris 2024 or LA 2028. Cricket, Squash, Billiards, and Boules are just a few of the accepted Olympic sports striving for the prized opportunity for recognition and competition. In addition to other current existing Olympic sport federations, the contending entities will need to keep an eye on the observer Olympic sports representing new and upcoming sport trends popular with younger generations such as dodgeball, kettlebell lifting, poker, table soccer (foosball), and a sport very near and dear to my heart, pole sports (GIASF, 2017).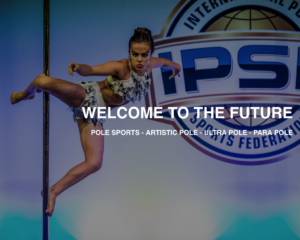 Photo: IPSF pole athlete (source: International Pole Sports Federation).
There is one league which has demanded attention due to its rising popularity and unusualness, eSports. Despite its rapid rising, eSports is not currently a recognized or observed sport by the IOC. The IOC recently evaluated eSports and admitted "eSports could be considered a sporting activity, is showing strong growth within the youth demographic across different countries, and can provide a platform for engagement with the Olympic Movement" (IOC, 2017, Oct., para. 20). For now, eSports will be utilized as an intriguing marketing activation by IOC sponsor, Intel, in the form of an eSports masters tournament at the 2018 Winter Games (Fischer, 2017, para. 1).
Video: Intel fan engagement and activation in eSports tournament.
Time will tell the impact of the new sport additions on the legacy of the Olympic games. One thing is certain; any sports that do have the honor to compete stand to be apart of the globalization and unification of sport across cultures, which transcends time.
References
Fischer, J. (2017, November 6). IOC dips toe into esports with Intel event at Games.
IOC, The organization. (2017). Retrieved from http://www.sportsbusinessdaily.com
/Journal/Issues/2017/11/06/Olympics/Intel.aspx?hl=olympic%20esport&sc=0.
GIASF. (2017). Observers. Retrieved from https://gaisf.org/about/observers/.
IOC. (2017). The organization. Retrieved from https://www.olympic.org
IOC. (2017, October 28). Communique of the Olympic Summit. Retrieved from
https://www.olympic.org/news/communique-of-the-olympic-summit.
Jones, I. (2016, August 3). IOC approves five new sports for Olympic Games Tokyo
Retrieved from https://www.olympic.org/news/ioc-approves
-five-new-sports-for-olympic-games-tokyo-2020.
Sochi 2014 all facts. (2014, February). Retrieved from
https://www.olympic.org/sochi-2014.
---
About the author:
Bethany Small is currently a graduate student at University of San Francisco's Sport Management Program.  A passionate advocate of adapted sports for people with disabilities, she has worked for the United States Olympic Committee Paralympic Team and University of Berkeley Olympic Sports Program. She has taught adaptive skiing, kayaking, and swimming, and hosted blind sailing clinics. In addition to her graduate studies, Bethany works as the Lead Teacher of Visual Impairments at Vista Center for the Blind, teaching children independence through educational skills with an emphasis on physical activity.