Photo: San Francisco 49ers vs. Denver Broncos in London (own photos)
The NFL is the perfect television product. However, the NFL can still improve on other platforms and that is vital to connect with future generations as more and more sports fans drift to online platforms to enjoy their passion for American football. As of right now, the NFL has been trialing different apps and digital solutions without turning that into an 80-yard touchdown.
With these experiences in mind, the NFL has given greater priority to creating a digital manifestation that matches its position as the most valuable domestic sports league in the world measured on revenue generation. In October, the NFL and its partnership with Yahoo! Inc. will offer fans of the NFL a digital experience via the International Series game in London between Jacksonville Jaguars and Buffalo Bills; this is the first-ever NFL game to be delivered on a digital platform and it is offered for free on any device to NFL fans worldwide. This experience is a unique way of activating Yahoo's product offerings, e.g. Yahoo, Yahoo Sports, Yahoo Screen and Tumblr, as the game is accessible across these digital channels. While adding value for Yahoo's users and building traffic, this also provides the NFL with enormous reach as these Yahoo platforms have an accumulated monthly visitor base that exceeds one billion (NFL, 2015). Marking a value-adding commercial partnership by streaming a regular season game acts as break-through digital innovation for the NFL and the opportunity to use this partnership to generate future partnerships and thus commercial revenues within this context while being present among and buying into the life styles of postmodern NFL fans. That seems like a win-win situation for the league, its commercial partners and fans. However, the NFL does not have intentions to frequently live-stream matches online only! The technological framework is there along with high demand but the league must balance digital innovation against the billions of dollars being injected by broadcasting corporations; it will probably be too expensive to 'risk' that major revenue stream.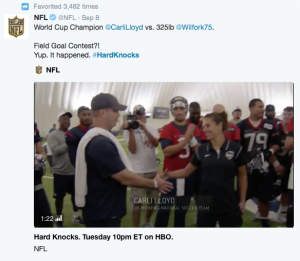 Photo: Female FIFA World Cup Champion Carli Lloyd making a NFL field goal (source: NFL's Twitter account)
So, there is no doubt that the NFL is extremely valuable content. The league's long history of progressive revenue-generation and its emotional and cultural legacy among fans are impressive metrics but the league's digital investments is a forceful and innovative path to engage with a wider audience and to deepen the digital engagement experience. This is especially true when blending the online streaming of the game with digital advertising capabilities and other digital consumer experiences, e.g. shows, competitions, discussion forums and other offerings capable of competing with third-party apps and social media platforms about fans' time and money. One way of striving to reach that goal is through a 're-branded' NFL app, which entails an updated subscription platform that gives access to 'real-time' audio streaming from games and NFL television productions like 'Hard Knocks' and 'A Football Life', see videos below.
Recognizing that TV is still king in relation to the cohesion between the NFL product and its strategic match with television audiences, the league is keen to launch a digital strategy. Strategically, this provides the league with digital content and platforms that can secure supplementary revenue streams while boosting fans' engagement with the sport and the NFL brand. Part of this recognition has brought along a mindset among the NFL organization that the league must be on its toes to strive to build competitive edge within the digital context characterized by third-party suppliers that provide NFL fans with accessible online content at any time; sports fans have access to online solutions via smartphones wherever they are for what reason this is a natural investment priority for the NFL. As seen in other sports, whether focus is on membership regarding active sports participation or subscriptions for media content, the postmodern sports fan wants flexibility. Times have changed and the individualized societal development points towards more flexibility in terms of fan options; fans want access to a wide variety of quality content via different and relevant platforms 24/7. My guidance is that sports properties must learn fan preferences and seek to exceed expectations in their fan offerings, as no organization is resistant to changing trends.
As of right now, the NFL experiences revenue growth from digital offerings for what reason it is time to reap the benefits by implementing a serious digital strategy. By stating that, I want to emphasize that the strategic plan must be holistic and cohesive with the league's overall business strategy and the strategies of other business divisions under the overall NFL umbrella. In that regard, it is positive to witness the NFL's renewed social media efforts. Increased freedom for the league's social media crews to engage in fan conversations instead of the traditional one-way communication proved successful. These interactions and feedback platforms create traffic. So do the league's commercial partnership with content providers like Facebook, Twitter, Snapchat and Yahoo. These are relevant and meaningful partnerships to blend high quality and well-distributed content. A fan study conducted by the NFL revealed that fans want national news advertisements before news about their preferred team and the ability to watch games live on the go. Therefore, some games will be available for free via Verizon Wireless.
I recall a business meeting that I had with the MLS (Major League Soccer) in NYC. What inspired me a lot was the soccer league's 'open source' approach to 'branded content'. Of course, this kind of content has to be balanced when considering property rights and the capitalization potential linked to these rights but providing fans with the opportunity to play with a sports brand's content is an interactive and engaging path to win extra fan hearts. Today's growth companies are cognitive about giving fans quick access to the development process and to the technological improvements from such a process. Keep in mind that the NFL fan experience means that fans compare content via NFL.com with content from social media sites like Facebook and Twitter where these fans spend a lot of time. So, this comparison must not show negative gaps for NFL.com.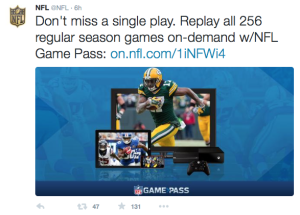 Photo: NFL promoting its GamePass option via social media (source: NFL's Twitter account)
Learning outcome from fan studies has given the NFL the idea to show stats and key facts before matches, admission to video features during matches and video reviews after matches via the new NFL Mobile app on match days. At other times, fans see news first and everything is shaped by new graphics. Check the video below and watch how one of the NFL's new packages, i.e. GamePass, provides fans with highlight videos and more high-demand content. Ergo, digital content is vital in turning the new generations of fans into lifelong NFL fans; digital content drives circles of fandom.
As revealed in the infographic below, there are strong predictions that the overall sports market will continue to grow in the upcoming years. Among other things, this forecast is based on the fact that more sports leagues, including the NFL, are becoming more innovative with their digital properties and adapting toward second-screen utilization and non-linear viewing and the integration with social media. In that regard, the NFL's partnership with DirecTV transfers fans to the Red Zone Channel to view special plays in specific games when they are about to happen. In other words, the future will hold examples and leagues boosting the value-creation linked to broadcasting deals by enhancing the value of both the signed broadcasting deals and the deals tied to other platforms.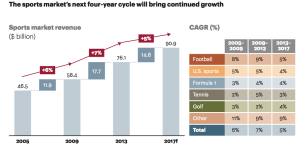 Infographic: Growth predictions for the global sports market (source: AT Kearney)