2020 marks an extraordinary sports year. First, 2020 has been remarkable because of the major shift that the COVID-19 pandemic provoked in the business of sports. Earlier this year, I wrote a book chapter for a Routledge sports management book, which emphasized the negative economic impact of COVID-19 on the sports industry. My chapter focused on professional football and how I saw that the pandemic affected women's elite football in Denmark. Although, I at the time had a head coaching job in an elite club, which got promoted to the best Danish league (top 8) in June 2020, I got fired due to economic challenges following a streak of three promotions in 2.5 years. So, I saw the influence of the pandemic from close range as it changed a sport with positive momentum to one with economic challenges, which I underscored as a valid threat earlier in 2020 in a Forbes article.
Another a yet more positive influencer on the 2020 sports year is how the role of activist athletes saw increased commercialization potential boosted by the aftermath of Colin Kaepernicks 'social justice' promotion four years after he first took a knee (2016). 2020 is year where even professional sports team owners and executives did what the NFL executives didn't do four years earlier as Milwaukee Bucks from the NBA showed their support to the players in the fight to change the world for the better by underscoring the importance of 'social justice'.  Although, Kaepernick's actions is a modern example of an athlete fighting for a cause and to make things right, the role of athletes with a voice is not a new concept. Most sports lovers remember the great boxer Muhammad Ali's outspoken opinions about the Vietnam war or how John Carlos and Tommie Smith lifted their fists in a silent but very exposed protest against racism during the playing of the US national anthem on the medal stands during the 1968 Olympic Games.
Few elite or professional athletes are willing to sacrifice what Carlos, Smith, Ali, and to some extent Kaepernick sacrificed. However,  Kaepernick's role as a modern commercial face of Nike represents a sports business, which has been commercialized considerably since the active sporting years of Carlos, Smith, and Ali. So, modern athletes such as Kaepernick can also find ways to capitalize on activist behavior, e.g., the Nike example. Sports lovers should also acknowledge that the actions of these activist athletes still influence voices and actions today. Whether focus is on Billie Jean King's fight for improved gender equality over time, which is integrated in today's representation of sports, e.g., Title IX in collegiate athletics, or on other historic pioneers in applying sports as a platform for change, the commercialized sports landscape and the increased media portrayals of sports play central roles in shaping the industry as of 2020. How Megan Rapinoe and the US Women's National Team in soccer worked their way to better conditions in a labour dispute with US Soccer Federation is a spin-off of Billie Jean King's great work. The social justice movement has also been vitalized by the growing influence of the intersection between CSR, sponsorship, branding and commercialization of sports.
The 2020s is also a time of increased influence of technology and data. This trend holds interesting business opportunities. In November, 2020, I gave a 'masterclass' presentation during the Sports Tech World Series conference in Melbourne as part of the Australian Sports Technologies Network along with Professor Daniel Rascher from University of San Francisco on sports commercialization trends in the global sports economy. Our presentation was partly based on a book chapter, which we wrote about the influence of technology and data on professional sports and specifically football/soccer. From our affiliation with University of San Francisco, we have witnessed the enormous innovative approach to technology and data in sports with roots in the Bay Area and Silicon Valley. You only have to step out of the door from our offices in downtown San Francisco to see the logos of Amazon, Facebook, Google and other key players in the IT- and technology space. If you take these impressions and do the math in terms of what it means that some of these tech-giants, which also rank among the best brands globally, invest in the business of sports, e.g., Amazon Prime's coverage of sports or Amazon's investment in eSports via Twitch, you will see that the influence of technology or data is here to stay. Consider how Google, Facebook, or Twitter control important data and knowledge sources in a sports business in which engagement has not been devalued as a commercialization tool over time. Nonetheless, fan engagement may receive an economic boost from how advanced technology and data-driven approaches build a bridge between sports rights holders and people and re-contextualize sports economic models and the representation of sports in society.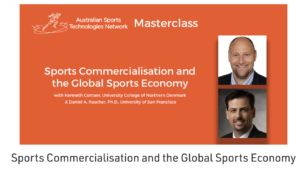 In the two podcast episodes below, I have a discussion with the experienced sports business professionals and sport management asst. professors Andy Dallin and Dave Almy and we take a closer look at the business of sports and strives to answer how the business of sports differs from other industries and where to find commonalities. The discussion also takes a critical perspective to whether the business of sports is sustainable from an economic standpoint, or if it is merely a cultural institutionalization, or a combination of the two? Finally, the part 1 of the podcast moves into a dialogue about the sports business trends for 2020 and the importance of such trends and how they influence the money flow in the industry. These trends may range from 'over the top/OTT' content, e.g., displayed by Amazon's investments in its Prime and Twitch (streaming of eSport) brands, to the quality of influencer marketing in the modern era. The depth of knowledge reflected in the podcast is emphasized by the constant comparison between the eye for modern data-driven approaches to sports business and the content and narratives driven by the analogue and unscripted charm of live sporting events.
The part 2 of the podcast with Andy Dallin and Dave Almy strives to elaborate on how to build engagement with various audiences in sports, e.g., via data-driven approaches, involvement from athletes or stronger interrelated business models shaped by a mix of technology, sponsorship, fan engagement strategies. It also seeks to give answers to new media strategies in the business of sports.
Additional information:
Andy and Dave own and run the sports business consulting agency ADC Partners. Andy and Dave share a long journey of mutual sports business experiences and hold much expertise regarding the commercial trends in the sports industry. They have worked for and with major league teams, been asst. professors and also touched ground with brands that apply sports as a promotional platform.