Sports business expert, Patrick Nally: "Where there is money, there is greed…."
Harvard Business School Professor, Stephen Greyser: "For rights holders and commercial stakeholders like sponsors, it is a matter of being where the public's heads and wallets are in 2016…."
In the light of the many scandals that influence the business of sports, I have set my sensor on figuring out whether or not new approaches for sports business practices would be beneficial.
Putting the integrity of the sports industry in danger
As CEO of West Nally[1] and President of the International Federation of Poker, Patrick Nally says "where there is money, there is greed". This expression may help to explain some of the numerous sports scandals in the past years from the recent ones involving Maria Sharapova's meldonium consumption, the FIFA corruption scandal, Lionel Messi's tax fraud accusations, FC Barcelona's transfer ban due to violation of transfer market rules concerning minors and Sunderland FC player (now former) Adam Johnson's child sex case to other well-known scandals like NFL quarterback Michael Vick's role in dogfighting events, Michael Phelps's marijuana incident, Ryan Giggs' long-term affair with his brother's wife and Oscar Pistorius' murder case (some of the examples are not involving the greed parameter). These scandals threaten the integrity of the sports industry. Patrick Nally adds to this by stating that
"the sports marketing industry is becoming painted by implications of the problems with FIFA, the IAAF and now the Panama Papers. It puts the whole sports marketing industry and the use of sports by companies and thus the use of athletes as part of marketing strategies in a negative situation. In turn, this debases the whole coinage and cheapens the trust of the fans, which is the main reason behind sports marketing."
Learn to navigate in the irrational economy of sports
Photo: Chairman of Danish football club Brøndby IF, Jan Bech Andersen faced a negative media storm when he was caught in misconduct (source: Politiken)
A couple of weeks ago, I commented (via Danish media outlets like TV2 News, DR etc.) on the leadership and management disgrace in the Danish football (soccer) club Brøndby IF. Chairman Jan Bech Andersen's blunder of using a pseudonym (his son's name Oscar) to criticize head coach Thomas Frank and other key employees in an online fan forum hit the international football landscape by storm – see here. Therefore, the incident created a need for 'damage control' and focus on restoring the image (that as a result of this and other turmoil) have characterized Brøndby IF in recent years.
This example is just one of many negative episodes that characterizes the somewhat 'irrational' economy of sports. Other and more famous examples of sports entities being caught in wrongdoing include super star athletes like Lance Armstrong, Tiger Woods and recently Maria Sharapova but also as mentioned above 'high visibility' sports organizations like FIFA, FC Barcelona, IAAF, and IHF. Examples of misconduct also include additional areas of the sports world as mirrored in how a host nation like Qatar treats its workers when building new stadiums in the preparations for the 2022 FIFA World Cup. Patrick Nally witnessed this development and mentions that "the industry is obviously under the microscope because it cannot hide from the fact that these corruption stories from FIFA and other negative incidents like the IAAF and now the Panama Papers because it hurts the transparency, honesty and integrity of the world of sports."
All these negative incidents are interesting and relevant in the wake of the history and development of sports. Given the intensive commercialization of sports, there has been a paradigm shift from a concentration on sporting actions to a heavier focus on including elements that surround the sporting performances, i.e. business aspects. According to Professor Stephen Greyser from Harvard Business School, who has a wealth of knowledge within the business of sports, there has been a shift of emphasis from the "sport of sports to the business of sports". Therefore, we see more examples of corporate sponsors associated with sports entities, which cannot live with these entities stepping out of line with what is expected according to the laws, regulations and ethical standards of a given sociocultural context or of society in general. With this in mind, there should be enough reason to emphasize the importance of sports brands operating with good sportsmanship and in consideration of their commercial stakeholders. Professor Greyser points out that "one of the most interesting aspects of recent crisis situations involving athletes, who are endorsers is that relationships rather quickly are put on hold or even cut. Some corporate brands (e.g. Nike) seem to have backed away from a prior philosophy of standing by its athletes during times of travail for that athlete. The example is how long Nike stayed with Lance Armstrong in the early years of his being accused of using performance-enhancing drugs. While maintaining the relationship was justified under their philosophy, with the passage of time more and more evidence 'seemed' to be mounting that the accusations were valid. In contrast, boxer Manny Pacquiao was dropped relatively quickly after he made homophobic comments."
Standing the test of public opinion vs. the court of law
In that perspective, it is significant to acknowledge that times have changed and that the postmodern tendencies from the surrounding consumer society have had a spill-over effect on the business of sports. The current best practice examples in the business of sports and in particular sports branding and sports sponsorship strive to highlight that 'business is a two-way street'. That interactional process is also what co-branding and 'hybrid sports branding' (see here and here) entails and in that sense it is interesting to concentrate on what sponsors and sports brands seem to do to influence their image and business opportunities positively.
Stephen Greyser notes that "entities in the business of sports have to stand the test of public opinion as well as the test of the court of law. In the recent case of Maria Sharapova's meldonium violation, the court of public opinion revealed that the 'commercial penalties of co-branding' with a tarnished athlete can be severe. These marketplace penalties come from the fact that the public considers the behavior to be inappropriate. The penalties can be applied more readily in situations where there are consumer choices, i.e. where the consumer has brand choices it becomes easy for the involved consumers to change brands."
This is reflected in the Sharapova case in which sponsors like TAG Heuer, Nike and Porsche reacted and either dropped or postponed their sponsorship affiliation with the tennis star. Nike decided to stay with Tiger Woods after his infidelity case. In that case, Nike had developed a branded product relationship, which was of high commercial value to the corporation and in a business sense analogous to Nike's strategic collaboration with Michael Jordan although the Tiger Woods collaboration has not reached the same impact as the branded Nike-Jordan relationship. The latest development in Nike's sports sponsorship portfolio represents dropped deals with Paralympic athlete Oscar Pistorius, boxer Manny Pacquiao, cyclist Lance Armstrong and NFL stars Michael Vick and Ray Rice. According to Greyser this echoes "the side issue of who is to be the judge of people's ethical behavior" and in that regard "in the world of endorsements there is always another star athlete on the horizon." In the Sharapova case, Greyser notes that "some sponsors quickly distanced themselves from Sharapova. The speed of it was in sharp contrast to some of the earlier ones and Nike in particular in regards to Tiger Woods and Lance Armstrong. In this case, it is not accusations because Sharapova admitted it so they do not have to go through the process of waiting for it to be definitive enough or having the athlete denying it while most of the world believes it. Three of the Sharapova sponsors stepped right up to drop her. This says a lot in a time where the public wants transparency and does not want to hear a lot of 'back and forth'; the public wants the facts and the resolution of the relationship through company action." That speaks with a powerful voice in terms of where the public is in 2016. The public expects sports entities to act as good citizens. The expectations for organizations, products and athletes in the business of sports to act as good citizens are higher now and there has to be a sound balance between the level of authenticity, trustworthiness and winning reputational capital for commercial stakeholders. The public is not asking these entities to be pure but to be authentic and Greyser emphasizes that "for rights holders and commercial stakeholders like sponsors, it is a matter of being where the public's heads and wallets are in 2016. It is also a matter of authenticity concerning the athlete as a legitimate star and user of the brand. Expectations of authenticity today are meaningfully higher than years ago."
How about good damage control?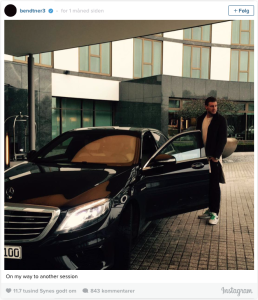 Photo: Nicklas Bendtner's Mercedes stunt in VW-owner VfL Wolfsburg (source: ESPN)
The game within the lines and its interrelationship with sports psychological behavioral patterns and actions are factors which make it difficult to control all situations. However, in relation to the game off the field of play and the interrelated behavior and actions, there should be a higher extent of thoughts and reflections and it should also be possible via good and constructive advice to avoid planned and unhealthy behavior against the rules. Football player Nicklas Bendtner displayed negative behavior when he took part in wearing a pair of sponsored boxer shorts in a Paddy Power PR stunt while celebrating a goal during the 2012 UEFA European Championship. Recently, he proved that he did not learn from this when uploading a self-image on his Instagram account. On the picture, he was about to enter a Mercedes and the picture included the text "on my way to another session". This action was a thorn in the side of VfL Wolfburg's management and a clash with the club's code of conduct for its players as the club on top of being owned by Mercedes rival Volkwagen looks to boost the branding of Volkswagen via sponsorship collaboration. In such situations, crisis management and crisis communication strategies become effective, which we all witnessed as a result of the #OscarGate incident (Jan Bech Andersen's mistake in Brøndby IF) and the other above-mentioned crisis examples. Often, regrets and an apology concerning the negative behavior is the next natural step for many sports brands as part of the 'damage control' linked to image restoration and to protect and regain their brand equity levels. The manner in which the sports brand apologizes and the content of the crisis communication become indicators of how strongly the crisis management initiative can affect the negative impact of the problem. In this regard, one should also take into account the complexity that characterizes sports management in which sports brands are constant subjects of the public spotlight and interest. Additionally, the globalization wave and the intensive innovation within digital media platforms and thus the speed of spreading messages construct a need for good crisis management and more importantly crisis prevention within the economy of sports. So, this development creates a stage for conflicts between different sociocultural elements, which makes this context even more complex but nonetheless very relevant. In other words, it has become harder for sports brands to navigate under the radar and the consequences of mistakes are tougher than before the postmodern era of social media platforms and globalization in the business of sports. That is a great development tendency. However, it places demands on sports brands to act according to 'good governance' principles and employ guidelines that battle the rotten apples; the latter still are to be found in the world of sports and create a gap between consumer expectations and their actual experiences.
Potential future solutions
So, what should the solutions contain? Patrick Nally believes that "there needs to be some new way in which stakeholders (fans, sponsors, broadcasters and federations) come together within a structured approach, a sort of global citizen approach where everybody can have the confidence that things are being operated in an entirely professional and open manner." I agree with that but from my perspective there are some problem areas. What we have seen in the handling of the FIFA corruption scandal is the problem area that FIFA sponsors like Adidas, Budweiser (Anheuser-Busch) and Coca-Cola are clinging to the commercial outcome, which stems from the association with FIFA and particularly football's (soccer) FIFA World Cup. The World Cup is a unique sporting event and the sponsors do not see any advantages in 'letting the opponents have possession of the ball' and therefore the current sponsors do not want to pass the commercial right to this event to the feet of Nike, Pepsi or Heineken. A similar reasoning was present when Nike decided to maintain its sponsorship collaboration with Tiger Woods after his infidelity disgrace. Nike wanted to protect its commercial interests given the fact that Tiger Woods has been an icon for the modern era of golf and a co-branded symbol of Nike. In that sense, sports sponsors are not always putting pressure on rights holders to create positive changes. Patrick Nally admits this development by stating that "sponsors are paying lip service when they recognize that change is needed, e.g. that in the case of FIFA not only is it a new president but that the world of football also needs new ways of how the organization will operate. However, the sponsors themselves cannot actually take the initiative to devise and provide a structure for how things can be better managed. Of course, FIFA clearly has a new president and they can handle reforms internally but that is not good enough. The world of sports needs to have another body – a body that does get the sponsors to sign up."
These aspects about sponsors and FIFA are in contrast to what was seen in the VfL Wolfsburg example. The comparison helps to show some distinctions, which can aid in explaining why the change at FIFA came as late as it did. Consider the FIFA scandal and the long history of doping in cycling. In both examples, the disorder took place well before new reforms and other benefitting initiatives were implemented. Patrick Nally supplements in mentioning that "you have the World Anti-Doping Agency (although it has its own problems with drug abuse), which is set up to try to control and stop the use of drugs in sport but you need another body where the sponsors not only can sign up to a code themselves but also can expect that the federations and the people that are providing sports rights also adhere to a code of conduct and a structure which can be properly policed and reviewed." Stephen Greyser notes that "the FIFA sponsors have applied pressure but they did not do what the endorsed brands did in the cases of Sharapova and Manny Pacquiao (e.g. Nike), which is to step away." That certainly has to with Greyser's point that there is often a new sports star around the corner. The star athlete may not immediately be at hand but in contrast there is only one FIFA World Cup and that adds a meaningful dimension to what companies have to think about. Consequently, honesty is a really important element.
Greyser emphasizes that "in cases with FIFA or the IOC, one is dealing with a situation that is a sponsorship and is an organizational brand's association with a rights holder. And the question for the people that are making judgments has to do with behavior from a tarnished entity (e.g. the Salt Lake City bribery scandals = tarnished rings). You do not have to know more than the rings to know what we are talking about. Like the bitten apple (Apple's logo), the five rings are world recognizable symbols (cultural icons) and they connote positive signals; if they become associated with negative behaviors in one fashion or another it is not good for the people and the entities which are associated with it. It does not mean all people but it means enough people to gain attention." For additional information, see here for Greyser's titled work "Tarnished Rings? Olympic Games Sponsorship Issues". Greyser recognizes that FIFA and the IOC are two different organizations and he states that "none of the FIFA sponsors backed away and cut their ties. They only threatened and pressured. Some of that pressure was for changes in governance and reforms. However, at the end of the day it is not the same signal (as backing away) but these sponsors also have to hope that FIFA manages to get through this situation in one way or another. The critical parameter is that FIFA still owns the World Cup. There is not another World Cup in the most popular sport globally and nobody else controls the World Cup. The popularity of football and the World Cup also makes me draw parallels to what happens around this event. For the first time, the event (the 2014 FIFA World Cup in Brazil) had more national teams participating in Nike uniforms than in Adidas uniforms and there were tons of digital content being produced with commercial aims and all this development affects sponsorship recall and associations with an event like the World Cup.
Given the fact that the popularity of these top sporting events such as the FIFA World Cup and the Olympics has very strong appeal to various stakeholder groups, the sports economy needs a new structure. Thus, all stakeholders could know that there is a firm structure that can police and ensure that everything is done in a manner with the right integrity. Patrick Nally provides perspective: "It cannot be left any longer that these sports entities just go through a reform process and now say to everybody that things are fine now, and so the sponsors just stick and secure the rights that they want, and then life goes on in a way that is not acceptable. So, the sponsors are not the ones to come up with the plan. Some other entity is needed for that – to get federations to sign up to this new approach that gives everybody the trust and security that is currently lacking."
Implement a proactive approach to prevent crisis situations
The question in this article is whether there is a need for new action models to provide more integrity in the world of sports. From my perspective, the business of sports can take advantage of a 'new wardrobe'. My argument is based on the fact that a proactive approach to preventing crisis situations through constructive and competent advice and implementation of guidelines and policies concerning 'expected behavior and actions' can make a positive difference. In the interaction of crises with current rules and consequences concerning violations of 'expected behavior and actions', the objective is to provide more integrity and to improve the ethical and democratic principles of sport. There are many governing bodies and additional stakeholders that place integrity as being vital but it is important that these entities not only 'do the talk' but also 'walk the walk'. This means that it is not enough to talk about good governance. The right entities must apply organizational integrity to put 'good governance in play' as a method to enforce an effective legal framework, practical accountability mechanisms, an ethics coordinating structure and feasible codes of conduct. In that sense, I agree with Patrick Nally that the sports industry needs a new body that protects the trust of the fans and in which fans, sponsors and other stakeholders come together.
In the end, this problem includes organizational culture and thus the nurturing and upbringing of individuals in a collectively adapted framework. In sports clubs and federations, it is not enough that there are written values and expectations regarding 'codes of conduct' and 'sportsmanship'. Patrick Nally believes that "UNESCO is the body that may be needed to get governments to sign up. UNESCO does have a regular meeting of ministers, and also Sport Accord[2] and the IOC are interested in this matter. There are groups that can make a positive difference if they are brought together under the right circumstances, including the right structure in which sponsors and broadcasters are also involved. This is something that is widely needed and a proper protocol needs to be developed. UNESCO is relevant because of its government links and could clearly be an entity that could help bring that together. From my viewpoint, there are a number of situations in the world of sports that call for such a body. The issues of individual athletes and clubs violating ethical standards and laws and regulations, and the issue of the hosting of sporting mega-events and whether their planned legacies are sensible are relevant topics for focus in this discussion. Patrick Nally points to the importance of action and says "if there is will, there is a way. It is the matter of getting people to recognize that this is a crisis that is not going to go away. Therefore, let us do some very specific things in terms of making some real changes."
Sports entities MUST also prioritize the articulation of and the necessary discussions about these elements in 'onboarding' sessions (specifically for young athletes), which are strategically integrated parts of the sports entity's human resource management and risk management. Thereby, sports entities can learn from major corporations. This will help sports brands to be proactive and cultivate these young athletes at an early career stage and hence engage in a psychological contract meant to lift the individual athletes and the associated organization(s). Consequently, I am positive that sports brands can minimize the probability of ending up in crisis situations while influencing crisis situations positively when sports entities strive to reduce the negative impact via image restoration and other PR measures. Patrick Nally calls for "the obligation of the governing bodies, the leagues, and the managers of the sports clubs and other important stakeholders at the sports management level to do something about it. They should take the social responsibility to have a program, not as an add-on but as a strategic and mandatory part of their business. As an employer or important stakeholder, they must go beyond talking about it and actually take the action to provide such a social responsibility program. This would be good because if something goes wrong, the clubs' systems can be checked as well because otherwise there are no checks or balances." The latter is needed as a way to monitor and implement some positive progress. All these negative incidents should be viewed as an opportunity to improve business practices. In specific cases, Nally also stresses that "it comes down to the structure of responsibilities so that people know exactly who is meant to be liable for what happens. There must be some mechanism in place."
With professionalism comes responsibility
More and more money has come into sports. Therefore, the focus of attention has changed and sports entities should be aware of this development by taking more responsibility in terms of protecting athletes and preventing all types of crisis situations. Patrick Nally has been a 'first class passenger' in working with the commercial development in sports for many years and he thinks that the management guidelines should "incorporate another foundational structure. This development has to do with the whole basis of the structure of what has happened as more and more money has come into sports. In football alone in for instance the Premier League, the amounts of money that the players are earning and the focus of attention from the media are clear impact factors so the responsibilities must be present at all levels. Clubs must take on the responsibility for guiding and protecting these young stars from getting into negative relationships and into troubles, e.g. the recent Adam Johnson case in Sunderland FC. The player care, the guidance and the family requirements of protecting these young wealthy individuals are important cornerstones. It is really an attitude that must start in the international and national federations and the leagues down to the individual clubs. There must be a socially responsible playing mandate through which guidance is given because this has a significant image impact on every aspect of the sport."
This means that in order to protect the brand equity levels at the local level through to the leagues and the countries there must be proper guidelines. According to Patrick Nally, "As with the broader perspective, sports and federations were never structured or aware of the details that are now needed to tackle all the social responsibilities that they have. So, it is just a microscope of the big picture because it is on the local level as well. Standards must be put in place. Manufacturers can no longer have their balls manufactured in countries in which child labor is used. There is a policing and a discipline that are coming into other industries like the financial industry. The same sort of discipline and support should be brought into every aspect of sports. You cannot just leave it for somebody else to take care of the fact that young athletes are being given too much money, too much responsibility and too much media exposure without proper training, coaching, counseling and support."
When a crisis arises, it is vital to acknowledge the different phases in the life of a crisis from introduction, growth, maturity and to termination. In doing so, sports entities make sure that they are proactive and handling the problem in a timely, consequent and competent manner and not like in the case of Randers FC (Danish football club) in which the team captain (Christian Keller) entered an intimate relationship with the wife of one of his teammates (Jonas Borring). The problem in terms of crisis management has been that the negative situation has escalated, been widely discussed in the media for weeks and suddenly included more persons along the process (the CEO Michael Gravgaard and head coach Colin Todd). This process gives room for more negative storytelling and a lot of speculation, which could have been avoided if the club had been more timely, precise and consistent in its communication efforts and related actions. The continuing process of the situation does not help any of the involved persons, the club or the club's stakeholders – therefore it has become a situation in which the negative impact for all parties has been increased.
Important practical tools
Toolbox for sports brands in dealing with crisis management:
Important tools include proactivity, mandatory guidelines and policies, advice and training (onboarding), discussing image restoration and reputational capital strategies.
Different methods to minimize the negative effect on the sports brand's brand equity level:

One significant method is denial and rejection if the negative situation did not take place.
Another method involves the circumvention of the responsibility. One approach is provocation – such as stating that the negative act is just 'part of the game', e.g. when two players have been fighting during a training session, communication often contains rhetoric such as "this happens all the time in elite sports". On top of provocation, circumvention of responsibility may also take place when the involved party strives to make sure that his/her status is not undermined. This is done when stating that he/she did not have any control over the act, that the act was an accident or that 'good intentions' led to a negative act. An exemplification of this happens when an athlete in a television interview says that "it was never my intention to injure the opponent" if a bad tackle leads to a crisis.
A third method is to minimize the effect of offensive, insulting and negative behavior and actions by the supporting the blamed person. This is done when attempting to reinforce the person's positive qualities, when articulating that the scope of the negative situation is overstressed, when differentiating the negative situation positively through comparisons with similar but more serious situations, when confronting accusers' credibility, when putting the negative act in a broader moral setting or via compensation in which the blamed person gives a type of reward to the victim. For instance, the rhetorical pattern that he/she "did not kill anyone" has been employed in various cases.
A fourth method involves repair and corrective actions in terms of repairing the damaging consequences that the negative actions cause. By going through a corrective process, which help to secure that the negative act will not repeat itself the problem is addressed and may be solved. This has taken place when an athlete has been sent to alcohol or drug treatment facilities. We have seen several of these problems in professional sports from the old English football stars like Paul Merson, Tony Adams and Paul Gascoigne but there have also been recent incidents in which Michael Phelps and Norwegian skiing star Petter Northug was involved in problems linked to drugs or alcohol.
A fifth method is mortification in which the accused goes through the public confession and humiliation and takes full responsibility for the action, apologizes and asks for forgiveness. This method is often used (Jan Bech Andersen, Nicklas Bendtner, Maria Sharapova and so on) and in this regard it is central to remember that an apology is tarnished if the negative action is repeated. In life as in sports, people MUST learn from their mistakes and not repeat them again and again!
Inspired by: 
Hopwood, Maria, James Skinner, and Paul Kitchin. Sport public relations and communication. Routledge, 2012.
Frandsen, Finn, and Winni Johansen. "The apology of a sports icon: Crisis communication and apologetic ethics." Hermes: Journal of Language and Communication Studies 38.1 (2007): 85-104.
Stoldt, G. Clayton, Stephen Dittmore, and Scott Branvold. Sport Public Relations-: Managing Stakeholder Communication. Human kinetics, 2012.
[1] West Nally is a company focused on the intersection between sports and commerce. The company created the blueprint for the sports sponsorship, which has generated $billions for FIFA, the IOC and other rights holders in the business of sports. West Nally works as a consultant to UNESCO and has launched 'The Pathfinder Project' that is founded to help develop a path for the future of sport by establishing a vital 'Big Conversation' among all key stakeholders. Source: West Nally
[2] "SportAccord (previously known as GAISF, the General Association of International Sports Federations) is a not-for-profit association, composed of autonomous and independent international sports federations and other international organisations contributing to sport in various fields." Source: Sport Accord
Additional inspiration: