The business of sports is an industry, which offers diverse opportunities in terms of commercial involvement and business development. From sponsorship displays on game days to huge activation platforms and campaigns, there are many opportunities to bring players, coaches, fans and other stakeholders together. The huge broadcasting deal regarding the Premier League in English football (soccer) illustrates the commercial appeal that the sports world has on other industries.
Today, sports clubs and their sponsors have become increasingly aware of a new phenomenon, which is changing the way sports and sponsorship content is produced and consumed. Digitalization in sports embeds the creation and distribution of any type of content via online channels. Such channels include various social media platforms, websites and other interactional platforms such as blogs and forums. Well-orchestrated digital strategies linked to effective execution and meaningful ways to tackle digital challenges is one of the most important and contemporary trends to drive value creation and revenue generation for rights holders and partners in the business of sports.
For rights holders and commercial partners, digitalization can increase the number of platforms through which they can interact with potential customers (let's call them fans to use a momentous sports terminology). The 'right digital path' also provides an additional exposure and activation platform. However, exposure is only a small part of the equation in the digital universe because it is hard to break through the clutter and find the 'gold mine' in the cyberspace jungle in which every organization has an online and digital presence. Therefore, focus should be on the right strategic focus when it comes to digitalization and how that is capable to bridge the gap to secure proper execution and thus production, distribution, and promotion of relevant and positively differentiated content. In doing so, sports entities and their partners must adopt a digital mindset on their managerial agendas and acknowledge that it is a vital tool to engage with fans and to enhance the value creation in terms of the organization's other activities. Business development in the postmodern sports economy should contain digitalization as a natural ingredient since digital content is in high demand among fans. The younger generations of sports fans have already adopted digitalization as an ordinary way to interact with their surroundings. Therefore, sports properties should recruit the proper competences to handle the challenges (and the opportunities) that go with digitalization.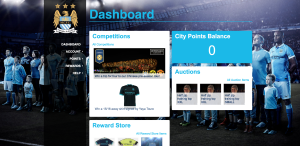 Photo: Manchester City's 'Cityzens community'.
There is no strategy without execution and vice versa for what reason a digital strategy should be tailored according to the objectives of the marketing program and the overall strategic agenda of the organization. There should be an interactional process between the strategic digital direction and the segmentation, targeting and positioning initiatives that can facilitate a perfect leverage in terms of what kind of content that the fans and stakeholders desire in order to be fully engaged. If done so, digitalization can certainly be applied to secure a deeper identification level and degree of loyalty among the fans and thus to boost sales through better fan engagement by giving fans opportunities to express their thoughts and to interact with their favorite team, athlete(s) and sponsors. For sports properties, this means that they must acknowledge that the current trend is to nurture the relationships with the fans instead of 'old-fashioned' one-way product descriptions. In doing so, sports properties have a perfect stage to create some positive buzz around their products by raising expectations that fans can get access to surprising and relevant content on a regular basis. This is a new path to stick to the brand promise that holds potential to 'exceed expectations' and to provide competitive edge for sports properties. Keep in mind that surprising and relevant content can lead to positive viral effects. Such a scenario is especially true when sports properties work strategically towards a situation in which various online influencers strive to make sure that their brands are being heard and followed.
Photos: Manchester City's 'Cityzens community'.
A bench-learning example, which demonstrates how sports entities can employ digitalization to interact with fans, is the case of Manchester City FC. The English football (soccer) club did not win the Premier League title this year but that does not prevent the club from being a winner when it comes to interacting with its fans in the best way possible. The club has implemented an online interactional platform called 'Cityzens'. The platform allows fans to complete certain (trans)actions and allocate points to their 'personal' accounts. Previously called loyalty points, these points can be transferred into specific auctions, which can lead to a variety of rewards, e.g. from discounted t-shirts and hospitality experiences to discounts on flights with main sponsor 'Etihad Airways'. Such an engagement and activation is valuable for the club and the 'Cityzens' platform also exemplifies advantages for commercial partners in a time where it is central to meet your fans' needs. Commercial partners are constantly looking for additional methods to activate their brands and to be distinguished from the 'old-school' sponsorship solutions. Consequently, this type of digitalization enhances the level of interaction between Manchester City FC and its fans and it also acts as a persuasive element when striving to improve commercial partners' involvement with the club.
Photos: examples of NASCAR's digital fan engagement solutions.
NASCAR represents another good example of how digitalization becomes an integrated marketing and business tool to interact with fans. NASCAR has not only given fans a chance to interact on digital platforms such as computers, smartphones, and tablets. The organization has also created tailor-made interaction platforms, which enable fans to communicate, not only with NASCAR but also with its commercial partners. By creating such an interactional platform, NASCAR gives fans a seat at the table when it comes to important decisions by giving them a chance to express their opinion. However, the use of digital options also allows NASCAR to monitor fans' browsing patterns and to mold these BIG data sets in order to fit its strategy and marketing purposes.
Samsung represents a third example of digitalization. However, the example is related to how new technology may set the stage for the production of relevant content applied to promote the innovative abilities of co-branded properties in the business of sports. Samsung and selected partners produced a swim cap that automatically notifies blind swimmers to turn or arrive at the finish line and thereby the innovation helps to improve the conditions of the sport for these dedicated athletes. This is done through the use of Bluetooth technology (see video below).
A fourth example of positive and innovative digitalization is coined in how SAP and Under Armour joined forces under the label the 'Art of the Possible'. In an increasingly digitalized sports economy where the fans (and customers) are in charge, Under Armour applies value creation through digitalization by emphasizing the use of BIG data. Under Armour executes this via 'Connected Fitness', which is an adapted digital solution that optimizes customers' exercise experiences in a shareable way. Customers can share their workout data with trainers, doctors for performance or health reasons or with friends that they are competing against in various challenges (see video below). So, Under Armour has expanded its brand perception from being more than selling sports clothing to encompassing a digital health platform with millions of users.
SAP's collaboration in the business of sports goes beyond Under Armour. The IT-brand has also created a ('Art of Possible') platform for NHL that can help the hockey league boost the level of fan engagement. The idea is to provide NHL data that will enhance the league's understanding of its fans. The NHL intends to make all game sheets since 1917 accessible via a digital platform. Additionally, the league digitizes data regarding player and puck tracking to move fans closer to the action of their heroes. In doing so, SAP illustrates how a company can build a business model around digitalization in the business of sports (see videos below).
Digitalization has become a trend that MUST not be ignored. The trend shows a glimpse of what the future of the business of sports may look like. Therefore, rights holders and commercial partners in the business of sports should be aware of the creation of such a strategy given the wide range of opportunities associated with it.
Additional inspiration: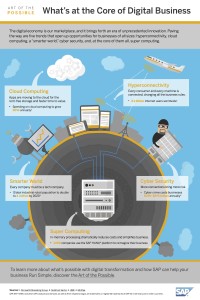 Infographic: The core of the digital economy (source: SAP)
This article is written by Kenneth Cortsen with Ivan Nalbantov as co-author.
Ivan Nalbantov is an ambitious young sports business professional who studies sport management at University College of Northern Denmark while working within the areas on sponsorship, digital strategies and content production and how that relates to sports business and corporations using sports as a marketing vehicle. Ivan strives to gain a better understanding of the connection between sport institutions and their intermediaries and how they work together. For Ivan, the business of sports is more than just a career path. He believes that it will dictate his life and legacy for years to come.