Photos: UFC super star Conor McGregor
Football takes first place in the sports industry in terms of popularity and is also a potent platform when it comes to generating commercial revenues. However, other sports (and their properties) are also developing methods and strategies to secure commercial success. Recently, Mixed Martial Arts (MMA) has experienced intensive commercial growth when it comes to eyeballs and money. The sport appeals to people's competitive nature and quest for brutal drama. That seems like a good match with different fan segments in a time in which sports consumption contains the need to see athletes push the limits of the human body in new extreme editions. In simple terms, it is a macho sport that speaks a language that most men worldwide understands: this is two persons fighting to win. The universal language partly explains why corporate brands like Harley-Davidson and Bud Light are part of the sport's sponsorship portfolio.
As a result, the sport (under its most recognized label UFC), which started in 1993 (UFC, 2016) is now a large industry and all about the $$$$$. MMA and its biggest fight promoter the 'Ultimate Fighting Championship' (UFC) is the breath of fresh air, which the business of sports needed in a long time. MMA divides people. Some people may consider the sport violent and inhumane while others love the thrilling version of a martial arts sport that combines traditional boxing and wrestling and adds a mixture of karate and jiu-jitsu techniques. Despite the varied perceptions of UFC, the sport has come a long way in just more than 20 years. Now, the sport has gone from featuring unknown street robust warriors to famous super stars. The nature of sports celebrities is very visible.
Consequently, there is a market for MMA. So, what started as a sports product with a low-key commercial appeal went through clever image-restoration and a strategic attention process of generating attention. That helped significantly but given the current commercial success of the sport, it is interesting to investigate what the sport offers in terms of commercial opportunities and fan engagement.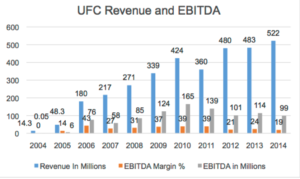 Table 1: UFC revenue development (source: The Global Authority on Mixed Martial Arts).
A profound overview shows that MMA's revenue model is based on several factors: 'Pay Per View' (PPV) streams, television rights, ticket sales and sponsorship solutions. Athletes, venues, event hosts and other rights holders are vital actors in the commercial circus that surrounds the business of MMA. This was proved in the reality show The Ultimate Fighter in which a bunch of fighters live together and engage in fights with the result that the eventual winner was given a UFC contract. This blend of popular culture and sports promotion became a hit among audiences, which shows the importance of building a relevant narrative around a sports product. Exposure is still important for the sport and based on the learnings from its problems of getting media attention before the reality show, the UFC has transformed itself into a strong media product. In 2011, Fox TV negotiated a deal with the UFC, which gave the television provider the opportunity to broadcast MMA events worldwide. The deal is estimated to hold an annual value of more than $100 mio. and it acts as a critical point to boost UFC's extraordinary market reach towards its designated segments. This way, the UFC can apply its athletes to a higher extent in order to promote and exploit both the sport and its associated commercial opportunities.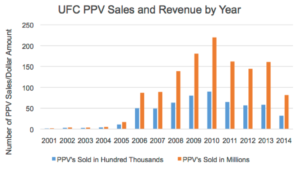 Table 2: UFC PPV sales development (source: The global Authority in Mixed Martial Arts)
With such massive and growing television coverage, commercial sponsors can get market exposure in a variety of ways, which differ from other commercial opportunities. On top of naming rights tied to and badges on UFC fight nights and the 'Octagon' (the battle field of the sport itself), fighters are allowed to sign their own endorsement deals, which provides potential sponsors with an uncontested exposure of an average of 26 minutes per game. Logos are usually put on shorts of the fighters while price negotiations are uncapped. The latter means that an athlete's endorsement can start from $500 for a non-broadcasted match and go up to a $1 mio. if a fit has been made between the fighter and his/her sponsors. However, exposure is not the most interesting aspect in this case due to the fact that the sponsors find it relevant to buy into the PPV-process and (more important) the association between the fighter, the sport, and the company's business objectives and target audiences. The most recent example was the defeat of UFCs' Conor McGregor in his match against Nate Diaz. McGregor ended up losing the match so his winning streak was brought to an end but anyhow McGregor got $1 mio. just to show up in the ring. This tells a story about the commercial impact linked to McGregor's personal sports brand and how his brand presence positively influences the PPV-process, the star-struck aspect of the sport and how a sponsor finds an profitable brand transfer within this context.
Moreover, the creation and application of digital content has disclosed new options for all rights holders in the sport. The recent e-sports game UFC displays the monetizing prospective of digital engagement. Options for ROIs, ROOs, and ROEs are various and that sets the stage for a combination of both sports sponsorship, media content, fan engagement and unparalleled constant exposure. Today, the UFC is a media- and event-driven sports product that has understood the benefits of tapping into popular culture by getting celebrities from different branches of the entertainment industry, e.g. sports stars, musicians, to promote big fights via social media and by streaming early fights via popular social media platforms like Facebook followed by the later fights on cable TV and finally the biggest fights on PPV. Celebrities like Barry Bonds and Jay-Z are among the sport's fans. However, in these cases the fights and the fighters cannot stand alone. Therefore, the UFC creates content concerning the fighters that presents exciting narratives around the fights and the fighters. This acts as another revenue stream while boosting fights.
Another fact, which plays an important role in shaping MMA as a celebrated and innovative sport is its appeal to people. Fighting sports have had a long tradition in shaping generations of youngsters by preaching methods to develop discipline, physical strength, endurance and personal character. Such traits have often transcended beyond the context of sports into other parts of people's lives, e.g. in the business world as well. These aspects can create an additional selling point when engaging in a dialogue with potential brands that may be interested in being involved in the sport. If a corporate brand aligns its business values with those of the MMA and its fan base there is reason to create and to tell compelling stories which can drive sales and build social responsibility initiatives. So, the business of MMA is very attractive in terms of laying the groundwork for sponsorship initiatives.
An example is the sponsorship deal between the UFC and the sport clothing apparel brand Reebok. The deal is estimated to have a value of about $70 million dollars over the span of six years (MMA Fighting, 2016). In a statement regarding the deal, UFC president Dana White mentioned that securing a well-known brand like Reebok is an attempt to move the sport into new spotlight and to ensure its chance to challenge the position of more established sports properties like NFL, NBA, MLB or the MLS. This may come as a surprise considering that the deal unleashed an unprecedented negative outreach because of how the sponsorship money was split among the fighters. Below is the current split portion of the UFC fight night revenues awarded to the fighters and illustrated in comparison with other sports.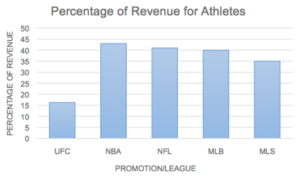 Table 3: UFC athlete revenues (source: UFC Editorial)
Given the recent UFC-Reebok deal, Reebok's exclusivity forces the fighters to think creatively about monetizing on their sport. Fighters are allowed to negotiate their own endorsements but they are not allowed to wear their badges on the octagon anymore. This has established an entry barrier for other sponsors in the sense that they have to come up with creative ways to promote their messages and to engage with fans in competition with Reebok.
The sport of MMA and its biggest promoter the UFC have gone a long way in their mutual collaboration. This co-branding has set the stage for a trend, which holds good commercial appeal. However, it raises the question of whether the 'old' and proven method for sponsorship in the business of sports beats new business practices. We recommend that all stakeholders emphasize a combination of the two with an increased focus on establishing digital presence to maximize fan reach and engagement.
This article is written by Kenneth Cortsen with Ivan Nalbantov as co-author.
Ivan Nalbantov is an ambitious young sports business professional who studies sport management at University College of Northern Denmark while working within the areas on sponsorship, digital strategies and content production and how that relates to sports business and corporations using sports as a marketing vehicle. Ivan strives to gain a better understanding of the connection between sport institutions and their intermediaries and how they work together. For Ivan, the business of sports is more than just a career path. He believes that it will dictate his life and legacy for years to come.
References:
Jonathan Snowden (2016)The Economics of MMA: Fight Night and the Sponsorship Game, Available at: http://www.bloodyelbow.com/2010/9/27/1715233/the-economics-of-mma-fight-night-and-the-sponsorship-game (Accessed: 15.03.2016).
(2016)A rousing defeat in the 193rd Ultimate Fighting Championship, Available at:http://www.economist.com/blogs/gametheory/2015/11/mixed-martial-arts (Accessed: 10.03.2016).
Ben Fowlkes (2016)The economics of UFC fight-night bonuses, Available at:http://mmajunkie.com/2013/07/the-economics-of-ufc-fight-night-bonuses (Accessed: 09.03.2016).
Abbas P. Grammy (2011) 'The Economics of Mixed Martial Arts: Are Fighters Underpaid?',, (), pp. .
Marc Raimondi (2016)Click Debate: Will the UFC really lose boatloads of money in the UFC 196 aftermath?, Available at:http://www.mmafighting.com/2016/3/13/11213712/click-debate-will-the-ufc-really-lose-boatloads-of-money-in-the (Accessed: 05.03.2016).
Jason Cruz (2016)UFC introduces economic impact study on behalf of legalization in NY, Available at: http://mmapayout.com/2011/01/ufc-introduces-economic-impact-study-on-behalf-of-legalization-in-ny/ (Accessed: 06.05.2016).
(2016)UFC/Reebok Uniform Deal Reportedly Worth $70 Million Over Six Years,Available at: http://www.cagepotato.com/ufc-reebok-uniform-deal-reportedly-worth-70-million-over-six-years/ (Accessed: 8.06.2016).
Gareth A. Davies (2016)UFC: Reebok deal a 'home run' for sponsors says Dana White who brands Dublin 'best fight town on the planet', Available at:http://www.telegraph.co.uk/sport/othersports/ufc/11955001/UFC-Reebok-deal-a-home-run-for-sponsors-says-Dana-White-who-brands-Dublin-best-fight-town-on-the-planet.html(Accessed: 13.06.2016).
Galen Moore (2016)Shoeless? UFC's CEO Defends Fighter Pay Under Reebok Deal,Available at: http://bostinno.streetwise.co/2016/01/17/ufc-average-fighter-pay-goes-up-but-reebok-deal-hurts-some/ (Accessed: 12.06.2016).
Jesse Holland (2015)Reebok has a message for sponsorship haters: UFC decides how its fighters are paid, not us, Available at:http://www.mmamania.com/2015/10/26/9616682/reebok-has-message-sponsorship-haters-ufc-decides-how-fighters-paid-not-us-mma (Accessed: 13.06.2016).
Dan Hiergesell (2015)UFC Reebok sponsorship blasted by RIZIN CEO Nobuyuki Sakakibara, Available at: http://www.mmamania.com/2016/5/7/11616282/ufc-reebok-sponsorship-blasted-by-rizin-ceo-nobuyuki-sakakibara (Accessed: 13.06.2016).
Andrew Brennan (2015)Why Is The UFC-Reebok Deal Exploiting UFC Fighters And Condoning Pay Gaps?, Available at:http://www.forbes.com/sites/andrewbrennan/2016/05/16/is-it-the-ufc-or-is-it-reebok-that-is-exploiting-ufc-fighters-and-condoning-pay-gaps/#12d67105657f (Accessed: 8.06.2016).
John L. Crompton (2014)Sponsorship for Sport Managers, : Fitness Information Technology, Incorporated.