If you want to WIN in the business of sports, data management is a trend with the potential to create a positive turnaround for your business. You must learn how to turn data into optimal sporting performances and into business opportunities.
Building a data bridge from the sporting to the business side
Earlier this year, I completed a research report, which focused on investigating how a sports tracking system (ZXY) and the integration of proper data management practices can boost value creation and commercial opportunities in the football economy. Based on my own coaching position in football, I know the impact of data management on sporting performances. Use of data management gives the sporting staff a tool to optimize decision making in training sessions and matches. Data may tell you to pull a player out of a training session to prevent an injury or to add new tactical suggestions during a match to change the momentum of the match. My knowledge as a sports business researcher emphasizes the importance of the interrelationship between optimizing these sporting performances and the positive affect of this action on the business models found in football (or in other sports).
A football club that knows how to apply data management in its push and pull strategies concerning its commercial stakeholders (e.g. fans, sponsors, and media) can create more valuable and comprehensive sports content. For instance, it is part of the postmodern sports consumption that fans demand 'pushing' information during matches, i.e. many football fans would like the club to 'push' some information while they watch the game. This creates an exciting and profitable interplay with the demand for 'pulling' information. After the 90 minutes of football, the same fans may demand relevant content and thus produce a 'pull effect'. So, does a football club realize to integrate data management to positively influence the sporting product, it is a way to position itself strongly in the industry and to differentiate itself commercially. By offering high-demand and relevant content to a broad range of stakeholders in a flexible manner, this is an illustrative example of how technology and data management work and cater to audiences in the postmodern sports economy.
The case of FC Midtjylland
FC Midtjylland of the Danish Super League (current Danish champions) has invested in the ZXY-system and has come to an understanding of the importance of applying the system to enhance its sporting and business performances. This has given the club some first-mover effects over its competitors in the Super League that have been more hesitant to invest in sophisticated data management systems.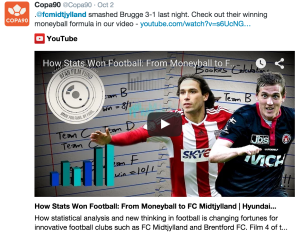 Photo: Copa90 tweeting about FC Midtjylland's application of statistics.
BIG DATA and commercial growth
From a commercial perspective, BIG DATA is a huge future growth area in the business of sports given its ability to leverage applicable high quality content. Corporate brands surrounding leading sports governing bodies like international and national federations and events, leagues, clubs and individual athletes are investing in the development of the next big technological breakthrough in terms of what can offer these sports entities competitive advantages and access to unexploited revenue streams.
New digital platforms that combine sporting data with promotional elements, whether focus is on sponsorship integration, merchandise associated with individual players or enhanced media content are pathways to a better business model. With more accurate and sophisticated data come additional innovative opportunities for business.
So, advanced data analysis is definitely a way to boost sporting and business performances or to change poor performances. However, the game of data management has changed. Data analysis has gone beyond applying analytics to sign new players, to determine their wage levels or which players to play in specific matches. Advanced data management systems (e.g. ZXY) can assist coaches and management in decision making processes regarding optimal sporting personnel mix, injury hindrance and business opportunities. There are always data that may enlighten where you can improve! But BIG DATA as the concept articulates can become crushing if a club does not have the competencies and proper practices for analytical purposes.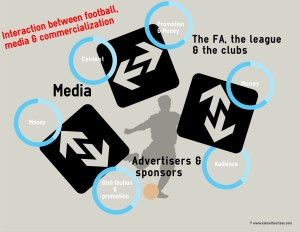 Figure: interaction between football entities, media and commercial stakeholders.
Combine data and competencies
Any sports team requires the ability to outstandingly collect and manage data with the power to construct accurate prognostic and explanatory patterns to define what will probably happen in the match and thus guide coaches and management to effective decision-making (in real-time). As a coach, I know about and apply video analysis but every match has its own life so I would prefer that my club (Aalborg BK/AaB) invested more in forward-looking analysis (e.g. ZXY and similar systems). Video analysis generates learning based on what happened in the previous match and does not necessarily IMPROVE performance in the current match. BIG DATA offers analytical information, which is delivered to coaches and management in real-time via their mobile devices. Through this information, it becomes more valid to determine what happens if one player stays on the pitch instead of substituting him/her with another. Additionally, video analysis does not provide the same platform to facilitate personalized training plans tied to injury risks. Rosenborg BK in Norway has experienced a drop in injuries of approximately 50% since the club implemented the ZXY-system in 2007. That is money… AC Milan and its famous high-tech scientific MilanLab is another example of a club that has won considerably by investing in data to prevent injuries.
In that sense, data management has built a new competitive arena for sports. Now, clubs compete on the pitch and in business power and this competition is shaped via data management. With this being stated, a club must secure support from top management to invest in the system and from the players in recognizing its benefits. Moreover, analytics must still be incorporated with strategic intuition from coaches and managers. In that sense, the point is to have coaches and managers with the competences to simply comprehend data management and to communicate the analytic key points effectively while building commitment from players and commercial staff.