Stjarnan FC from Iceland's top football division found a way to articulate Icelandic football years ago when highlighting the team's goal celebrations on YouTube, see video below. Now, Iceland has found a more effective way to break through and position itself on the global football map. On the journey of advancing and promoting its football culture, the climax is the successful qualification for the 2016 UEFA European Championship (EURO) in France. Iceland already made some noise during the qualification stages for the 2014 FIFA World Cup in Brazil when reaching the play off stage in which the team lost to Croatia.

These performances are remarkable given the country's population of approximately 330,000 and the fact that Iceland finished second in the UEFA 2016 EURO qualifications group after the Czech Republic but in front of strong football nations like Turkey and Holland. This process is a result of strategic investments into the country's football product, e.g. coaching education, optimized frameworks concerning technical training and competitive environments, and full-size indoor facilities to guard the players from the tough climate so now the activation of the football product has reached another level in terms of quality and frequency. Today, it is an all-year sport. Additionally, the current national team consists of more players that have gone abroad to play internationally and thus to gain competitive experiences, e.g. veteran player Eidun Gudjohnsen (former Chelsea FC and FC Barcelona), Kolbeinn Sigthorsson (former Ajax Amsterdam and now Nantes), Gylfi Sigurdsson (former Tottenham Hotspur and now Swansea City).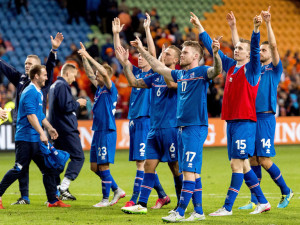 Photo: Icelandic players celebration after success in UEFA 2016 EURO qualifications (source: SportingLife)
The former Sweden coach Lars Lagerback has been a successful coach and has secured a strong organization and sense of unity and national pride in the team. This view is supported by the findings made by Vidar Halldorsson in an investigation about elite sports in Iceland that stated how the attitudes, commitment and motivation among these Icelandic elite athletes influenced sporting performances. Halldorsson (2012) found that "winning sporting contests against much bigger nations strengthened the nations identity, confidence and pride". This was investigated in a handball context but the 'David vs. Goliath' aspect may serve a purpose in a footballing context as well where the gaps to larger nations in terms of the overall performance framework are notable. Bjarke Groenbaek Moeller, who conducts research in performance optimization focused on understanding the group dynamics in a sports team at UCN Sport Management, notes that "the Icelandic football players might not be as good as the Dutch players from an isolated perspective but the team's collective performances are founded on a set of attitudes and values that would be interesting to portray in an in-depth investigation. Evaluated from the distance, the Icelandic national team seems to be in a situation in which the team's collective interests are central cornerstones in the players' performance orientation"
Football performances are centered on 'momentum'. A football team must strive to find momentum and to profit from the periods of momentum in the match while aiming to 'control' and hence minimize the opportunities for the opponent when that team has momentum. Succeeding in meeting these objectives, it is paramount that the team has a 'decent' technical ability combined with the right mental focus, physical condition and work ethic. So, tactics are vital but if the team does not work hard (also from a cognitive angle in terms of being willing to learn and improve), it is harder to exploit the key elements of 'time and space' from a tactical side (e.g. playing style and tactical systems like 4-4-2, 3-5-2 and so on). A football team must minimize time and space concerning the time that the opponent's star players (or the strength of particular players, e.g. is there a good header for offensive corner kicks) are allowed on the ball in certain areas on the pitch. On the other hand, a football team must seek to exploit time and space for its own players whether the strength is found when focusing on transition or possession styles. My final point is that Iceland has been very good at optimizing its performances for the national football team despite a population of only 330,000. Halldorsson (2012) made a comment about Iceland's success in handball in emphasizing that his "findings show that Iceland had the lowest population of a country with a team in the 2008 Olympic Games ́ handball competition. In fact, Iceland ́s population was only one-fifteenth the population of Croatia, which was the second smallest country in the competition". In the region of Northern Jutland, the population surpasses 500,000 so a simple equation would be to state that AaB should be able to qualify for the UEFA 2016 EURO. I know this is a very simplistic conclusion but nonetheless there must be some valuable lessons to consider when looking at Iceland's performances.
Source:
Halldorsson, V. (June, 2012). "No Man Is His Own Creation". PhD Thesis.