Sponsorship earnings have had a positive impact on the revenue streams of ATP World Tour Finals. In 2013, Sponsorship revenues for the event account for approximately £15 mio. That number equals about 25% of ATP's overall sponsorship revenues this year (Sport Marketing Frontiers, 2013).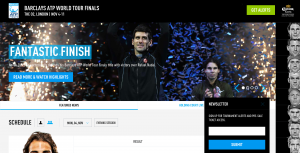 Photo: the event's official web site.
Overall, the event's commercial development has been very positive. To back this up, the tournament's sponsorship value has been enhanced by over 10% annually since 2009 when the ATP started to promote the 'commercial rights' of the event.
Previously, the tournament's 'commercial rights' and 'financial risk' was outsourced to a local hosting partner (in relation to a partnership with the ATP) whereas the ATP has undertaken full responsibility now. In retrospect, this makes sense due to the fact that the tournament has succeeded in signing more sponsorship deals as well as improving the value of deals with existing sponsors (they pay more). Part of the tournament's commercial development is evidenced in the way that the event has gone from 8 sponsors in 2009 to 16 sponsors in 2013. The previous sponsorship portfolio from 2009, which included financial group Barclays, South African Airways, water brand Highland Spring, sportswear brand Lacoste, energy provider Enel, exclusive watchmaker Rolex, workplace equipment company Ricoh and pay-TV provider BSkyB, has been expanded to include the following:
Title Sponsor: Barclays
5 Platinum Sponsors: Corona, FedEx, Ricoh, Mercedes-Benz, Emirates.
6 Gold Sponsors: Lacoste, Enel, Highland Spring, Rolex, Actavis, Moët & Chandon Champagnes.
5 Official Sponsors: Head, Technifibre, Gillette, Segafredo.
Barclays just renewed its 5-year Title Sponsorship to cover 2014 and 2015 and pays reportedly $8 mio. annually for these rights to the event, which will stay in London for 2014 and 2015 (Sport Marketing Frontiers, 2013). Although football is the highest priority for Barclays in terms of sports sponsorship, this deal portrays Barclays' huge interest in tennis and its interrelationship with affluent consumer groups. To illustrate the importance of tailor-made sponsorship solutions in today's sports sponsorship world, the sponsors of the tournament are divided into different tiers and although there are similar prices within the same tier there may be differences between the rights acquired (e.g. hospitality and exposure rights).
I have listed some of the 'brand influencers', which have affected the tournament clearly, see below:
Television coverage in a large number of markets.
High quality TV creation.
London is a good location for the tournament – if measured by brands, London acts as a good location in terms of brand exposure and hospitality.
Timing – there is a good fit between the location in London and the timing for large TV markets (London is in a good time zone).
The O2 Arena in London has excellent quality to match this type of events.
The popularity and celebrity status of the tennis stars competing in the event.
Corporate brands perceive the event to be good for guest relations and hospitality.
There is a good 'hybrid connection' between the event and its stakeholders, e.g. long-term sponsors like Barclays, Rolex and Ricoh are leaders in the sports sponsorship industry and it is a quality mark for the overall event experience that they are partners. It enhances the fan experience and sends a message about the quality of the players participating in the tournament.
In 2012, 263,229 fans visited the event over 8 days and there was a TV audience around 70 mio. worldwide. The tournament was televised by 56 broadcasters in 193 markets (Sport Marketing Frontiers, 2013).
To emphasize why this event may be a good match, there are different examples. Mercedes-Benz has replaced Nissan as the official car partner of the event. The event reflects a good match for sponsors linking with the sport of tennis or for sponsors already associated with tennis. For instance, Mercedes-Benz has a personal sponsorship deal with Chinese women's tennis player Li Na and has (or has had) ties with men's tennis star Roger Federer and a prestigious major tennis event like the U.S. Open. When talking about Roger Federer, he is another example of the 'hybrid connection' involved with sports branding as his presence in the tournament helps to underscore the 'meaning' of Gillette's (part of P&G) sponsorship deal as the shaving product company already does business with Federer. So in that regard, Mercedes-Benz's and Gillette's presence in the tournament will help to activate its different tennis sponsorship solutions in the UK and globally. Moreover, it fits well with the companies' segmentation and targeting. The tournament has also a strong following on social media as evidenced in the picture below: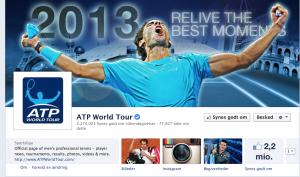 Photo: ATP World Tour's official Facebook page.
Sources: 
Barclays ATP World Tour Finals, visit web site.
Sport Marketing Frontiers, 2013.