Wembley Stadium in London, in the UK is managed under Wembley National Stadium Limited, which is a subsidiary of the English Football Association (the FA). The stadium plays host to some of the greatest football events like The FA Cup Final and the home games of the English national team. It is the second largest venue in Europe with 90,000 seats. In addition to top football games, Wembley also hosts other major events, e.g. class concerts, the NFL's International Series (American football) and rugby games.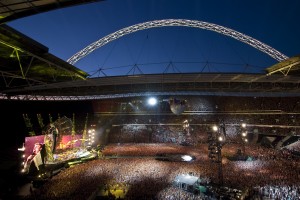 Photo: concert at Wembley Stadium (source: Wembley).
Andris Silins from UCN Sport Management is currently completing his internship at Wembley. The famous venue is among the most acknowledged names in the business of sport. Thus, Andris benefits from the top-notch practical event and sport management wisdom, which Wembley has added to current and former UCN Sport Management students.
Wembley re-opened in 2007 on the site of the earlier Wembley Stadium, which was torn down in 2003. Since re-opening, the venue has welcomed 12 million visitors, delivered 200 major events and has had the honour to be recognized by UEFA as one of the best stadiums worldwide. The latter has paid off in the sense that Wembley has hosted the biggest game in club football, the UEFA Champions League Final, twice in the past 3 years. Wembley Stadium was also a vital part of the London 2012 Olympics as the venue hosted 9 football matches, including the men's and women's finals.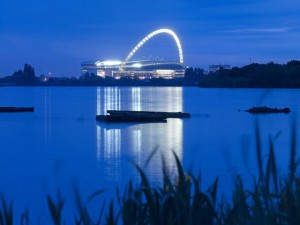 Photo: the lights of Wembley Stadium (source: Wembley).
Giving Wembley's fine reputation and position in the world of sport, the Wembley team has reached an expert status in terms of designing, developing, opening and operating an outstanding venue. 'Wembley Stadium Consultancy' (a consulting arm related to Wembley National Stadium Limited) has been founded to give venue owners, event owners and developers the experience and proficiency of those involved with this iconic venue. To illustrate the expertise of 'Wembley Stadium Consultancy', the following list includes projects on which 'Wembley Stadium Consultancy' has advised:
Reviewing the design and operational plans for a 60,000-capacity stadium 
in St. Petersburg, Russia.
Advice on the operational readiness of the new 65,000-capacity Jaber 
Al-Ahmad International Stadium, Kuwait.
Design, operation and management of the 40,000-capacity Johannesburg soccer stadium, built in 1995.
Management of the Shah Alam National Stadium Complex, built for the 1998 Commonwealth Games in Kuala Lumpur.
Management contract for the 50,000-capacity Hong Kong Stadium in 1995, following design and build consultancy.
Input into the post-FIFA World Cup 2010 business plan for Cape Town Stadium, South Africa.
Consultancy partnership with the Premier Group in Brazil, prior to the FIFA World Cup 2014.
Supporting IMG in its role as Stadium Operations Consultant to Qatar Supreme Committee 2022.
Pitch consultant to IMG Reliance, India.
Consulting services may include a wide variety of venue management, i.e. event planning & management, financial planning, health & safety, licensing, sponsorship, merchandising, catering, procurement & development of new events, local resident/community relationship management, database marketing, membership services, ticketing, traffic management, corporate hospitality, stadium tours, conference & banqueting, venue design, media & PR campaigns, strategic venue management, brand development & protection, and turf management.
Part of Wembley's operations also integrates 'Club Wembley'. As the ultimate stadium members' club, 'Club Wembley' aims to mix the best of sports and entertainment with superb corporate hospitality. Andris does a lot of work for 'Club Wembley' and hence helps to facilitate the team's desire to give Wembley clients' the perfect 'Wembley Experience', i.e. the finest way to engage with the action on the UK's biggest stage in sports and entertainment.
We have asked Andris Silins about his 'Wembley Experience', see below:
Photo: Andris at Wembley Stadium.
How has it been to do your internship at Wembley Stadium?
I have mainly worked within the area of corporate hospitality and has had the responsibility for many interesting and challenging tasks. I have been very motivated to work at Wembley as my contact manager Heath Harvey is an excellent motivator. I have done a lot of analysis in terms of benchmarking and market research. I have learned a lot that way and the internship has added to my understanding of how corporate hospitality works from a holistic perspective.
I have participated in many meetings, which included discussions about large projects and it was an incredible experience to take part in this process. My participation in these meetings has been an eye opener concerning the level of professionalism, which is expected when serious persons are doing serious business.
What were the most challenging tasks during your internship at Wembley?
In general, the most challenging tasks have been all the events with the companies. In this process we needed to arrange everything in alignment with the clients' needs. Maybe, it does not sound that challenging but it was quite a big responsibility and I had to do everything perfect in order to make a good impression in relation to Wembley Stadium. It was also a challenge to conduct various market-oriented research tasks at a high level, which I always emphasized so that I did my best to make sure that the tasks were done perfectly to prevent a need for re-check.
What can future students learn from working at a place like Wembley?
It pretty much depends on the specific department at Wembley. Wembley is a big organization and there are many options such as event management, marketing, hospitality or finances. But all in all, they can be sure that they will get a huge experience while working in the most famous stadium in the World. Just to be and work here has been a pleasure and it feels like a very big privilege. I see it as an experience that will boost a future intern's motivation every day.
How do you think that the 'Wembley Experience' will benefit your future career?
Time will show. Maybe, I get the chance to be able to stay here, who knows? In that case, the 'Wembley Experience' will provide me with my first important work experience within the sports and event industry and that is where I want to work. Of course, it is a good place to add on my CV and I am pretty sure that it can play a central role in future job interviews. As a last point, I have to mention that this internship has given me an opportunity to expand my network in terms of contact details of 'big players' in the sports and event industry in the UK.
What are your plans after graduation?
The plan is to stay here in London and find a job related to hospitality, events or sports. I feel that the UK provides many opportunities to become a successful person in one of these areas. It will be interesting to see where I will be next month and if that is here at Wembley, then there will be no happier person than me 🙂
For more information, check:
Club Wembley, click here.
Wembley Stadium, click here. 
Wembley Stadium Consultancy, click here.
UCN Sport Management, Kenneth Cortsen – e-mail: keco@ucn.dk or phone: +45 72691386