The global beer brand Heineken is one of the sponsors of UEFA Champions League. According to Sport Marketing Frontiers, this sponsorship is a massive investment for the Dutch company. Reportedly, Heineken paid $365 mio. in May, 2011 to renew its sponsorship deal with UEFA Champions League for a 3-year period, cf. figure 1 below. In this post, I will take a look at how Heineken seeks sponsorship-ROIs from campaign content and activation.

Figure 1: Some of Heineken's current sponsorship deals (Sport Marketing Frontiers, 2013).
The Dutch beer giant recently launched content telling the story about 'how far a man is willing to go to attend this year's UEFA Champions League final at Wembley Stadium in London. The rhetorics of the campaign take viewers towards the notion that 'nothing should stand in between a man and his football experience' and Heineken acts as the facilitator, which makes 'great football experiences come true'.
Heineken has been successful in terms of activating the campaign. On Facebook, the brand has more than 13 mio. likes on the 'Road to the Final' page, which is a fan community where football and beer fans can engage in videos, games etc.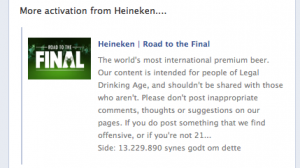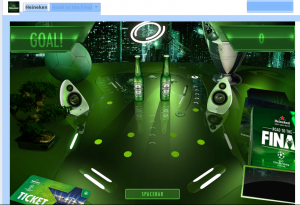 Measuring Heineken's success in terms of activation via the brand's engagement on YouTube shows another way in which Heineken connects with football fans and beer lovers. The Candidate is a video displaying the pursuit to 'win' an internship with Heineken's sponsorship team. The recruiting process is highly unconventional. 'The candidates' must go through many things, which seem to be irregular in other job interviews. Finally, 'the right candidate' is hired while he attends a Champions League game between Juventus and Chelsea at Juventus Stadium, i.e. so the scene was set for a perfect Heineken/UEFA Champions League experience. At the same time, the video sends the message that a controversial method may be the best road to find the best talent and thus that message acts as a point of differentiation for the brand. The video has received almost 5 mio. views on YouTube.
Heineken also activated the sponsorship on other types of social media. Football icon Clarence Seedorf, who has represented some of the biggest clubs in the world such as Ajax Amsterdam, Real Madrid, AC Milan, was active on the brand's Twitter account during the semi-finals of the UEFA Champions League. Here, he reported his views on aspects of the games.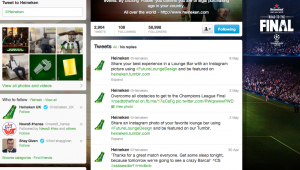 That's another great way of communicating with fans and consumers and thus mixing Heineken beers, UEFA Champions League and top-quality football experiences. There is a massive interest for the Champions League tournament and hence a huge incentive for communication about this tournament and it is always a good idea for sponsors to strive to join these fan conversations. Fan conversations in sports are unique in producing emotional equity. Heineken has done relatively well in terms of being in conversations dealing with the action on the pitch. Seedorf's role on Twitter is an example of that and fans are curious about the 'action'. Moreover, football fans are often men and 'most men like beer' so it seems like a 'perfect marriage'.
From my point of view, Heineken has done well executing the brand's sponsorship communication as it refers to UEFA Champions League. The company has taken an extremely popular football product and created a 'Heineken universe' around it. That may serve as a good strategy to create further awareness about the brand globally and to beat fierce competition and win market shares worldwide because the UEFA Champions League product has a wide appeal.
To put things into perspective and wrap up, Jean Francois van Boxmeer, Heineken N.V. stated in 2005 why UEFA Champions League is a valuable brand asset for the Heineken brand, cf. citation below:
"We are delighted to have extended our sponsorship of the UEFA Champions League. With over 4 billion viewers per season in 227 nations around the world, this premier sporting event has become truly global and fits perfectly with the Heineken brand." (Jean Francois van Boxmeer, Heineken N.V., 2005)
In relation to Heineken's recent renewal of the UEFA Champions League sponsorship, the company said that "The UEFA Champions League is one of the world's premier sporting competitions with unrivalled international reach and professional standards. This makes it a perfect match for Heineken, the world's most international premium beer brand. The sponsorship plays an important role in fuelling the continued growth of the Heineken brand around the globe. It reinforces brand strengths in those European markets where Heineken is well established and builds brand equity in key markets for the company, particularly in the developing world. This agreement is in line with our strategy of concentrating on a few large, high-quality properties to get the maximum benefit from our investments." (Alexis Nasard, chief commercial officer at Heineken, 2011)

In "Building global sports brands: key success factors in marketing the UEFA Champions League", professors Simon Chadwick & Matthew Holt (2007) write that "Whilst television and sponsorship revenues account for the vast majority of Champions League income, the commercial optimization of the competition is further enhanced through the sale of new media and licensing rights………According to UEFA, this 'performs a valuable brand building function' and acts as a permanent reminder of the UEFA Champions League."  
Ergo, UEFA Champions League and Heineken are two premium brands with a global reach and thus a good basis for commercial partnership. They share the passion for the popularity of football as a way to produce revenues while striving to maintain and enhance their global brand strengths.
Sources: 
Chadwick, S. & Holt, M. (2007). "Building global sports brands: key success factors in marketing the UEFA Champions League", in Marketing & Football: an international perspective. Butterworth-Heinemann, Oxford, the UK.
Nasard, A. (2011). "Heineken extends Champions League sponsorship", www.uefa.com, 27th of May, 2011. See more here.
Sport Marketing Frontiers.
Van Boxmeer, J. F. (2005). "Heineken brand to sponsor UEFA Champions League", www.heinekeninternational.com, 25th of May, 2005.