Global reach and management of brand assets are important parameters for football brands striving to maximize their brand value. Manchester United is a great example of a football brand, which has succeeded in terms of 'going global' and maximizing its revenue streams and brand value. According to BBC News, Manchester United recently reported a record $143 mio. in sales for the third quarter due to lucrative sponsorship deals and revenues from participation in UEFA Champions League (though, the club still had a pre-tax loss in the same period). The latter is due to player wages, partly because the club signed players like Robin van Persie and Shinji Kagawa. Especially, Robin van Persie proved to be a huge success and a key ingredient in the club's recipe for the national title. The reason for the success in the club's revenue streams is linked to an enourmous global fan base and strong performances when generating commercial, broadcasting and matchday revenues. The club's commercial sales went up by 32% in the third quarter compared with the previous year and sponsorship deals increased by 52% while revenues from merchandising, mobile devices and retail also increased. This year, Manchester United were not knocked out of the group stage in UEFA Champions League and that development has helped broadcasting revenues to increase. All in all, Manchester United is a perfect example of a club, which understands to work seriously with globalization efforts and management of brand assets. The club has a strong commercial platform and has implemented a recruiting strategy where it seeks to attract professionals, which have working experiences from top-notch brands in other industries. By doing so, Manchester United can transfer their expertise and build valuable brand knowledge and initiatives in the football industry. Additionally, the club has understood to transform its position as a national powerhouse in the English Premier League into the same at a global scale. This process adds precious commercial negotiation power for any football brand. Simply, it is crucial to understand the brand value of the domestic competition, i.e. the Premier League, and to take advantage of this understanding when 'going global'. The Premier League is currently the football league with most commercial potential internationally (if you look at domestic leagues, i.e. not UEFA Champions League). Therefore, this league generates the most money, from matchdays, broadcasting rights, and sponsorships and the best clubs find smart ways to benefit from this.
Due to the Premier League's commercial appeal, it is no wonder that the presence of English clubs tend to dominate different rankings where football clubs are measured on various criteria, e.g. brand value (for instance Brand Finance's study of football brands), revenues (for instance Deloitte's 'Money List') or team value (for instance the study conducted by Forbes of soccer team valuations). Premier League clubs have generally good conditions for bringing in revenue. There are massive TV audiences associated with the Premier League and the coverage is spread widely around the world. At the same time, this massive media coverage, fan bases and commercialization surrounding the league enhances the chances for increased visibility and activation for sponsors. English clubs have also been very good at applying social media initiatives to enhance the commercial effect of their activities. Sport evokes strong feelings and in managing the emotional equity tied to their brands, many English clubs have also shown strong performances commercially given the fact that positive feelings can be spread instantly via the application of social media. That is one reason why football clubs and sponsors can benefit highly from integrating social media within activation campaigns.
Looking at football brands, it is not only the English clubs, which have done well. Real Madrid and FC Barcelona are notoriously known for being strong football brands and the clubs' star players account for much hype around the brands. The two Spanish clubs also benefit from broadcasting rights being negotiated individually on a team basis (though creating an intensified polarization effect in the Spanish league). German clubs, especially Bayern Munich (FC Bayern München) and Borussia Dortmund have experienced a strong brand development lately due to massive success on the pitch in the UEFA Champions League. These clubs have managed to compete with and break a period of Spanish success due to a modern and entertaining style of play characterized by both clubs scoring many goals (and also due to strategic talent development schemes implemented by the German FA). From a branding perspective, Bayern Munich and Borussia Dortmund benefits from being powerhouses domestically in a league and a country, which has a well-cultivated and active football fan culture, i.e. high attendance and consumption rates. Bayern Munich is located in a strong region financially and has strong connections with powerful international brands such as VW (Audi owns 9.1 % of the club), Adidas (owns 9.1 % of the club), Deutsche Telekom, Siemens, Bwin, Samsung, and Lufthansa. On top of that, the club can benefit commercially from the fact that some of these commercial partners are part of the club's ownership structure. In that sense, Bayern Munich has had long-term ties with Adidas and based on the club's domestic and international position, the commercial negotiation power is reinforced. At the same time, the German clubs have not been constrained by small and old-fashioned venues as you have seen in Italy (San Siro needs a face lift) or in England (Liverpool FC and Chelsea are constrained by the size of their venues). Signal Iduna Park in Dortmund and Allianz Arena in Munich are stadia with large capacities, which can facilitate the huge demand from the clubs' fan bases and corporate supporters. Arsenal and Manchester United are examples of English clubs with such assets. The demand for corporate hospitality is massive in European top clubs and Chelsea or Liverpool FC cannot match Arsenal's 24,000 or Manchester United's 33,000 hospitality tickets (Brand Finance, 2012) for what reason football brands like Chelsea or Liverpool FC must strive to redevelop their current venues or to build new venues to compete with their rivals. These two English clubs follow global strategies just like Bayern Munich or Manchester United and combine these strategies with local marketing projects but they will not optimize revenues from their venues without changes.
Digital marketing is an area where Chelsea has been very successful. The club's partnership with F1 team Sauber shows a way of implementing new platforms to improve brand value, see more.  It is an innovative attempt of co-branding where Chelsea tries to bring together two of the world's biggest sports and more importantly the fan bases associated with these sports. Manchester United tried this with the club's partnership with the New York Yankees years ago and time will show if the market is more ready for such alliances today? But with the influx of globalization in sports (especially in relation to the Premier League) and digital marketing, the probability for success seems to be higher.
Premier League is the football league with the highest global appeal followed by the German Bundesliga, the Spanish La Liga and the Italian Serie A (Brand Finance, 2012).  The league is an important asset for the clubs. With a better broadcasting deal and a higher global appeal, the clubs will have a product, which they can sell at a higher price. In general, broadcasting is a key asset for any league and club trying to build a strong brand. So is domestic and international presence in terms of showing strong performances on the pitch in the domestic and (more importantly) European (UEFA Champions League) competitions. This will spark a club's brand value and the financial position of the club and this should go hand in hand with star players, sponsors, investors, fans and venues, so there are a lot of assets to manage.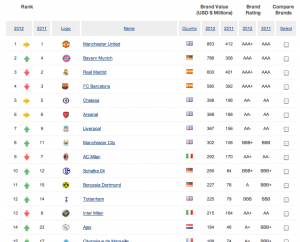 Photo: The strongest football brands 2012 (Source: Brand Finance, 2012).
Sources: 
Brand Finance, 2012. "Football Brands 2012".