In some instances, you experience that sports brands take on an overconfident attitude in their interactions with their surroundings in the sense that they take for granted that fans and other stakeholders will love them no matter what. Just as we know it from customer relationship management within the context of general business management and operations, it is also apparent that postmodern sports consumers are more knowledgeable, critical and powerful than years ago. For that reason, there is much to win in sports management when sports brands act in professional ways and work to change the prejudiced opinions of some sports consumers concerning the above-mentioned attitudes.
Let's imagine that sports brands can change the negative prejudiced attitudes of their commercial stakeholders by 10% in the positive direction… That way, there is a good chance of improving the overall revenue generation.
In the sports landscape, there have been numerous examples of fans and other commercial stakeholders protesting about a sports brand's attitude. In the mindsets of sports fans, 'Nothing but the best is good enough' and sports brands should always strive to deliver above expectations. The latter is a difficult task given the fact that winning matters in sports and that may be an element, which is hard to control due to the level of competition with other sports brands. Therefore, it becomes even more pressing that the willingness to win on the field is transferred to the commercial framework outside the field and that sports brands adapt a relative humble attitude adding the element of exceeding expectations outside the field. Otherwise, fan and stakeholder experiences may turn into unexpected events that will damage the total business potential of the sports brand. Everton FC of the English Premier League experienced that a lot of fans turned against them and protested when the club wanted to launch a new emblem in which the motto 'Nil Satis Nisi Optimum' (Nothing but the best is good enough) was removed. The fans won that challenge, which reflects the growing power of sports fans in today's business of sports. Hull City AFC fans protested against owner Assem Allam's idea to change the name of the club to Hull Tigers. The name of the club is huge part of the identity of football fans and hence it is a 'vulnerable asset' when dealing with re-branding processes, which was seen when Hull fans united in protesting as part of the campaign 'No To Hull Tigers'. As part of that campaign, the fans handed out flyers during home games and sung 'City Till We Die' to emphasize their sympathy with the Hull City name.
Bolton Wanderers FC learned to withdraw a two-year sponsorship agreement with payday lenders QuickQuid after fan protests. Cardiff City FC discovered fan protests when changing the club's primary colors from blue to red in 2012 and although the club decided to go through with the change the club's season-ticket holders were allowed to determine the color of the club's shorts. In 2013, Brentford FC saw a lot of unhappy fans when the club decided to play a pre-season game against the Scottish champions Celtic in which the club paid Celtic* to show up and only devoted one stand of Griffin Park for its own fans. This incident opened up for a more constructive fan dialogue after fans threatened to boycott. Birmingham City FC has seen the club's fans protest against the ownership of the club following an embarrassing 8-0 defeat against Bournemouth in October, 2o14 and the same happened to Liverpool FC when the club had significant problem areas under the ownership of Hicks and Gillett some years ago.
Another example of football fan power is mirrored in the video below in which football fans of Turkish top clubs Fenerbahce, Besiktas and Galatasaray joined forces and took part in anti-government protest.
An American example of fan protests concerns how NFL's Denver Broncos fans started a petition to get CBS commentator Phill Simms from broadcasting Broncos games, see photo below.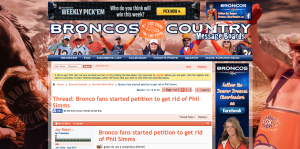 Photo: petition to remove Phil Simms from broadcasting Broncos games (source: Denver Broncos fan forum, 2014).
NBA's Miami Heat also showed a team protest that would influence basketball fans's meaning regarding LA Clippers owner Donald Sterling's racist comments about African-Americans. In solidarity with what the LA Clippers did in one of its playoff games, Miami Heat also displayed t-shirts that were turned inside out to hide the team logos.
Miami Heat fans also protested about LeBron James being benched to stress that LeBron is meant to entertain fans, see photo below.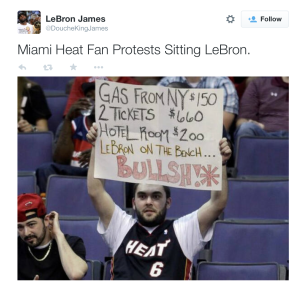 Photo: Miami Heat fans not happy about LeBron James being on the bench (source: LeBron James' official Twitter account).
Audiences are no longer as passive as decades ago and that illustrates today's sports business environment in a way that has re-structured the business challenges and opportunities of any sports-related entity. From an optimistic angle, new opportunities have arisen in terms of revenue generation and brand equity maximization via sponsorship activation, enhanced storytelling and convincing fan engagement and ambassador programs. This new environment has created a situation where 'disaster events' may occur if sports brands are too overconfident in their attitudes and interactions with fans and other stakeholders but the higher level of lack of control over the storyline of sports entities may be turned into something positive when professionalizing and prioritizing the relationship with fans and other stakeholders. Keep in mind that 'attitude is a little thing that makes a BIG difference' and it does not cost much to highlight the importance of this behavior and to act on it. Whether or not protests are concerned about re-branding processes of a sports clubs, a country's investment in a major sports event or a league's level of ticket prices, sports entities must considerably measure and evaluate the relationship with fans, relate it to their objectives and strive to see what procedures to implement to make sure to deliver above expectations and to prevent stakeholder 'disaster events' from happening.
*Due to the fact that Celtic has a very passionate fan culture.