Monetizing on value creation in sports is a function of an appropriate strategic cultivation of the sports-related organizations'[1] stakeholder relationships. The sports business emphasizes Marshall McLuhan's statement that "the medium is the message" (McLuhan, 2006, p. 107), which acts as a meaningful practical reason for why today's sports-related organizations should aim to succeed in managing and implementing profit maximizing precision marketing tools. These tools assist sports-related organizations in building viable relationships between relevant parties in the business of sports, e.g. leagues and clubs and their sponsors and fans.
McLuhan's (2006) focus on the personal and social effects of any medium is especially important in a time where there is a wide variety of opportunities for people and thus for the above-mentioned sports-related organizations and their stakeholders to extend themselves and the associated meaning as symbols fighting for a vital spot on the agenda in the ongoing discourse of society. Globalization, technological development and the high demand for digital content from younger generations of passionate sports fans are tendencies in the sports industry that make it important for sports-related organizations to pay attention to the question of how they can break through the clutter in an era, which is influenced by media fragmentation but at the same time by the opportunity to apply more platforms to deliver relevant and in-depth content and to engage with and to cultivate the market place. The chance to minimize 'commercial waste' is definitely worth taking as successful competitors in this arena are those that can take advantage of the intensified customer requirements for good 'speed-to-market tradeoffs' when converting data and information into profitable, personalized, positively differentiated and leveraged (across a well-orchestrated pool of networks) products, services and experiences.
The competitive arena in sports is intense so being superior is difficult; there are so many actors in the industry that strive to obtain that position in the market place. So, 'cultivate the market place or die' seems to be a good analogy that works in a sports context in which every competition has its own life, which sports-related organizations must try to manage and control. Therefore, the above-mentioned tendencies are not necessarily a negative thing. This development can also be perceived as an opportunity to excel via new commercial vehicles for those sports-related organizations that are qualified to cultivate the market place while considering the importance of 'the medium being the message'. Yes, increased focus on globalization and expansion strategies across market boundaries, social media development, data management on and off the playing field and commercialization at the heart of digitalization produce a rolling debate on what to prioritize in the strategic business development of sports-related organizations, which amplifies the complexity of the sports business management nexus. However, cultivation is an interactive process in which sports-related organizations in their stakeholder encounters embrace the positive engagement opportunities linked to new tendencies and media platforms while being open to co-creation and co-branding inquiries and actions from stakeholders. To sum up, the complexity associated with the continuing debate raises the predicament of whether the above-mentioned tendencies are the 'new message' or if the relevant meaning is associated with the practical 'how-to-do-it' terminology pointing to what sports-related organizations do with the tendencies. I believe that the latter should be prevailing in the business of sports, which seems to be in sync with McLuhan's (2006) view that the substance of any medium is always another medium. That's where sports-related organizations can find the points of differentiation and meaning, which set them positively apart from competitors.
To exemplify the process of winning in the discipline of cultivating market places in the business sports, collegiate athletic departments are cultivating their market places via social media (Dixon et al., 2015). When getting ready for the college championship competitions, athletic departments apply social media strategies to engage with their stakeholders to enhance the identification levels of these stakeholder groups as a way to escalate commercialization effects. Earlier, I have written an article on this blog, click here, which portrays how the UConn Huskies Basketball and IMG College activated the university's transportation partnership with Chevrolet via social media. Showcasing the UConn Chevy Sonic's road to Final Four, which was held in Texas at the time, was a good orchestration of UConn's proud basketball history and the relevance of March Madness among UConn's stakeholders. It became a nationwide success among sports fans when UConn took their mascot Jonathan the Husky to Texas via various pit stops at historic sights and competing schools.
Similarly, Clemson University's recent national championship title in college football against Alabama made some noise on social media. It was the program's first title since the early 1980s and Clemson's comeback produced a very exciting championship game, which was boosted by responses from the Clemson community, including its celebrity fans (UFC President Dana White) and alumni. At the same time, the Alabama Crimson side and its famous alumni also commented on Clemson's victory, which shapes the interesting interactive element that social media hold in stakeholder articulations concerning sports events.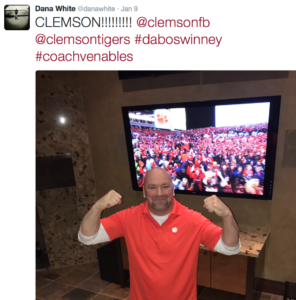 Photo: UFC President Dana White celebrating Clemson University's national championship in college football (source: Dana White's official Twitter account).

Photo: Former NFL player and Alabama quarterback Joe Namath commenting on Alabama's defeat (source: Joe Namath's official Twitter account).
Analogous to Clemson's social media activities around the championship lies the athletic department's revitalized social media strategy that integrates features like 360-degree videos on Facebook. Clemson's strategy emphasizes the importance of taking fans and other stakeholders to 'new places', e.g. experiential tours in virtual reality to understand the lives of the Clemson Tigers. This is all about access and that can be catered by taking stakeholders to places that are normally out of reach, e.g. pre-game videos to follow the players before they enter the football field for a national championship. Marketability is incorporated in the creative cultivation attempts at Clemson. For instance, the football program welcomed fans to a College GameDay experience at the Clemson University campus via a Match.com dating profile and also applied the #GetUp4GameDay hashtag to motivate fans to support the team for its home games, see photos below.
Photo: The dating profile of Clemson Athletics and the #GetUp4GameDay campaign to target college football fans (source: the official Twitter account of Clemson Athletics).
The football team's social media awareness also stem from fictional video narratives of a young male fan whose big dream is to suit up as a Clemson Tiger and and joining the team in its famous (in college football) 'running down the hill' entrance to the field, see videos below.
The football program at Clemson University has also created social media videos that illustrate the identity and character linked to being a member of the team in which 'best is the standard'. The #ClemsonFamily hashtag plays on 'Clemsoning' (playing well against the best teams, e.g. Florida State or Miami, but not necessarily performing against weaker teams) and superiority, i.e. the 'quest for best'. When the lights are on and 82,000 fans are screaming, the personal characters and identities of the players will become evident. To become the best, you must give everything and that is the current Clemson resemblance to the identity in the videos, which shape the expectation of the fans, see video below.
In cultivating everyday life of the Clemson football team, the athletic department also framed the challenges of the team to create attention and engagement among fans and other stakeholders, e.g. bringing the #BeatBAMA hashtag to life concerning the championship rivalry against Alabama, see video below.
The videos below display how various fans reacted to Clemson's national title game so there are different ways to express fandom and thus needs for cultivation 😉
Video above: Referee Mike Defee's buff arms took college football fans by storm.
In summarizing this angle on cultivation of market places in the business of sports, it is central to highlight that information flows are interactive in nature and the industry shows patterns of increased needs for sports-related organizations to brand themselves as corporate brands to create more goodwill among stakeholders and to take a more important role in the local community, e.g. the inclusion of stories about talent development, how the organization/team meets the fans and other representations of the team's identity. Sport-related organizations must find the balance between delivering value face2face in the venues and in the community because the CRM approach to profit maximization in the sports industry includes the acknowledgement of 'segmented market places'. The latter refers to precision marketing techniques from competent management of stakeholder (including fans) identification (finding and prioritizing relevant stakeholders) and the division of these stakeholders based on their needs and the value they to bring your sports-related organization. Consequently, strong CRM execution is not only about the proper management of a database but also about being where the stakeholders (e.g. fans) are and interacting with them to engage in knowledge sharing processes that strengthen your knowledge about their needs and that positively influence the strength of the stakeholder relationship. Only by going through these steps, it becomes possible to to go from sub-optimization to optimization in tailoring the product, service and experience offerings and the associated communication and promotion to each individual stakeholder or stakeholder group (the latter is a matter of resource allocation).
[1] "Sports-related organization is a term that refers to sports entities that have sport as a core function….. The terms sports-related entities and sports- related organizations are used interchangeably throughout the dissertation. This comprises sports events, sports leagues, sports clubs, athletes, professional sports teams, sports governing bodies, sports equipment manufacturers and so on. However, it also includes entities where sport is not a core function, but merely something to be applied as a marketing, communication, branding, sponsorship or promotional platform to create 'added value,' e.g. Heineken and the company's engagement in football (soccer) sponsorships." (Cortsen, 2016, p. 8)
List of references:
Cortsen, K. (2016). Strategic Sport Branding at the Personal, Product and Organizational Level. Aarhus University. Doctoral dissertation.
Dixon, A. W., Martinez, J. M., & Martin, C. L. (2015). Employing social media as a marketing strategy in college sport: an examination of perceived effectiveness in accomplishing organizational objectives. International Review on Public and Nonprofit Marketing, 12(2), 97-113.
McLuhan, M. (2006). "The Medium is the Message", in Durham, M. G., & Kellner, D. M. (Eds.). Media and cultural studies: Keyworks. Malden, MA: Blackwell Publishing Ltd. Pp. 107-116.