Lewis Hamilton is a sporting super star athlete succeeding in crafting an image that blends the 'full speed' perception of a Formula 1 champion with the energy and coolness that helps to differentiate Hamilton from most of his competitors in F1 and the world of sports. These characteristics has shaped Hamilton's image for years and has helped to turn his brand equity into a turbocharged commercial vehicle. Thus, Hamilton emphasizes the making of a marketable racing rock star with the capability to 'rock the business' of F1 with a positive spillover effect on his revenue generating potential.
Hamilton's super star status has turned him into a British racecar icon with three F1 World Championship titles and more than 50 F1 Grand Prix wins. After his first F1 World Championship in 2008 while representing McLaren, Hamilton transferred to the Mercedes F1 team in 2013 and won two additional F1 World Championships in 2014 and 2015 before finishing second after teammate Nico Rosberg in 2016. The illustration below shows the result of the 2016 F1 season.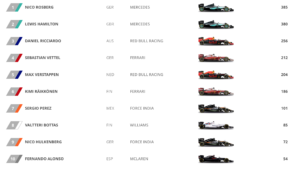 Illustration: Driver standings of the 2016 F1 season (source: Formula 1).
Whether or not Lewis Hamilton is on or off the racetrack, he is living in the fast lane. His move to Mercedes has not only heightened his status in the sport but has also led to another two World Championship titles and elevated his commercial ability. The sporting success and his brand appeal off the racetrack has moved Hamilton right up in the top along other global personal sports brands like football (soccer) phenomena Cristiano Ronaldo and Lionel Messi, basketball hero LeBron James and other sports stars from global attention-grabbing leagues or sports like the NFL, tennis or golf measured on earnings. Looking at Hamilton's current revenue generation (with Rosberg's surprising early withdrawal from F1 in mind), he is the most money-making racecar driver globally. According to Forbes, Hamilton is among the best paid athletes in the world given his profitable contract with Mercedes, which is supplemented by personal sponsorship deals with big corporate sponsors like Bombardier, L'Oreal, Monster Energy, MV Augusta Motorcycles and IWC.
Video: Post-Race interview with Lewis Hamilton after the final race of the 2016 season, i.e. Abu Dhabi GP.
There is no doubt that the self-image of Lewis Hamilton draws the picture of the fastest man (racecar driver) on earth. However, the facts display that Rosberg came in first place last season and that scenario seems to be fuel on the engine of Hamilton that seems to be one of these natural born winner types that does not seem to appreciate being in second row.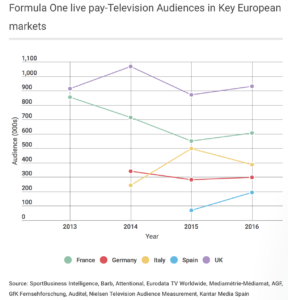 In a sport pushed by flamboyant fan heroes and rock star celebrities like the former British F1 World Champion James Hunt and Lewis Hamilton or the detail-oriented perfectionist Niki Lauda, F1 attracts more than 400 mio. fans worldwide to the TV-screen to witness the best of car designing and engineering and thus race cars flying over the asphalt at more than 300 km/h. Hamilton is one of the current icons of the sport and his fashion-loving lifestyle and celebrity entourage add extra excitement and value to his brand equity focused around a fast paced and dangerous sport in which each Grand Prix offers the decisive assessment of man and car being pushed to the limits in an attempt to go at maximum speed across the finish line as number one.
Photos: Lewis Hamilton winning mentality (source: Lewis Hamilton's web site).
The Lewis Hamilton brand thrives at the center stage of the global business of F1, which is comprised of 11 teams. Over the past 3 years, Mercedes (three consecutive Constructors' F1 World Championships) and Hamilton (two F1 World Championships) have been at the very top of the game. This catalysts Hamilton's commercial growth potential at a time where the sports-savvy American market with its high sports consumption is prone to buy even more into F1 since Liberty Media has bought F1 in a $8 billion deal (Fortune Magazine, 2016). Liberty Media holds ownership portions of some exclusive assets in the industry junction between sports, entertainment, media and technology, e.g. Kroenke Sports & Entertainment (ownership of NBA, MLS and NHL teams), Live Nation (biggest live entertainment company in the world with activities venue operations, concert promotions etc.), Time Inc. (owner of Sports Illustrated), Time Warner (media and entertainment company with cable systems) and Viacom (global media company). This has sparked hope that the branding of F1 in the US will find renewed vitality and a personal brand like Hamilton has a central role in leveraging such strategies. F1 can definitely benefit from the event extravaganza offerings of the American sports market; these offerings are what the affluent commercial stakeholders of the F1 show buy into anyway and Liberty Media has that kind of know how. F1 is like the Wimbledon tennis tournament. It is a contrast to other motor sport events. It is not only dirty surroundings, noise and beer but instead a place for caviar, champagne and strawberries. At least, these prosperous segments are there. Turn on the entertainment show please. Sports stars move fans and market shares and strategic investors and corporate sponsors are fully aware of that mechanism and the entertainment and celebrity value linked to Hamilton's appearances alongside other sports and pop cultural idols.
Photos: Hamilton featured alongside actress Kate Hudson, TV-host Ellen DeGeneres and fellow sports stars Neymar Jr. and Nico Rosberg on Instagram.
My research on 'hybrid sports branding' (Cortsen, 2016) demonstrates how Hamilton's performance on and off the racetrack transcends into an enhanced effect on the global business and fan appeal of the peak of car racing and hence the F1. The sport is a showcase for the fastest drivers and for corporate teams financially supporting these speed drivers with instincts and persistence to break the barriers for what the combination of cars, cutting-edge technology and human performance can accomplish. Hamilton's personality and determination to go the extra mile to win in this high status motor sport proves to be a strong commercial by-product in the exclusive and glamorous spotlight surrounding the F1 circuits around the globe. However, Hamilton's character also divides people but it adds some of the dynamism that is so important when heightening the fan appeal in sports. In a Time Magazine interview (Time Magazine, 2016), Hamilton's old boss at McLaren, Ron Dennis said that Hamilton would face other constraints if he still represented McLaren: "he wouldn't be behaving the way he is, because he wouldn't be allowed to". This presents an interesting clash in managerial styles as Hamilton's current Mercedes boss Toto Wolff mentioned (to Time Magazine) that "people out there try to put other people into boxes." Wolff continues by stating that "'this is how you should be, this is how you should behave, this is how your should concentrate on this sport.' It's all wrong. If it works for Lewis to fly around the world and go from one fashion show to another, hang out with his friends and do a gig, if that works fine, we should just accept it. We're much too judgmental." I am a firm believer in people having the freedom to perform as long as they do not cross boundaries hurting the team and damaging the ability to win so this individual-oriented approach to motivation seems like a sound managerial decision from Wolff and Mercedes and it appears to be a great fit in a sport where there is only one man who is 'the fastest'.
Video: Lewis Hamilton featuring in a L'Oreal commercial.
Video: Lewis Hamilton interview on Good Morning America 2016.
References: 
Cortsen, K. (2016). Strategic Sport Branding at the Personal, Product and Organizational Level. Doctoral Dissertation, Aarhus University, Denmark.
Fortune Magazine.  2016.
Time Magazine, 2016.
.