Germany is an interesting topic of discussion when investigating the cohesion between commercial and sporting performances in top football. This cohesion is linked to the equation that the more money available, the higher the probability of winning titles. That also goes for Germany where Bayern Munich's dominance over a longer time-span speaks for itself but from a holistic perspective Germany's prevailing and governing 'football business model' contains more rationality than elsewhere in Europe's top football leagues. Germany's 50+1 rule seems to provide the Bundesliga and its clubs with a healthy business model compared to other European leagues where clubs are subjects to massive capital injections from foreign billionaires and thus jeopardizing compliance with UEFA Financial Fair Play regulations while distorting the domestic and international premises for a sound and organic competitive situation (or balance).
The interesting thing about this discussion is that Germany has still been able to meet extremely high performance levels whether focus is on the national team, clubs in the Bundesliga or individual players. That goes for sporting as well as commercial performances. The German FA has been involved in staging mega events like the 2006 FIFA World Cup and the 2011 FIFA Women's World Cup and has achieved fine international results at the national team level. Moreover, the Bundesliga has been a commercial fairytale with remarkable positive revenue growth rates and last year FC Bayern Munich won the UEFA Champions League tournament against league rivals Borussia Dortmund. For that reason, it is interesting to see how this positive development has transferred into progressive playing and commercial performances at the individual player level. Germany has a lot of high quality players currently, who plays for major clubs in Europe, e.g. Mesut Özil, Per Mertesacker and Lukas Podolski from Arsenal, André Schürrle from Chelsea, Miroslav Klose from Lazio, Mario Gomez from Fiorentina, Sami Khedira from Real Madrid, Mats Hummels and İlkay Gündoğan from Borussia Dortmund, and Philipp Lahm, Manuel Neuer, Jérome Boateng, Mario Götze, Toni Kroos, Bastian Schweinsteiger from Bayern Munich. The list is longer but this group of players reveals that there is much quality in German football.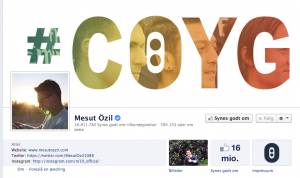 Photo: Mesut Özil's official Facebook account.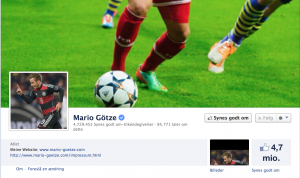 Photo: Mario Götze's official Facebook account.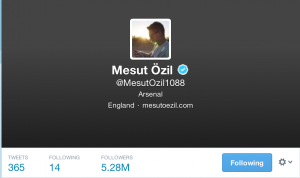 Mesut Özil's official Twitter account.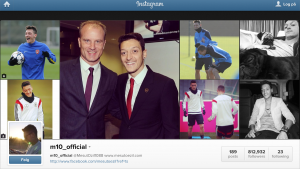 Mesut Özil's official Instagram account.
Mesut Özil is attention-grabbing in this context as he stands out when looking at the cohesion between sporting commercial performances based on Germany. After a brilliant personal World Cup tournament in 2010, he secured a move to Real Madrid at the age of 21, which helped to boost his commercial revenue streams. This summer, he transferred to Arsenal in England to become the most expensive German player ever and he has helped to bring Arsenal back as a strong contended in the Premier League title race. Özil's blend of fine offensive competencies on the pitch and his time in Real Madrid goes hand in hand with football fans' hunger for creative and game-changing football skills linked to facilitating offensive and goal-oriented playing patterns. He has more than 16 mio. followers on Facebook for what reason he distances other creative playmaker types like Götze (4.7 mio. followers on Facebook), Schweinsteiger (2.9 mio. followers) and Kroos (1.6 mio. followers on Facebook). Götze is the German player that comes closest to Özil in Germany measured on this parameter. Özil is also present on platforms like Twitter and Instatram and has understood that it is very important to engage with football fans on a continuing and frequent basis. This process along with good career moves has led Özil to a position where his social media and thus commercial appeal not only stems from Germany but instead he has a wider geographic reach. His approach seems folksy and down-to-earth as he opens up and posts pictures about private matters such as his dog Rocky or from family vacation in the US. He understands the importance of 'giving' and 'sharing' in the postmodern era of sports economy and sports branding. Moreover, he shares moments and pictures when he joins other football stars and football fans or sports fans crave moments with former and current stars such as coaches and players. His tribute to Mourinho is also worth mentioning in that regard and so is his personal web site and his collaboration with Adidas.
Source:  
Mesut Özil's web site.