Through my affiliation with UCN Sport Management, I collaborate with Liverpool FC, LFC E.L.I.T.E.S. and London School of Business and Finance in terms of providing a new, innovative and high-quality educational opportunity.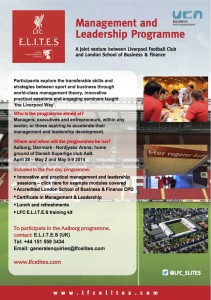 Therefore, we (UCN Sport Management) are very proud to announce that once again UCN got the opportunity to offer the LFC E.L.I.T.E.S. (global education and training partnership between Liverpool FC and London School of Business & Finance)  "Management and Leadership" program in Aalborg.
The course has a duration of 5 days and is offered with start on either April 28th and May 5th. It is a great opportunity for business owners, entrepreneurs, and middle and senior managers from any industry, to develop their skills and competencies. Please contact me (keco@ucn.dk or +45 23364160) if you wish to hear more about this course. You're also very welcome to share this post.