Vi (UCN Sport Management) har endnu engang fået lov til at køre videreuddannelse i samarbejde med Liverpool FC og London School of Business and Finance…Det bliver igen i år på Aalborg Stadion i samarbejde med AaB…Det henvender sig primært til folk, som ønsker at optimere deres viden om ledelsesmæssige kompetencer, folk indenfor erhvervslivet, men også folk som har beskæftigelse eller er frivillige indenfor sportssektoren kan drage nytte af kurset….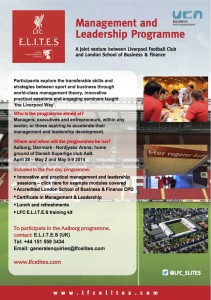 Vi kører to forløb: et med start 28. april og et med start 5. maj.
Kontakt mig på +45 23364160, hvis det har interesse (eller send mig en e-mail, så kan jeg også sende yderligere info., keco@ucn.dk)
Prisen er stadig £1,300, se vedhæftede 'flyer'….
Som noget nyt i år og efter forespørgsel fra nogle af sidste års kursister, laver vi et netværksarrangement i forbindelse med kurset, som også vil inkludere de tidligere kursister, som derved i lighed med nye kursister kan drage nytte af et netværk, som gerne skulle vokse fra år til år.
Og for LFC fans (samt for os andre), så er der jo desuden flere sejre at diskutere i år