"Sport sponsorship has become an increasingly important part of intercollegiate athletic revenue generation as universities have been forced to seek new and creative ways to fund their programs." (Weight et al., 2010, p. 119).

Photo: PlayMakers' Club logo.
Sports sponsorship inventory continues to evolve as part of the development, which is highlighted in the above-mentioned citation. That includes corporate hospitality solutions. Last Saturday, the PlayMakers' Club (a new exceptional hospitality service introduced by IMG College) gave sports fans the opportunity to enjoy a sports event in innovative and exclusive fashion. This scene was trumpeted when Florida Gators played Georgia Bulldogs in Jacksonville, Florida in one of college football's prominent derbys. The derby game was characterized by a 'special event' area, which was converted into the World's Largest Outdoor Cocktail Party, i.e. the PlayMakers' Club.  By providing fans with entrance to this luxury 'club' with 'three-story' bars, a huge buffet, live radio, streaming web solutions, a jumbo-tron, a series of LED TVs and other amenities, fans and other stakeholder groups witnessed a top-notch sports-hospitality experience. Boxman Studios in Charlotte, North Carolina built and transported the club and the company built the club based on discharged shipping containers, which gave the event a trendy and retro-manufacturing look aligned with aspects of the inescapable 'experience economy' tied to sports. Along with fine but off-the-cuff dining and 'real time' entertainment, visitors were moved from A to B (to the game) in air-conditioned expensive busses. To produce additional fascination, celebrity alumni, coaches, players, and cheerleaders stepped into the 'club'.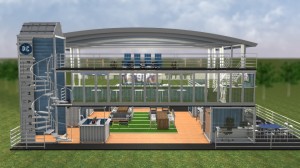 Photo: PlayMakers' Club design.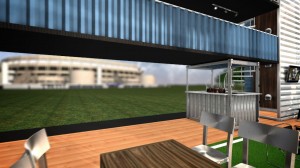 Photo: PlayMakers' Club design.
From my viewpoint, this acts as a superior example of how college football has succeeded in creating a service offering, which appeals to affluent, hedonistic, and picky fans (and other stakeholders, e.g. corporate sponsors, media etc.). Though, there are differences between college sports and professional sports, and PlayMakers' Club seems to be a concept, which leads the way in terms of driving college sports' magnetic attractiveness in relation to meeting prosperous stakeholder groups' demand, i.e. especially profitable corporate sponsors and enthusiastic alumni craving extravagant hospitality services.
Here are some examples of planned appearances by celebrity alums at PlayMakers' Club:
Kevin Butler (UGA football legend, former NFL player for Bears & Cardinals).
James Coleman (former FSU football legend).
Matt Stinchcomb (UGA football legend, former NFL player for Raiders & Bucs).
Mike Hollis (former NFL player for Jaguars, Bills & Giants).
James Coleman (former FSU football legend).
Tony Boselli (former NFL player for Jaguars & Texans).
Tom McManus (former NFL player for Jaguars).
Lonnie Marts (former NFL player for Chiefs, Bucs, Oilers, Jaguars).
Jeff Kopp (former NFL player for Dolphins, Jaguars, Ravens, Patriots).
Likewise, Todd Sanson entertained the audience, for more information check out this link.
To gain more insight into PlayMakers' Club, please check this link and experience a virtual tour.
Many collegiate athletic departments are very purposeful in their attempts to secure strong connections to wealthy individuals and that corresponds highly with analysis of the fan base of college sports, which includes many well-educated and thus affluent people. In the conceptualization of PlayMakers' Club, IMG College has illustrated the capability to convert the weight of strategic segmentation and targeting to a situation where college sports can accommodate the growing interest for comfortable and high-end hospitality experiences. For these stakeholder groups, this crucial 'tailgating party' broke some barriers for how college sports profitably can tailor to the wealthy segments.
To cover all the happenings during this special hospitality event, Campus Insiders, a fresh online digital set-up for college sports were present at the 'club' to portray celebrity intvs and the general atmosphere. That service served as a fine integrated marketing solution, which applied the content from the 'club' into its other online coverage from the college football weekend. Campus Insiders plans to show similar coverage from the PlayMakers' Club in relation to events like the Rose Bowl.
To conclude on this, research (Pope & Voges, 1994; Weight et al., 2010) supports the demand for hospitality offerings tied to sports sponsorship so IMG has once again proved the company's capability of finding a first-mover advantage within the business of sports.
Today, I wrote this post when I came out of a meeting at Wembley Stadium in London. That meeting reminded me of the services from PlayMakers' Club. The division Club Wembley does a lot to benchmark against the best corporate hospitality offerings within the business of sports and events and that is often a good strategy to get to a point of differentiation and excellence – a position and working culture, which is closely aligned with IMG's work ethic and that characterizes the best players in the sports and events industry worldwide.  

Sources: 
Pope, N., Voges, K.E. (1994) Sponsorship Evaluation: Does It Match the Motive and the Mechanism? Sport Marketing Quarterly. Volume 3, Number , pp. 37-45.
Weight, E., Taylor, K., & Cuneen, J. (2010). Corporate Motives for Sport Sponsorship at Mid-Major Collegiate Athletic. Journal of issues in intercollegiate athletics, 3, 119-130.