An accumulated €580 mio. is the amount that is generated from key shirt sponsorships for the 2014/2015 season in the top five European football leagues, i.e. the English Premier League, the German Bundesliga, the Italian Serie A, the Spanish La Liga, and the French Ligue 1 (Sports Marketing Frontiers, 2014).
Figure 1: Top 15 shirt sponsorship deals by value in European football, total league shirt sponsorship deals 2014/2015 season (source: Sports Marketing Frontiers, 2014).
As it is with broadcasting revenues, the English Premier League is also the leader when it comes to revenue generation from shirt sponsorships. The Premier League accounts for 40% (€235 mio.) of the total amount of shirt sponsorship generation across these top five leagues. In that regard, it is not surprising that the top clubs are linked to the majority of revenue generation. In fact, the leading 15 teams measured by sponsorship value make €380 mio., which accounts for 67% of total revenues tied to shirt sponsorships. That is a high average of €25 mio. per team compared to an average of €2.4 mio. per team for the remaining 83 teams (Sports Marketing Frontiers, 2014).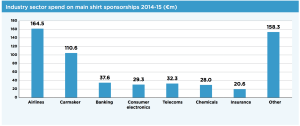 Figure 2: Spending on shirt sponsorships in top football clubs by different industries (source: Sports Marketing Frontiers, 2014).
The leading industries in terms of sponsorship involvement (number of deals) are the airline and car industries (eight deals each) followed by the gaming and food industries (six deals each). When following top or high profile teams like Real Madrid, AC Milan, Arsenal, Paris Saint-Germain and Hamburger SV (although they do not perform well at the moment, HSV still has a good level of fans), this is no shocking news as the Dubai-based airline Emirates has signed four deals among Europe's top 15 clubs measured on shirt sponsorship value. Emirates spend €104.4 mio. annually on shirt sponsorships in top football (Sports Marketing Frontiers, 2014).
Figure 3: Number of clubs by shirt sponsorships' industry sector (Sports Marketing Frontiers, 2014).
From my perspective, this amount of revenue generation speaks with a powerful voice as it reflects the strong brand activation potential in top football. The level of stakeholder identification among top football properties is a valuable asset and tapping into the applicable fan conversations and fan engagement levels of top clubs and their star players makes a good investment. The football economy is very dynamic and has shown a fantastic ability to present good growth levels when it comes to revenue generation. When combined with the fact that football clubs are entities in a transformation economy that has the capability to transform the business value of stakeholders there is no doubt that other brands buy into football properties. If actors in the football economy consider the simple equation 'revenue = value x price', then they will understand that a way to turn their businesses around positively is a matter of defining and creating a product that is better than that of competitors (by maximizing the total experience linked to attending or watching a football match) or by boosting the volume of fans attending and watching matches (and hence intensifying the volume of sold merchandise, food, tickets, sponsorships and so on). This simple equation is not the final answer to revenue maximization in the football or sports economy but it may very well facilitate how football or other sports teams shape winning future revenue growth strategies. At the end of the day or the end of the season, a football club and/or its commercial stakeholders such as sponsors will have to evaluate their customers' willingness to pay for the products, services, or experiences that are offered and the REAL VALUE for all customers should be found in the gap between 'how much they are willing to pay' and the 'paid amount'. As an example, top football clubs most often play in large or enthusiastic football markets, i.e. London, Madrid, Munich, Manchester, or Barcelona and they often play at a high performance level that includes many individual football stars. For that reason, people are willing to attend or even travel far to attend these clubs' matches. That creates a situation in which the clubs' offerings become less price elastic, i.e. even though we have seen increased ticket prices there is still high demand and the clubs' fans often find that they have received more value than what they have paid for. With this in mind, I do not expect that the revenue growth is going to slow down right now. There is still good growth potential in the football economy.