With the intensified vitality of brand management in the sports industry, major sports properties and their business partners have allocated more resources towards strategies aimed at building profitable brand solutions. That has shaped current and modern sports branding and sports economic trends in the sense that top sports properties as well as sports properties at lower recognition levels have generated mutual brand leveraging with their sponsors that exploits the economic potential of combining the nuances of co-branding, brand equity, and sports sponsorship in professional sports. So yes, this is one element that should guide sport management practitioners in the direction that sports sponsors are to be held partly accountable for how fan experiences are created, as they should have a financial interest in improving these experiences to boost their sponsorship investments.
From a growth perspective, we have seen that the increased levels of commercialization in sports are due to globalization but also to improved brand management and this interactionist and dynamic nature of the sports industry is also evident when considering the level of brand and thus sponsor integration in the business of sports. In that regard, it makes perfect sense that studies show that sports sponsors help to implement brand strategies in the business of sports and that they also boost the implementation of extended fan experiences when forming co-branding relationships with sports properties (Frederick & Patil, 2010). Whereas sports sponsorship may act as a fine catalyst for the implementation of brand strategies, these sports sponsorship based co-branding initiatives may add value as a tactic to form extended and improved fan experiences. That will generate positive buzz in the way that it can aid the brand management process via operative and guiding co-branding communication with relevant stakeholders.
As an example of the above-mentioned, Heineken recently built on its presence in global football/soccer by engaging in a sponsorship deal with the North American Major League Soccer (MLS). According to Sports Sponsorship Insider, Heineken's CMO Nuno Teles stated that "Soccer has been an invaluable platform for the Heineken brand for years, with our position as sponsor of the Uefa Champions League and other top soccer properties around the world." He added that "With this partnership, we look forward to continuing a lengthy tradition of creating unique experiences for fans everywhere and drive participation and engagement in the sport in a way that has never been done before in the US." The above-mentioned statements and the economic value of this five-year $50 mio. deal (Sports Marketing Frontiers, 2014) exemplify how the Dutch beer-brand extends its sponsorship association with football/soccer via strategic co-branding initiatives. The company already taps into a global football/soccer audience in more than 200 countries through UEFA Champions League and the MLS deal gives Heineken increased access and engagement opportunities to a fanatic North American sports market and a fast growing population of passionate North American football/soccer fans. Examples of good brand leveraging include differentiated and engaging co-branding initiatives and the activation of these is often connected with raising community awareness and goodwill while establishing a cultural bridge to fan-based football/soccer consumption in new markets (as in the US). Moreover, Heineken's alliance with MLS is interesting due to the fact that football/soccer has not peaked yet in terms of attendance levels, ticket sales, sponsorship integration, merchandise sales or fan culture tribalism and active participation on the North American market.
Photos: Examples of Heineken USA's football/soccer activation and its co-branding with MLS (source: Heineken USA's official Twitter account).

Table: Heineken's sponsorship partnership with MLS (Sports Marketing Frontiers, 2014).
A similar example is Heineken's sponsorship engagement with the US Open in tennis, see. video below.
Another good example that illustrates that sports sponsors have a responsibility for the creation of fan experiences is Adidas's partnership with New Zealand Rugby. The German brand's sponsorship deal with the All-Blacks became the most valuable partnership in world rugby when the deal was signed in 2008. The ten-year $90 mio. deal is leveraged across a variety of different platforms ranging from social media to hour-long autograph sessions tied to major events like Rugby World Cup, which attract masses of fans. The All-Blacks also featured in the 'Stand in Black' campaign in which fans could show their support to the famous New Zealand rugby team. The campaign was initiated to boost the tribalism and fan support by integrating important cultural elements associated with the All-Blacks' pregame haka. Adidas has had a long-term sponsorship agreement with the All-Blacks and has also added to fan discussions years ago when they implemented a good co-branding effort under the name 'Bonded by Blood' in which the team featured on a limited edition poster, which was inked in part with the blood from the team members.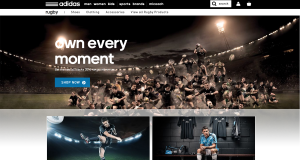 Photo: How Adidas activate its relationship with the All-Blacks (source: Adidas Rugby).
Table: Adidas' sponsorship partnership with the All-Blacks (Sports Marketing Frontiers, 2014).
Concluding on this post, the answer to the headline question is YES. This is validated  by studies but also via numerous practical examples from the sports industry that serve as an external validation of my points.
Sources:
Frederick, H., & Patil, S. (2010). The dynamics of brand equity, co-branding and sponsorship in professional sports. International journal of sport management and marketing, 7(1), 44-57.
Adidas and New Zealand Rugby, see link.