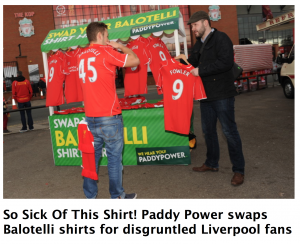 Picture: Liverpool fans had the opportunity to swap their Balotelli shirts outside Anfield (source: Paddy Power).
Betting company Paddy Power notoriously split people's opinions about 'business practices' for what reason the brand is attached with a love-hate-relationship. The competition in the betting industry is harsh but Paddy Power has found a proficient path to shape its image and to build brand equity. The process of branding is associated with a 'speed-to-market-oriented' mindset, which entails fast and distinguishing thinking combined with strategic orchestration.
Paddy Power has broken through the clutter in a media-savvy way. The company speaks the language of acting whenever the chance is there and that is aligned with the exploitation of new media technologies and fragmentation, which characterizes the postmodern sports industry. However, quick actions have to be balanced as the speed and amount of replies must be weighed against the quality and brand value linked to how the PR stunt is leveraged. Paddy Power has noticeably learned to shine in comparison with many of its rivals in the betting industry. Especially when being measured on the amount of buzz being directly tied to total online brand mentions for the major betting companies in the first half of 2015 (January to May). Paddy Power generated approximately 40% of all online brand mentions, which were measured via sources like social media blogs and news bulletins in the betting industry in that period of 2015 (Sports Sponsorship Insider, 2015). That reflects a strong position and accounts for almost three times the mentions of Bet365, which takes the position as no. 2. Paddy Power's strong position stems from its Twitter activities and once Twitter is taken out of the calculation the picture is different as other competitors will shine.

Table: Online brand mentions for major betting companies (source: iGaming Business Social Monitor & Sports Business International, Aug. 2015)
The lesson for other players in the sports industry must be to strategically exploit the business effects of grabbing consumers' attention. There is a shortage around human attention for what reason the brands that succeed in finding a road to get the attention of their target audiences have a competitive advantage. Paddy Power has learned this by applying a solid understanding of the mind of sports fans, which may explain the gap between victory and fiasco in these business activities. Take the example of Paddy Power's engagement in the intensive football fan discussions about Mario Balotelli's role in Liverpool FC. The expensive Liverpool Striker was found swapping shirts with Real Madrid's Pepe at half time during a Champions League match so Paddy Power established a 'Balotelli shirts swap' outside Anfield Road in relation to Liverpool's next game. That gave Liverpool fans the opportunity (for free) to swap their Balotelli shirts for a new shirt with the names of Liverpool icons like Ian Rush or Robbie Fowler and that was a smart way to accommodate the mindset of many Liverpool fans at the time (as many of these fans lost confidence in Balotelli's ability to perform in Liverpool).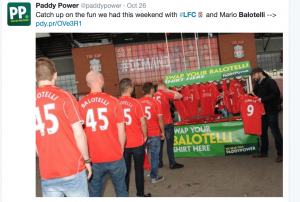 Picture: Paddy Power's Twitter activities.
Paddy Power followed up by promoting similar opportunities for Liverpool fans via a billboard outside Liverpool's central Lime Street train station.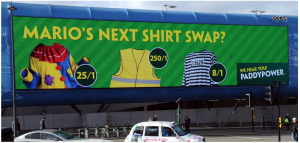 Picture: Billboard outside Lime Street Station (source: Paddy Power).
A few other promotional stunts from Paddy Power, cf. videos below: