Sunday's men's final in Wimbledon marked a historic moment when Andy Murray lifted the trophy after his victory against world's no. 1 Novak Djokovic (ATP ranking). Murray's title was the first time a British player won the men's single final at the prestigious tournament in the 'era of modern tennis' (Fred Perry won his last Wimbledon title in 1936). Murray showed the ability to come back in strong fashion since he lost to tennis icon Roger Federer in last year's final and the following celebrations reflected Britain's prolonged craving for success in the traditional and esteemed Wimbledon Championships. This may end in 'knighthood' for a new British sports hero (also keeping his Olympic triumph in mind)?
Traditionally, the men's final attracted an inspired crowd of celebrities, e.g. football star Wayne Rooney, politician David Cameron, musician Cliff Richard, actor Bradley Cooper to mention a few (not to forget many former Wimbledon legends). That has been the habit and nature of Wimbledon and the tournament presents an impressive and proud sporting legacy. It's a tournament, which has presented audiences with many marvelous games and excellent narratives in relation to the determination, focus, and skills required to prosper in an intense rivalry man against man or woman against woman. This head to head competition style and nervewrecking duels are ingredients, which have made tennis so appealing and when that recipe is 'spiced' with the Wimbledon values and tradtions, sports fans have a great sports event.
Murray's game against Djokovic was great but it will never reach some of the best rivalries seen on Wimbledon's centre court although the noise from the cheering British crowd added a fine dimension to this tennis experience. In his celebrations, Murray associated part of his success to his coach, tennis legend Ivan Lendl from the 1980s (who won several grand slams but never Wimbledon).
With the hybrid nature of sports brands, the Wimbledon tournament has benefited highly from the presence of great tennis stars. For any sports brand, it is the association with the sport's icons, which adds 'extra dimensions' to the brand and hence take it from ordinary to extraordinary. Wimbledon and the everlasting presence of the game's best players symbolize a 'perfect blend' in our contemporary and 'celebrity driven' sports culture. In the documentary Spirit of Wimbledon, it shines through that these sports stars are the 'breeding ground' for the great rivalries, which lift tennis into the realm of theatre. I grew up as a kid in the 1980s and 1990s and remember this era and particularly the rivalries (Wimbledon finals between Boris Becker and Stefan Edberg in 1988, 1989, and 1990).
Though, for tennis fans the 'clash of giants at Wimbledon' seems to be the rivalries between Björn Borg and John McEnroe. The contrast between Borg vs. McEnroe and Becker vs. Edberg is illustrated in the fact that a comparison underscores a shift from a refined sport to the power game of today's tennis. Another difference is the fact that Borg vs. McEnroe took tennis to new commercial heights and came to Wimbledon at a time (1980) where the tournament needed this refreshment.
The 1980 men's final between Borg and McEnroe revolutionized tennis. Just as it is with other great sports moments, these special moments of excellence and enjoyment can produce images, which goes beyond what is ordinary for the eyeballs following a sport. For instance, when Brandi Chastain celebrated her game-winning goal in the 1999 Women's World Cup Final (see video below) or when 'major corporations' really entered the Olympic Games during the 1984 Los Angeles Games. When Borg won the very intense rivalry against McEnroe in 1980 and sat on his knees, he took the battleground of professional tennis to new forms of modernity and youthfulness and send the message to the corporate world that it was time to 'join the bandwagon' in what was to become a highly celebrity driven and glamourous sport. The latter is an image, which the Wimbledon tournament does what it can to maintain and enhance. The sponsorship deals of the Wimbledon Championships reproduce this opinion in the sense that sponsors are carefully selected and (relatively) perfectly aligned with values of the most prominent grand slam tournament in tennis. Sponsors such as Rolex, Polo Ralph Lauren, and HSBC are among Wimbledon's commercial partners and Evian signed a deal with the tournament last year, which brings the Wimbledon Championships approximately $7.5 mio. annually (for a 5-year period). That is another 'hybrid element of sports branding', which helps to enhance the tournament's brand equity even further. Borg and McEnroe are two additional 'hybrid elements', which elevated the economy of Wimbledon and professional tennis given their unique skills and personal appearances. Borg climbed to 'rock star status' with the combination of sporting success and long blonde hair and led the league in attracting new tennis audiences, cf. 'screaming girls'. As a contrast to the quiet Swede, John McEnroe entered the tennis scene as a true rebel and his appearance across the net emphasized an ideal dissimilarity to Borg's appearance and this fact set the court for new dramatic, intense and aesthetic rivalries, which helped to boost the sport significantly. Tennis needed that and McEnroe's mix of fantastic tennis skills and impulsive behavior provided fans with remarkable tennis experiences. Sports fans are motivated by unpredictability and McEnroe attached that element to men's tennis. Borg was thought to be reserved whereas McEnroe was impulsive and had a degree of unseen 'edge' associated with his personality. Although, his behavior conflicted fans, his skills draw fans and the stage was set for a flawless rivalry. This is portrayed in the Spirit of Wimbledon in the sense that  "tennis, it is said, is like boxing without gloves. And just like the boxing ring, great rivalries lift the sport into the realm of theatre, allowing character to be revealed and narratives to be built. And there is no bigger stage than the finals day on Centre Court at Wimbledon."

Photo: Some Wimbledon sponsorship deals (source: Sport Marketing Frontiers, 2013)
In tennis, it is man vs. man or woman vs. woman. So competition is needed for great rivalries. Borg and McEnroe provided that. So has Navratilova vs. Evert, Sampras vs. Agassi, Federer vs. Nadal vs. Djokovic. The better competition, the better game and that shines through in the Wimbledon tournament where a good final is benchmarked by the quality of competition. In tennis, the appeal of the game has to be balanced. The 'modern power game' somehow broke with the grace and artistry, which characterized Borg and McEnroe but at the same time it displayed new commercial opportunities (for racket manufacturers, ball manufacturers etc.). Looking at sports history, we have seen the importance of tailoring specific sports to fans (Hardy et al., 2012) and tennis is no exception so the balance was found in an equation where 'speed' was a central focal point (new rackets increasing the speed and new balls decreasing the speed). Innovation is part of the game and it has come to stay and provides new refreshing input to the game. As evidenced in the work of Beech and Chadwick (2007, pp. 118-120), Wimbledon has put innovation at the forefront of the tournament's development, and the organization's marketing department stated (some years ago) that "we owe it to our huge fan base" and "it's good for the game". Referring to the Internet as an important marketing vehicle, Beech and Chadwick (2007, pp. 118-120) mentioned that "Wimbledon claims to have been the first big sports event in the UK to use its website as a promotional and marketing tool." In sports branding, websites draw great interest. According to Turner (1999), the official Wimbledon website recorded more than 106 million page views and more than 224 million server hits during the tournament in 1998. In that regard, Wimbledon became early movers in terms of featuring a website with a match ticker offering most up-to-date highlights. At the time, the website also provided access from personal digital assistants over GPRS networks and had a subscription service providing web-streamed match commentaries and WIFI services.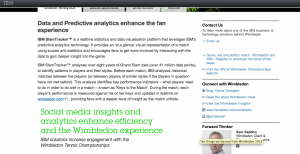 Photo: IBM's partnership with Wimbledon (source: IBM)
Today, it is even more advanced and Wimbledon's IBM-partnership offers realtime statistics via IBM SlamTracker™, which is a data visualization platform that can leverage fine visual representation of a match through statistics and scores. This platform along with other social media platforms (e.g. live blog, live @ Wimbledon radio, live @ Wimbledon video, Instagram, Twitter, Facebook, Google+, YouTube, and various mobile apps) encourage fans to get more involved and thus to gain more insight into the game.  This highlights the fact that 'fan engagement' has also played a vital role in professional tennis. That development has been supported by the facts that today's players are intensively and professionally managed by sports marketing organizations (e.g. IMG) and that organizations such as ATP and WTA find it beneficial that the tennis stars are 'accessible' and 'available' for off-court promotional initiatives. Today, tennis is a profitable business for what reason, the players, their management people, tennis events, and the tennis organizations are cognitive about positioning themselves properly in popular culture and imagination. Concerning this scenario, consider how far IMG has taken Maria Sharapova since she won Wimbledon at the age of 17. Now, she is the no. 1 sports woman in the world in terms of total earnings (i.e. prize money and endorsements).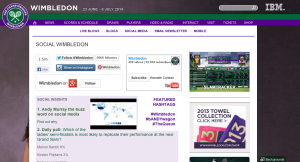 Photo: Wimbledon & social media (www.wimbledon.com)
Some fun notes (source: www.wimbledon.com, July 2013):
Wimbledon on Facebook. Some headlines:
Over 11.6 million total global interactions so far.
Most buzzed about men's players (People are talking about these players the most):
Rafael Nadal
Roger Federer
Novak Djokovic
Steve Darcis
Andy Murray
Most buzzed about women's players (People are talking about these players the most)
Maria Sharapova
Serena Williams
Sabine Lisicki
Ana Ivanovic
Victoria Azarenka
Top countries talking about Wimbledon (People in these countries are talking about Wimbledon the most)
Great Britain
United States
India
Italy
Australia
Top social moments (People were talking about these moments the most) 
 Rafael Nadal (5) stunned in the opening round by unranked Steve Darcis – 6/24
 Sharapova (3), Federer (3), and Azarenka (2) all fall in the second round – 6/26
 Serena Williams (1) is upset by Sabine Lisicki (23) – 7/1
 David Ferrer (4) holds off 26th-ranked Alexandr Dolgopolov in a 5 set thriller – 6/29
 Local favorites Andy Murray and Laura Robson both advance to the third round to keep British hopes alive – 6/28
Sources: 
Beech, J. G., & Chadwick, S. (Eds.). (2007). The marketing of sport. Pearson Education.
Hardy, S., Norman, B., & Sceery, S. (2012). Toward a history of sport branding. Journal of Historical Research in Marketing, 4(4), 482-509.