Barclays is huge player in the financial industry, i.e. personal banking, credit cards, wealth & investment management, corporate & investment banking. The corporation has a large international presence worldwide. The financial industry traditionally invests highly in sports sponsorship. Barclays is no exception. As a reason for being involved in sports sponsorship, Barclays state that "sport generates feelings of passion, excitement, loyalty the world over, and we marvel at individual skills and collective brilliance. Sport is played globally and speaks a universal language to so many. As a global company we are delighted to be involved in the sponsorship of so many top sports." (Barclays Sports Sponsorships, 2013). Among others, Barclays has prioritized to invest in the following sports properties:
Football – Barclays Premier League, i.e. a league thought to be the best soccer scene in the world. The league is full of international stars and the games are subject to massive media and fan attention.
Football – Bafana Bafana, i.e. South Africa's national football team.
Football – Absa Premiership (Absa is a South African financial institution majority-owned by Barclays), i.e. Absa Premiership (the domestic football league in South Africa).
Football – football bodies in the UK, i.e. League Managers Association, Professional Footballers Association, and Football Writers' Assocation.
Tennis – Barclays ATP World Tour Finals, i.e. a tournament held at the O2 Arena in London and now the largest indoor tennis tournament in the world. The tournament attracts a live audience of approximately 250,000 people at O2 Arena.
Golf – the Barclays is the first event of the end-of-season Fed-Ex Cup on the PGA Tour in the US.
Golf – Barclays Kenya Open (European Challenge Tour).
Golf – individual sponsorship collaboration with Phil Mickelson (member of World Golf Hall of Fame).
Rugby – Absa is the official team sponsor of the Springboks (South African national team in rugby).
Rugby – Absa sponsors the Currie Cup, i.e. the oldest provincial rugby competition in the world (thought to be a big part of South Africa's rugby heritage).
Barclays 'Spaces for Sports' – a community-based sports programme exemplifiying the intersection between sports & CSR. Sport is applied as a basis to help young people develop life skills and refresh underprivileged communities in a sustainable way.
To activate its sponsorship investments, Barclays has initiated different 'integrated marketing communication' activities, e.g. 'Barclays Football', a channel via YouTube. Below, there is an example of one of the videos from 'Barclays Football', which displays Gareth Bale, the star player from Tottenham, who was named the 2012/2013 PFA Player of the Year and Young Player of the Year by the other players in the Barclays Premier League. The young star from Tottenham is the third player in history to win both awards in the same season. Kim Little from Arsenal won the Women's Player of the Year.
Another video features Liverpool FC's Steven Gerrard in an attempt to engage with football fans directly. Barclays asked football fans to give back their questions for Steven Gerrard. Five questions were selected for Gerrard to answer at the FWA Tribute Award dinner with Barclays. In the video below, you can see what he had to say…..
Barclays Football has also been activated via Facebook. Barclays has more than 1.3 mio. likes on its Facebook site, which is a great activation tool given the potential of social media for direct engagement and interaction with fans.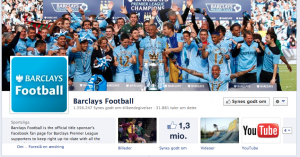 Photo: Barclays Football Facebook page.
In late 2012, the ATP publicized that the Barclays ATP World Tour Finals will be played in London at the O2 Arena through 2015. In the same statement, the ATP said that Barclays has extended its title sponsorship of the tournament, see more. In January 2013, Barclays signed a contract, which runs until the end of 2015. According to Sport Marketing Frontiers, the deal regarding the Barclays ATP World Tour Finals has a value of approximately $10 mio. per year, see figure 1 below. This figure includes some of Barclays current sponsorship deals.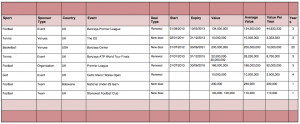 Figure 1: Barclays current sponsorship deals (Sport Marketing Frontiers, 2013).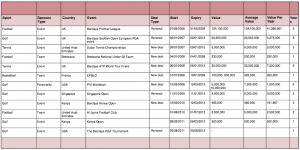 Figure 2: Barclays past sponsorship deals (Sport Marketing Frontiers, 2013).
Barclays also signed a huge naming rights deal for the Barclays Center in Brooklyn, New York. If you click here, you will find an interesting article about the new arena from USA Today, click here to see the article. The venue, which opened in 2012 will work as a host for some of the most significant sports and entertainment events, e.g. concerts, performances, arts, collegiate athletics, professional sports, ice shows, music award shows etc. What makes the venue interesting is the location in the NYC area and its efforts to integrate the local community into the operations of the arena – something that Barclays may benefit from.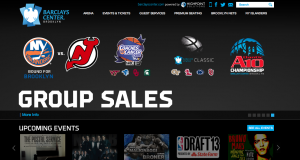 Photo: Barclays Center web site.
As you can see below, Phil Mickelson serves as a key personality in helping Barclays capitalize on its association with the sport of golf. Golf has a great deal of 'corporate appeal' and thus seems to be a good match for Barclays in linking up with a segment of wealthy decision makers.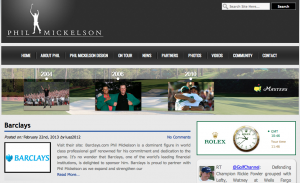 Photo: Phil Mickelson's web site.
Sources: 
Sport Marketing Frontiers.
Barclays ATP World Tour Finals.