Every year, Forbes (click on the link to see the full list) ranks the highest paid athletes in the world. If you look at the picture below or at the full list, you will see that Danish athletes are not part of the world's elite measured on earnings.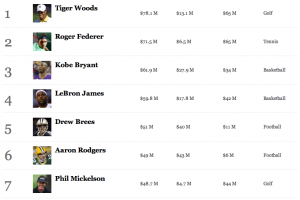 Why is that and what are some of the factors, which differentiates the earning power of individual athletes? First of all, one important parameter is that the athlete is among the best in his/her sport worldwide (if not the best as it has been exemplified by Tiger Woods). Athletic success is key but in addition to that comes the popularity of the sport, the sports market conditions and potential as well as factors such as media and corporate appeal. For instance, there is clear evidence that golf, football (soccer) or tennis are more popular (among fans) than swimming or squash globally. Moreover, the media and corporate appeal of golf, football, and tennis reaches beyond that of swimming or squash. Looking at the list from Forbes, the list displays several American athletes with enormous earning powers, cf. Tiger Woods, Kobe Bryant, LeBron James and Drew Brees. Some of these athletes are huge stars in basketball (NBA) or American football (NFL). Thus, it may be a surprising fact for some people that the earning powers of these athletes are so high. Though, I am not surprised based on the fact that these athletes have been cultivated as icons of sports and popular culture in the United States where the market potential for sport stars goes far beyond what is seen in many other countries. Furthermore, these super stars are cultivated by leagues (NFL and NBA) and agents/agencies, which are highly professional in their approaches to commercialization and hence know how to connect with audiences in a market characterized by people, who are very passionate about sports. American sport fans 'worship their sport heroes' and brands in America are strategically aware of the benefits from being associated with these sport stars. On top of that, these athletes have played a role in globalization strategies as well. Kobe Bryant, who is no. 3 on the list, has very lucrative deals with strong brands like Nike, Coca-Cola, Mercedes-Benz etc. LeBron James, who is no. 4 on the list, has solid deals with Nike, McDonald's, Coca-Cola, Samsung etc. Drew Brees, who is no. 5 on the list, has deals with Nike, Procter & Gamble, Verizon Wireless, PepsiCo etc.
There are Danish sport stars with good earning powers. Caroline Wozniacki did well in terms of capitalizing on her athletic success in relation to the time period when she was ranked (WTA-ranking) no. 1. in the world. Mikkel Kessler has profited from the format changes in boxing, which resulted in the Super Six tournament. Thorbjørn Olesen did well in this year's US Masters and given his young age of 23 at the time and his aspiring potential and the commercial aspects of golf he may have a bright future in terms of earning power? Some of the Danish football (soccer) players, who play for big international clubs, i.e. Daniel Agger in Liverpool FC, Nicklas Bendtner (was recently in Juventus on loan from Arsenal) or Christian Eriksen in Ajax (maybe Borussia Dortmund or elsewhere via a summer transfer) also have fine salaries. Moreover, we have Danes in ice hockey (Frans Nielsen, Jannik Hansen etc. play in the NHL), in handball (Mikkel Hansen plays for PSG in France), in golf (Thomas Bjørn, Anders Hansen etc), in motor sports (race car driver Tom Kristensen and speedway driver Nicki Pedersen) to mention some Danish sport stars with fine earnings. Although, these Danes do not have a reason to complain about their salaries compared to people with ordinary jobs, they are still far from earning a top spot in relation to the list from Forbes. Wozniacki has been the no. 1 athlete in Denmark regarding earning power for a specific time period but there is still a considerable gap between Wozniacki's earnings and that of Maria Sharapova. Sharapova's earnings of $29 mio. positions her as no. 22 on the list from Forbes. The 'business of Sharapova' was very good in terms of capitalizing on her success when she won Wimbledon at the age of 17 and Wozniacki still has not won any of the grand slams, which may make her advance in earning power. Denmark is a small country in relation to the commercialization of sports and thus the potential for sport brands to break the barriers of personal income based on their activities in sports. To compete with Tiger Woods and others on the list from Forbes, Danish athletes must break through the clutter on markets where sports brands have better opportunities to build 'brand equity' and to capitalize on that. Furthermore, this must be 'matched' or supplemented by 'being the very best' in a sport with high global appeal and commercial potential. That is a 'tough balance' to find so there is still room for improvement.
Source:
Forbes