Concerning the publication of the 17th version of the Deloitte Football Money League, it is highlighted that top football clubs continue to monetize on their commercial activities. Regarding the top 20 clubs in Deloitte's ranking, the report shows that the total combined revenue went up to €5.4 billion (8 % increase).
Top football's continued growth is a sign that these clubs are relatively recession proof. Real Madrid is still no. 1 in the 'Money League' with league rivals FC Barcelona as no. 2. These two clubs are profiting from funding from the Middle-Eastern region just like many of the other top clubs in the 'Money League'. Emirates Airways is the shirt sponsor of Real Madrid while FC Barcelona has a shirt sponsorship deal with Qatar Airways. The Catalan club holds a strong connection with Qatar's Al-Thani family and thus benefits from Qatar's strategic investments in sports.
When measuring the financial performance of top football clubs through Deloitte's Football Money League, it shines through that German powerhouse Bayern Munich overtook Manchester United's third place position. Bayern Munich has done exceptionally well domestically and internationally (UEFA Champions League) in recent years for what reason the club has found a good platform for enhanced commercialization and thus revenue generation. Bayern Munich has had a fantastic season winning the treble (as the first German club) and also won the FIFA Club World Cup Final in December. The club has had a huge increase in commercial and broadcasting revenue, which is a clear explanation of the club's progress in relation to the 'Money League'. Other German clubs like Borussia Dortmund, Schalke 04 and Hamburger SV are also in top 20 but none of them made it to top 10.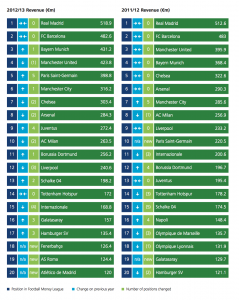 Table: Football's top clubs measured on revenue generation (source: Deloitte).
French football has also shown progress according to the 'Money League via the representation of Paris Saint-Germain. The club has taken the fifth place, which is major advancement for French football in this regard thanks to the club's ties to interests in Qatar. Manchester City has continued to position itself in the international football landscape and through intensive capital injections and investments in a strong roster the club has blended stronger sporting performances and improved global presence with higher revenues. Manchester City is placed as no. 6 in the 'Money League'. English football dominates the 'Money League with Manchester United, Manchester City, Chelsea and Arsenal in top 10 while Liverpool FC did not qualify for top 10 for the first time since 1999/2000. Now, Liverpool is placed as no. 12 and Tottenham Hotspurs is also present in top 20 with a position as no. 14. It will be interesting to see if Liverpool FC can come back to a presence in UEFA Champions League and to see if Manchester United can continue to stay there under the guidance of David Moyes.
It is also significant that Turkish top clubs Galatasaray and Fenerbahçe found their way to top 20 and that all clubs in the top 30 now make revenue of more than €100 mio. In the first 'Money League', which measured the 1996/1997 season, Manchester United was the only club to earn over €100 mio. so that is another sign reflection the strong commercialization rates of professional football over the past two decades.
I think that the 'Money League' is interesting in the sense that it measures the commercialization of the most popular game worldwide but the ranking also portrays how 'new football markets' develop commercially (Turkey for instance) and how international football (even in terms of clubs outside the most powerful leagues) has become an investment target meant to exploit emotional capital and secure branding impact due to sudden sporting success at a very popular stage in sports, i.e. the UEFA Champions League. I know that this may be subject to criticism but from my viewpoint it helps to raise awareness of the game and to develop football infrastructure, which is a good thing when you LOVE FOOTBALL. Of course, this is said in the sense that the governing bodies in football must pay close attention to the risk that ownership interests do not leave competition too far behind or do leave clubs with questions about 'going concern' because that will harm the charm of the game and the community in which the club is located.
It is also visible that many Italian clubs struggle to grow due to the fact that they do not own their own stadium, which makes it more difficult to maximize profits from matchday and corporate hospitality activities.
Source: 
Deloitte. See the full report, click here.