Based on data from the FIFA Transfer Matching System GmbH (FIFA TMS, 2014), the volume of international transfers concluded in 2013 increased to 12,309 (+4.4% compared to 2012). On the 31st of January 2013, FIFA TMS reported 302 transfers on what was coined the year's busiest day.
Some key facts related to market activity and mobility patterns:
Brazil was the most active country in terms of transfer market activities with 656 outgoing and 746 incoming transfers.
Egypt had the top increase in outgoing transfers in 2013 compared to 2012 (+59 transfers).
Greece had the top increase in incoming transfer in 2013 compared to 2012 (+115 transfers).
Nigeria had the top decrease in outgoing transfers in 2013 compared to 2012 (-51 transfers).
Ukraine has the top decrease in incoming transfers in 2013 compared to 2012 (-56 transfers).
England was the transfer market's biggest payer in 2013 with $913 mio.
Spain was the transfer market's biggest beneficiary in 2013 with $565.
Some key facts related to player characteristics:
There were 1,558 transfers involving Brazilian players in 2013, which accounted for 13% of total transfers. These transfers often involved links to Portuguese clubs. The transfer network (active transfer streams) between Brazil and Portugal in the strongest network concerning the transfer market.
Irish players had the lowest average age (21 years and 7 months) when measuring players transferred internationally in 2013.
Moroccan players had the highest average age (27 years and 4 months) when measuring players transferred internationally in 2013.
The average age of players transferred internationally in 2013 was 25 years and 3 months.
Holland was the country with the lowest average age (22 years and 11 months) of incoming transfers in 2013. From a Danish perspective, it is interesting to look at this number as we have sent many of our top talents to Holland in recent years. Christian Eriksen, Viktor Fischer, Lucas Andersen and Nicolai Boilesen are all examples of exceptional Danish talents ending up in the Dutch powerhouse Ajax Amsterdam. That makes sense from a sporting angle as the Dutch league and Ajax in particular is a great 'development stage' to gain playing time, international experience and to mature in a relative stable environment. Moreover, it reflects the position of the Dutch league in the international football landscape in the sense that it is a clear strategy of Dutch clubs to buy young talented players, develop them and send them abroad to bigger clubs in bigger leagues with a profit. Zlatan Ibrahimovic and Christian Eriksen are two good examples of that process involving Scandinavian top players.
When looking at the average age of players, the influence of emerging football nations comes into play. Some of the Gulf states or China have invested in older high-profile players to drive the popularity of the game and the league in the respective countries, e.g. Nicolas Anelka and Didier Drogba in China or Fabio Cannavaro in Dubai (keep in mind that these are examples of high-profile players in these leagues and not necessarily players where a transfer fee was involved).
Some key facts related to intermediaries:
The total club intermediary commissions paid in international transfers in 2013 accounted for $216 mio.
The total club intermediary commissions paid by clubs in England on international transfers in 2013 accounted for $74 mio.
1,764 (14% of all transfers) transfers with intermediaries characterized the transfer market in 2013.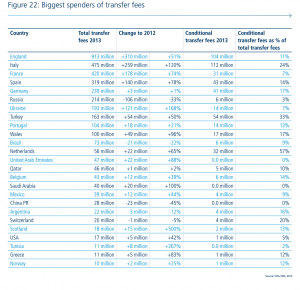 Photo: Biggest spenders of transfer fees (source: FIFA TMS).
It seems to be evident that the globalization of professional football and thus the enhanced commercialization of governing bodies, leagues and clubs as well as player brands have had an impact on the evolvement of transfer market activities. Today, the influx of money in relation to transfer market actitivies has reached new levels and new emerging football markets and investors have boosted that. It is also important to note that new ownership structures as a result of owners wanting to join the European elite have added to the changed market conditions. According to FIFA TMS, the growth was still driven by European clubs' improved transfer activities (+664 transfers in 2013) but African (+197 transfers), North American (+137 transfers) and Asian (+76 transfers) countries also add to the growth. The professionalization of football also shines through when analyzing the growing prominence of conditional transfer fees. There was a 36% growth in fixed transfer fees in 2013 while there was a 73% growth in conditional transfer fees in 2013 compared to 2012. The latter relates to the amount payable by the engaging club to the releasing club for the transfer of a player if specific conditions are satisfied. For instance, this may involve a player scoring a certain amount of goals or meeting a certain number of appearances in a specific time period.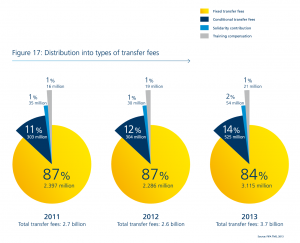 Photo: Distribution into types of transfer fees (source: FIFA TMS).
In 2013, the amount of payments to club intermediaries* mirrored a 30% (+$50 mio.) escalation compared to 2012. Though, most transfers are conducted without intermediaries. 93% of transfers are completed without a club intermediary and 86% exclusive of an intermediary on behalf of a player. This may also send a strong signal concerning the professionalization of the football business. Clubs have optimized their competencies in terms of what it takes to partake in a multi-billion industry and although there are still economic operational difficulties it is evident that the football world has invested highly in knowledge and competencies over the years.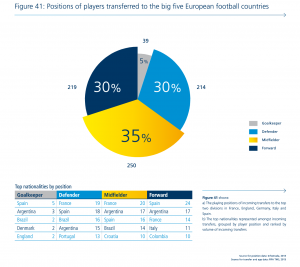 Figure: Positions of players transferred to the big five European football countries (source: FIFA TMS).
When I conducted my own thesis for the UEFA A-License Coaching Certificate, I was motivated to look at the 'facilitation of offensive playing patterns'. Like most football lovers, I find it appealing to look at the aesthetic and creative nature of the game of football and hence the players with the most effect on scoring goals. That corresponds well with buying behavior on the transfer market. FIFA TMS reported that midfielders and forwards accounted for 65% of incoming transfers in 2013 to the top two divisions of the big five European football countries. That number may not be significant but it becomes more interesting because when you analyze the development of transfer fees there is no doubt that the big sums of of money follow the best forwards or creative midfielders. Take a look at this year's Ballon d'Or (and previous years for that matter) where Christiano Ronaldo won the award in front of Lionel Messi and Franck Ribery. All of them are offensive-minded players capable of guiding their respective teams to enhanced scoring abilities. Furthermore, such players generate an enormous level of fan identification, which translates into beneficial elements of their clubs' business models. In that sense, it serves a purpose to highlight that many top European clubs have been influenced by new coaches and that leads to new ideas for the teams and thereby transfer activities. That is another interesting dynamic in relation to the transfer window. In that regard, the football world is not rational as the influence of emotions and 'wealthy stakeholders' guide the business models to be run by other factors than typical organic growth and the biggest clubs know that signing a new high-profile player can affect income from media, sponsorships and fans.
Source: