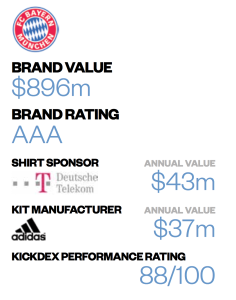 Photo: FC Bayern Munich's brand value 2014 (source: Brand Finance).
According to a recent study from Brand Finance, FC Bayern Munich still comes out as the no. 1 'football brand' measured on brand value in 2014. The switch from Juup Heynckes to Pep Guardiola has been rather smooth for the German powerhouse and Guardiola has already continued the winning streak of Heynckes and secured important titles. These two coaches point towards one of the key factors when determining the brand value of a football club. If you assess FC Bayern Munich's results over the past decade (and especially in recent years), you will find a club that is positioned as Germany's football powerhouse while playing a significant role in international football. To date, it by far the most successful German club and it has featured in ten European Cup/UEFA Champions League finals and winning its fifth title in that competitions in 2013 (FC Bayern Munich is also one of only five clubs to have won the tournament three years in a row). Since the implementation of the modern edition of UEFA Champions League in 1993, FC Bayern Munich has been present in the tournament almost every year. As a coach, Guardiola transformed the modern era of FC Barcelona and stimulated football lovers worldwide positively with the club's tiki taka style and the star power of Messi, Xavi and Iniesta. Now, he leads a promising German team and adds to the club's commercial dominance and brand value with his winning coaching competencies and status.
In the case of FC Bayern Munich, the club manifested its position in 2014 (compared to 2013) with a brand value of $896 mio. Under Guardiola's guidance, the club won another domestic title and really dominated the other teams in the previous Bundesliga season and also succeeded in winning the FA Cup (DFB-Pokal) last season. Internationally, the club has done extremely well in recent season with the title in 2013 and a spot in the semi-final of last year's UEFA Champions League. As depicted in figure 1, it is illustrated how different dynamic factors interact and influence a sports brand's value. For instance, team factors like the competencies of Guardiola, the presence of many star players with recent or current success on the pitch, and the club's overall winning streak and offensive winning formula lead the FC Bayern Munich brand to excel. In addition, keep in mind that Guardiola may affect stakeholders' anticipation of future success while having the backbone of Germany's World Cup title on contract and these are other positive brand management assets.
From an organizational standpoint, there are other benefits that may underscore FC Bayern Munich's brand value. In a football economy characterized by huge debt levels and financial losses, FC Bayern Munich manifests itself as a financially sustainable club. The club performs well when measuring its ability to generate revenues and attract investors' interest. Regarding the latter, the club's commercial partnerships are supported by the fact that some of its noticeable and potent business partners also own stakes of the club. Selling part of the ownership to strong corporate brands like Audi, Adidas, and Allianz, FC Bayern Munich has secured pulsating capital injections and been able to improve its debt. Moreover, it shows that these brands believe highly in what the club has to offer and that message from these powerful brands is a quality mark that may guide other players in the German and international corporate world to play along. These long-term partnerships illustrate that FC Bayern Munich has positioned itself in top football and has the tools to remain there. Certainly, the club's proud history and reputation speaks for itself; that's positive storytelling and the club will continue to become a commercial and sporting locomotive for the domestic and internationally recognized Bundesliga. Given the strength of this position and adding the support of being present in a strong domestic league with a healthy business model and governance level and in participating in international competitions (e.g. UEFA Champions League) every year, FC Bayern Munich has found a solid platform to build and grow its brand and business even further (also from a global perspective). The organization of FC Bayern Munich consists of more than 230,000 members that pays an annually fee each year and that relationship sets the foundation for a potent relationship between the club, its fans, sponsors, media and other commercial stakeholders. Allianz has bought into this by acquiring the right to extend its existing arena naming rights deal until 2041. This decision was boosted by the club's evident global fan base and the previous investments into the arena that serves among the best venues in Europe for hospitality offerings and a balanced visitor segmentation that emphasize the club's success in providing a positive and modern 'total football experience'.
The market factors in the above-mentioned figure 1 reflect how geographic reach affects FC Bayern Munich's brand building process and thus its overall performance concerning brand equity and brand loyalty enhancement. First, the club's location and performance level in the middle of a football craving country and continent help to drive brand popularity. The recent opening of a FC Bayern Munich office in New York City to drive global brand growth and to reap the commercial benefits of sports business on North American soil is an initiative in the right direction. This process interacts well with the club's pre-season tour in the US that featured games in large US football markets like New Jersey and Portland and the club also plans to show off in China in 2015 as part of its new internationalization strategy. Competitive balance may be an argument for fan interest in a sports league. However, FC Bayern Munich's dominance in the Bundesliga has been topic of debate in terms of whether or not that will hurt the league's overall appeal. Good competition adds excitement and it is a good element as part of what may drive fans to attend or watch sports event but it is not all. The recent rivalries with Borussia Dortmund in the Bundesliga and in the UEFA Champions League in 2013 have been in favor of FC Bayern Munich and that puts the club in a favorable competitive situation, as it is clear that the ability to manage and grow a successful top football brand is highly dependent on a winning situation domestically and internationally. This has to do with the fact that revenue generation and future brand equity development for a football club is reliant on the club's participation in the UEFA Champions League, i.e. football's finest club tournament, to fully spark all areas of the business model positively. Furthermore, I recognize how some arguments deal with the fact that FC Bayern Munich may suffer (from a brand building perspective) from the lack of harsh competition for the Bundesliga title but when all comes to all there is much evidence that speaks for the fact that FC Bayern Munich benefits from its dominant role because clubs that compete with (winning) clubs with more brand equity may see this have a negative impact on important elements of their business model (e.g. sponsorship and merchandise sales)[1]. Now, FC Bayern Munich is the leading premium club brand in the Bundesliga from a commercial and sporting viewpoint. That is well aligned with the fact that the Bundesliga has intensified its media relationship and as the premium club brand of the league FC Bayern Munich benefits from the intensified international media interest while also taking advantage of its domestic media appeal. FC Bayern is along with other top football clubs a highly articulated, discussed, and valuable property that has the ability to evoke shared experiences concerning how masses of people join together and celebrate their common passion. Therefore, the club is in a good situation as its performances and actions are followed intensively by a full spectrum of different media platforms and to score high here it is relevant that the club has been among the world's most competitive teams for a long period while taking a leading position in this modern era where the business of sports grows rapidly on a global scale. There is tons of domestic and international awareness around the club and tied with enormous fan and corporate support these are factors that affect revenue generation and brand equity and loyalty levels encouragingly. The size and loyalty of the FC Bayern Munich fan base are factors reflected in the club's membership development and in its constantly growing global fan base.
Finally, there are factors like the perceived quality, the brand awareness, brand associations and brand loyalty of the entity in focus that may affect the brand value of a football club. For instance, winning the treble in 2013 affected FC Bayern Munich's brand in the sense that the stakeholders' perception of the brand's quality were positive and linked to high-quality perceptions like 'best club in the world at the moment', top quality coach and players. Such a scenario leads to a increased brand awareness with optimistic associations and hence some great symbolic and experiential benefits, e.g. peak fan or sponsor experiences. This was exemplified in top football when Liverpool FC fans experienced the club's 'miracle match' win against AC Milan in Istanbul and what that did for Carlsberg as a sponsor. Moreover, this process results in enhanced satisfaction levels for such stakeholder groups and therefore in improved brand loyalty levels. Another imperative factor when measuring FC Bayern Munich's brand value stems from the club's success in 2013 as it is paramount for success in sports brand building that you are capable to excel at the highest level. In that regard, FC Bayern Munich won the treble in 2013 and especially the club's UEFA Champions League win against Borussia Dortmund was paramount because it boosted recognition of the club concerning high quality competition that also did work fantastic to put increased spotlight on the Bundesliga as two German teams featured in this European final. These factors serve to build stakeholder support that helps to enhance awareness and winning image that are positively correlated with intensified fan identification and thus better brand loyalty. Concluding on this, it is essential to highlight that winning or elements that help create a winning legacy are critical to build a strong brand value in an ever-changing and very dynamic and competitive football economy.


Photo: A couple of examples of a FC Bayern Munich sponsorship agreement (source: Sport Marketing Frontiers, 2014).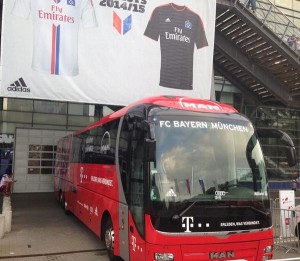 Photo: Private photo from Telekom Cup 2014.
Other perspectives on brand value growth in top football:
There are other recent interesting cases in the football economy when it comes to brand value measurement. Chelsea FC currently leads the English Premier League. In that sense, it is interesting to consider how the comeback of head coach Jose Mourinho and the incoming transfers of Cesc Fábregas and Diego Costa will affect the club's brand value over the span on this season. As a right now, these three names perform extremely well and if that leads to a Premier League title and good European performances the clubs can easily move up the ranks although there are factors like a small stadium that may affect brand value growth negatively.
Another English case is Manchester United. The club has an extraordinary global fan base and its new kit deal with Adidas reflects the club's ability to generate revenues. However, last year's poor performances in the domestic league and the fact that this has led to an exclusion from the UEFA Champions League this year are examples of negative elements of brand value influence.
Sources: 
Figure 1 is made from inspiration from "
A Conceptual Framework for Assessing Brand Equity in Division I College Athletics" by James Gladden, George Milne, and William Sutton. 
---
[1] Keep in mind how research has shown that positive fan identification is closely tied to winning and that translates into better revenue generation (Cialdini et al., 1976; Sloan, 1979), e.g. merchandise sales and when wearing the colors and logo of the favorite team a large fan base can form a positive spiral regarding future commercialization and investments in other team, organization, or market factors.