We have seen many changes in the relationship between sports and business over the years but one factor that have continued to be stable is the factor that it is still crucial to take advantage of the association with WINNING. When analyzing how premium sports properties operate and engage with stakeholders, there are many good examples of how these properties provide their sponsors with fine opportunities to activate their sponsorship in times of winning important titles.
Photos: Nike Golf activating on winning performances by Rory McIlroy and Tiger Woods (source: Nike Golf's Twitter account).
Nike is one example. The brand signed long-term multi-million $ deals with golfers like Rory McIlroy and Tiger Woods and has been strategic about how to take advantage of these golfers' winning performances. For instance, Nike Golf amplified the fact that McIlroy won the British Open in July, 2014 and that Tiger Woods came back as the world's no. 1 golfer in 2013. That way, sports sponsorship becomes a unique medium in terms of benefitting from intensifying the noticeability of these performances towards preferred target markets. Thus, sport is an exceptional communicating medium when brands become associated with the passionate identification levels linked to winning performances. Simply, this process adds meaning and value to fans (consumers), the brand (Nike) and the sports properties (McIlroy and Woods) and when measuring the economic success of the sports sponsorship set-up for the brand it is easy to see that winning will most likely boost media awareness and enhance product sales and store traffic. Watchmaker Omega did something similar when they tweeted that McIlroy became the 2014 PGA of America Player of the Year.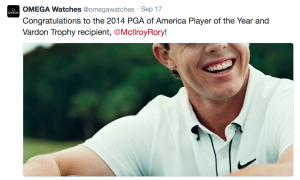 Photo: Omega tweeting and congratulating Rory McIlroy on his great performances (source: Omega's Twitter account).
It becomes obvious that this is a trend in sports marketing when analyzing the behavior of Nike's and Omega's competing brands Adidas and Seiko. Adidas congratulated Novak Djokovic on his Wimbledon title that came after an exciting five-set win against the seven-time Wimbledon champion Roger Federer. The German sports brand also tweeted about Caroline Wozniacki's fine comeback to good US Open performances and Kei Nishikori's similar success in this year's US Open.

Photo: Seiko tweeting after Novak Djokovic's Wimbledon victory (source: Seiko's Twitter account).
Photos: Adidas Tennis tweeting about Novak Djokovic's Wimbledon title and Caroline Wozniacki's and Kei Nishikori's US Open performances (source: Adidas Tennis' Twitter account).
Below, you will find some videos that implement the association with winning: