Photos: Christiano Ronaldo's official Facebook and Twitter accounts.
Football (soccer in the US) is as the world's most popular sport a 'true superstar economy'. People in all regions of the world recognize or may even identify with the sport's top player. At the pinnacle of the sport's most prestigious individual award ceremony stands Christiano Ronaldo as the winner of the 2014 FIFA Ballon d'Or. Coaches and captains of national teams along with international media representatives selected by FIFA and France Football determine the winner for what reason it acts as the most prominent award in football and has done so for years. The gifted and hard-working Portuguese superstar won the award for the second consecutive time after another successful season and thus following his wins in 2013 and 2008.  This proves that Ronaldo has no intention of slowing down at the age of 29. He was transferred from Manchester United to Real Madrid in 2009 for a record-breaking transfer amount and he has understood to pay off the huge investment via top sporting and business performances. CR7 has understood to conquer the world. However, he is only (according to Forbes) placed as no. 7 among the best personal sports brands in the world, which is surprising to me seen from a multi-dimensional look at his brand value. Given football's role as a world sport, his position as the world's best player in that sport and his ability to appeal to people across gender, ages, social classes and international borders, I would definitely trust him my money as a forceful vehicle in terms of moving eyeballs and market shares.
His accomplishments result from great talent supplemented with hard work from a holistic level taking the physical, technical, tactical and mental elements into consideration and 'walking the talk' on a daily basis. He has had some great coaches and the framework of big clubs from an early age to push him and to teach him the significant details of becoming a top-notch player. Even as a young professional being transferred from Portugal's Sporting Lisbon to Manchester United, Christiano Ronaldo had dreams and ambitions of becoming the best player in the world. Over the years, he has simply reflected an innate hunger to succeed and that has taken him the final way to a global football superstar that masters most of the elements of the modern game. He has gone from technical and highly emotional genius to a situation where his passionate nature equals a well-functioning and effective football machine capable of determining the outcome of any game. He may have some defensive lacks but he is meant to be an offensive threat and he masters all levels of what characterizes a good offensive player. Whether he finishes with his right or left foot, takes care of free kicks, dribbles, passes or heads the ball and outsprints defenders, he elevates himself to football perfection. 181 national team coaches, 182 national team captains and 181 media representatives voted for the FIFA Ballon d'Or award and Ronaldo received 37.66 % of all votes, which put ham considerably in front of number two and three Lionel Messi (15.76%) and Manuel Neuer (15.72%).
At the award ceremony, Ronaldo portrayed his intentions to continue his current form through the application of the same factors that have taking him to the top by stating "I would like to continue the work that I have done so far. I want to try to improve, to become better as each day goes by". Ronaldo is a 'true benchmark example' for young aspiring players around the globe when looking at the way he has administered his talent on the pitch while linking that with a charitable and business-oriented personality. That is a powerful combination in the 'money game' of postmodern professional football.  Ronaldo added that he wants "to become one of the greatest players of all time. Of course, this requires a lot of effort and I hope to get there". The renowned Danish sports reporter Michael Qureshi has lived in Madrid and thus followed Ronaldo intensively since 2009. He has many persons in his network that are close to CR7's everyday activities and he mentions that "Christiano Ronaldo is dedicated and passionate about the optimization of his level. He constantly aims to push all buttons to enhance things by the couple of extra percent that you can win when you are already at his level. His entire everyday life is focused around training, nutrition, rest etc. Nothing is left by accident and he does individual training in many ways. When he is awake, he spends 90% of his time on optimizing his competencies. Among others, he collaborates with four different mental coaches so he is always well-balanced."
Another factor that is interesting when following Ronaldo's footballing life is how his competitive edge and the rivalry with other top players motivate him. Michael Qureshi continues by stating "Everyone that has played with Ronaldo tells a story about a person, who is extraordinary committed to football and to take care of his body. He is more than a footballer. He is an incredible athlete. He builds on all aspects of the body and does individual training concerning all elements of football, e.g. take his famous free kicks as one example. He is 'training machine' and although he has been awarded the Ballon d'Or for two consecutive years you can be sure that he will apply even more will power to win the next Ballon d'Or. The rivalry with Lionel Messi is the fuel on Ronaldo's engine".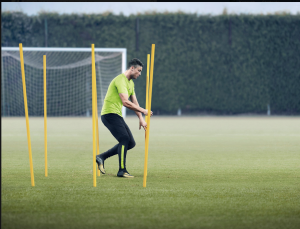 Photo:  "No day off. Even if you've earned one". Ronaldo is already back on the pitch after his Ballon d'Or award (source: Ronaldo's Facebook page).
Check out Rafael Nadal's tribute to Christiano Ronaldo, see video below:
His numbers speak their own language, i.e. 61 goals last year for Real Madrid and Portugal and adding the record-breaking 17 goals in last season's most prominent club tournament the UEFA Champions League, including two goals against FC Bayern Munich in the tournament's semifinal and the fourth goal when winning the final against city rivals Atletico Madrid. Neither does he slow down this year as he has already coined 26 goals in 16 games and added five goals in the six games in this year's UEFA Champions League.  As you all know, there are degrees of performance and Ronaldo's performances are extraordinary but still consider how polarized his performances would have been to the average professional player if his FIFA 2014 World Cup had been better!
Source: 
FIFA Ballon d'Or event.