In an analysis of the successful winning formulas in the business of sports, the football (soccer) team FC Bayern Munich of the German Bundesliga draws much attention these days, which is evidenced in the following citation that states:
"Although elite sport is one but three DFB* goals, along with popular sport and social responsibility,
it is clear that elite sport drives the dream. Without a successful national team, soccer would subside
in popularity, meaning fewer funds and minimized magic with which to develop
the broader goal of social responsibility." (Gibson et al., 2003, p. 190)
FC Bayern Munich has been and is a club characterized by a sound business model and the necessary competencies to support the formulation of execution of its strategic encounters. A good example is that after winning the treble with FC Bayern Munich in 2013, head coach Jupp Heynckes decided to step down from the coaching position for what reason the club replaced him with Josep 'Pep' Guardiola, who came to the German powerhouse after a very successful stint at FC Barcelona with whom he revolutionized global soccer with a very appealing tiki-take style and secured numerous titles. That's an example of the club's action-oriented and effective strategic execution, which secures energetic dynamism in the club's pursuit of continued success.
The following infographic illustrates some of the key winning factors in the business of sports, see below.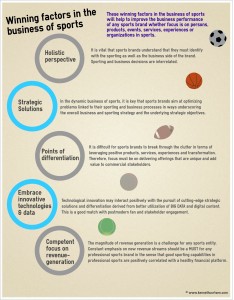 Infographic: winning factors in the business of sports.
FC Bayern Munich draws attention due to the fact that the club has been extremely successful over the years while producing a sound financial foundation to lean on. In that sense, the club comes out of as a benchmark example of how to run a successful professional football (soccer) club in a time of sports governing intervention and thus (UEFA's) 'financial fair play'. So the values of the club's healthy business model shines through and that is remarkable given the club's prosperous development in recent years at several parameters like domestic and international sporting performances and business measures like global fan base growth, revenue generation and profitability. The club has played well along with DFB's development plan for German football and was a strong supplier of super stars to the German national team that won the most recent 2014 FIFA World Cup in Brazil and the constant strive to meet new challenges is an important element in stimulating growth at all levels. Search for excellence at the organizational and individual level is a necessity in today's top sports organizations and that characteristic must pervade the entire business model and act as a source of holistic perspective. This perspective should secure focus on strategic solutions that bring along new points of differentiation and through new innovative technologies and data obtain a fine pathway to drive revenue generation to the 'next level'.
Figures: Financial development of FC Bayern Munich, turnover and financial result (source: Fussball-Geld.de).
*DFB is the German Football (soccer) Association
Source: 
Gibson, C.; Pratt, M.; Roberts, K. & Weymes, E. (2003). Peak Performance: Business Lessons from the World's Top Sports Organizations. London: Profile Books Ltd.