In a sports landscape with an evident and widespread globalization pattern, it is as if this sports context is galvanized back to the era in which Da Vinci and Newton made their first discoveries. When analyzing the current sports business agenda, there are many opportunities that go beyond the mix of traditional fan engagement and marketable offerings while stimulating the business momentum of sports rights holders and their commercial stakeholders. The smartest corporate sponsors, media properties and other commercial stakeholders form a relevant junction in the sports business context that has recognized that fans are vital in this very dynamic sphere in which sports fans act as the customers that fuel the business models of these commercial stakeholders. In this postmodern sports business ecosystem filled with new technology, fans are more powerful than ever. Thus, knowing about the consumption patterns of fans is a valuable asset for any sports rights holder and its commercial stakeholders.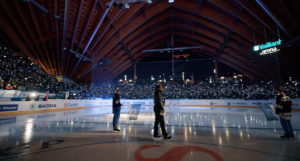 Photo: Fan generated lightshow from the international and annual invitational ice hockey tournament Spengler Cup in Switzerland.
The viral effect of digitization
Over the years, the amount of digital consumption in sports has grown exponentially. This has brought about more digitalized paths to fan engagement, which may revolutionize the commercialization settings in the business of sports and may continue to do so in the years to come as this trend seems to have spread contagiously within the industry. The willingness to exploit these paths does not have to involve rocket science for sports business operators, as there are many established organizations, which have specialized their business solutions in providing means to take advantage of the above-mentioned junction. They are 'early risers' with an understanding that fans and customers provide the foundation for commercial vitality with the meaning that future growth is a function of preserving existing fans and customers and doing business with new ones.
There is no doubt that 'the digital highway' with its derived and growing digital commercial spending will turn business models in sports upside down.
With this in mind, there is no doubt that 'the digital highway' with its derived and growing digital commercial spending will turn business models in sports upside down. To push relevant sports content over the counter across traditional market boundaries at rapid pace, the digital platform seems to be a perfect match. Digital platforms comprise the offering of over-the-top content and integration of direct B2B and B2C relationships without disturbing intermediaries but in consideration of fan interests. However, the interactions between rights holders in sports and their commercial stakeholders must acknowledge the strength of balancing the digitalized promotional activities and content with the need satisfaction of those segments that crave the analogue and authentic approach (see more information about this balance here).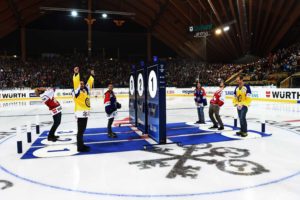 Photo: Fan engagement and sponsorship integration from Fanpictor during an ice hockey event.
The case of Fanpictor
I recently read an article via SportTechie about the Swiss company Fanpictor. The Zürich-based brand (with an office in NYC to cover the highly sports consuming North American market) represents an interesting tendency in the sports industry in which new technology embraces the capability to influence the profitability of sports rights holders and their commercial stakeholders positively. Fan engagement mixed with commercial value creation is at the core of Fanpictor's DNA. Thus, Fanpictor's solutions reach B2B and B2C stakeholders in sports beyond exposure. Brand recognition must be transformed to solid brand recall and must build emotional equity among audiences through positive brand interactions and Fanpictor seems to understand that.
Video: introduction to Fanpictor.
Fanpictor information from Divio AG on Vimeo.
As listed in the SportsTechie article, Fanpictor's 'acoustic network' applies ultra sonic sound waves to send data directly to smart phones. The solution of utilizing fans' personal devices (e.g. mobile phones) to produce uniquely branded experiences works in combination with existing venue audio systems and that allows sports rights holders to engage and communicate in different scales with fans without being dependent on Bluetooth, WiFi or mobile phone coverage. For the price of a one-time integration fee and a monthly license fee, Fanpictor installs the technology in the team venue or brand app and tests the audio quality. This may be done via revenue sharing agreements to provide room for the co-branding and co-creation initiatives that will add to the commercialization value for all involved parties and to adapt to the business models of the specific sports market. Fanpictor has already worked with high-profile brands associated with the sports and entertainment industry like WME/IMG, the Carolina Panthers, Porsche, Roger Federer Foundation, the Spengler Cup, UBS and the NHL. The technology is very flexible as it allows teams and related commercial stakeholders to engage with fans via personal devices although these devices are turned on flight mode or in locations with bad cell phone connectivity as the technology uses the venue's PA system. The technology can also be incorporated into team apps or other digital platforms, which emphasizes the importance of uniquely branded experiences provided by sponsors. Fanpictor's solution is a good match to drive commercialization rates across various sports and entertainment markets, e.g. the growth of e-sports is a natural fit.
Video: Fanpictor's involvement in the international and annual invitational ice hockey tournament Spengler Cup in Switzerland.
Video: Fanpictor's 'Mosaic' solution for the International Champions Cup (Real Madrid vs. Chelsea).
Video: Fanpictor's technology in play during the 2017 Honda NHL Allstar Game.
Creating points of differentiation through innovative technology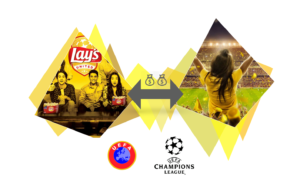 Infographic: In the traditional sports sponsorship model, sponsors paid rights holders to be able to engage with fans. However, the arrow in the middle must be 'two-way' as new technologies enable fans to engage with sponsors more easily (and vice versa) and without rights holders as a disturbing but rather as a facilitating intermediary.
Why and how does Fanpictor stand out in a crowded sports business marketplace? Sports sponsorship is a powerful and effective marketing vehicle. However, the co-creation and co-branding opportunity attached to incorporating the technology platforms of Fanpictor enhances the ROI, ROO and ROE potential of sports sponsorships as more width and depth will be added to the sponsorship agreement through the positive engagement from relevant B2C and B2B audiences (including fans, other sponsors and the media). The potential to drive innovative commercialization efforts while increasing the live fan and sponsor experience is very valuable to sports rights holders and this can be wrapped in strong and experiential narratives to be articulated by media stakeholders and through social media platforms. This will create a positive viral effect on all commercialization touch points, which should be cherished by sports rights holders at a time where the impact of exposure is debatable due to the inflation of information that people are exposed to. Sponsorship inventories must show the ability to get under the skin of audiences while being supported by business analytics that offer sports rights holders and commercial stakeholders the opportunity to make precise decisions supported by data. Therefore, sports rights holders will improve the capacity to go from explanation to actually understanding the foundation behind its different revenue streams. For instance, Coca-Cola is interested in generating positive attention about its brand while offering unique and memorable brand experiences that are associated with data driven fan comprehensions, i.e. with the help of Fanpictor's technology, the sports rights holders pitching to Coca-Cola go from knowing the amount of people that saw Coca-Cola's logo and other commercial messages to understanding why why fans are driven to engage with Coca-Cola and how that can be orchestrated to drive commercial value.
🇺🇸🏙 Massive fan presence in Manhattan. Thanks Barça Fans!! 👏👏 #BarçaUStour #ForçaBarça pic.twitter.com/fTZTPMzVRx

— FC Barcelona (@FCBarcelona) July 22, 2017
🔵🔴👕🌆👌
How Bryant Park (NYC) was turned blaugrana in 30 seconds
🇺🇸 #BarçaUStour pic.twitter.com/N7zgkcVaIH

— FC Barcelona (@FCBarcelona) July 25, 2017
Tweets: FC Barcelona and Fanpictor create interactive fan zone in NYC.
Capitalizing on the next level of commercial fan engagement technology
Bringing fan engagement to the next level by providing solutions that are linked directly to fans is the ultimate value creation for sports and entertainment properties. Fanpictor's model disrupts the traditional packaged sponsorship model (e.g. 'gold, silver…. packages') by offering a tailored and fully customizable approach to sponsorship activation that blends perfectly with fan engagement and the need for media stakeholders and B2C audiences to reproduce strong experiential sports and entertainment narratives (read more about how traditional sports sponsorship models are threatened by clicking here). The flexibility of the solution caters well to a huge variety of sports and entertainment rights holders, e.g. ranging from one-day sporting events like the Super Bowl and sports teams playing home games on a regular basis to music events and e-sports. Business analytics is a growing trend in sports and cracking the data in real-time can enrich the commercial value of content. The digital approach makes the solutions more targeted and removes some noise in the process by avoiding unnecessary intermediaries (check what LeBron James has done with Uninterrupted by clicking here).
Trust me that rights holders and brands in sports will learn from this modern approach unless they want to lose younger generations.
The real value in a solutions like those from Fanpictor is that they offer 'high-end' brands, e.g. Rolex, BMW or Ralph Lauren to activate sponsorships without being intrusive. It is a perfect opportunity to engage in co-creating and co-branding with fans while aligning with a team or sports property (even though the team or sports property may still prioritize the old-fashioned approach to sponsorship – trust me that they will learn from this modern approach unless they want to lose younger generations). For brands like Adidas, Puma, Nike, New Balance or Under Armour that have already established strong and recognizable brands through sports as a marketing vehicle, Fanpictor's technology offers an incentive to retain and develop their current audiences but this technology can be scaled and also provide value to less recognized brands due to the fan engagement tools. Whether the fan engagement solution is large or small scale, Fanpictor represents digitization and thereby less 'commercial waste' due to more precision in the marketable solutions and the mix of digitization, big data, business analytics and engaged audiences is vital in taking advantage of the demand-supply curve in the business of sports.
From an economic standpoint, it makes perfect sense for sports rights holders and their commercial stakeholders to understand that this technology is a good way to satisfy the complex needs of fans.
To earn better returns on sports sponsorship (e.g. ROI, ROO, ROE), which benefits rights holders and sponsors, it is crucial for all involved parties to understand fan behavioral patterns and being able to crack the code in terms of adopting this understanding to boost their business models. Given the current direction of the sponsorship market and of fan engagement representations, Fanpictor's innovative solution is capable of creating an effective relationship between segmentation, targeting and positioning and thus added value for rights holders and sponsors and relevant content for fans. From an economic standpoint, it makes perfect sense for sports rights holders and their commercial stakeholders to understand that this technology is a good way to satisfy the complex needs of fans. Therefore, it makes sense to invest in this or similar technologies as customers of any kind in the postmodern era are willing to pay when they know that their needs are not compromised and precisely satisfied.
A winning formula that blends commercialization and technology
What I like about Fanpictor's offering is that it is aligned with a sponsorship inventory that reflects the current digital demand and the opportunity to take advantage of it. In plain words, this means that even though digitization is on the rise, sports rights holders have not yet taken full grasp of this opportunity. Therefore, this technology helps rights holders and affiliated brands to achieve competitive advantage through fan engagement. The company has single-handedly created an entire new sponsorship inventory for commercial partners to exploit. The current sponsorship model will soon be outdated and irrelevant for what reason Fanpictor's technology seems to provide a 'must-have inventory' within sports sponsorship. Some important factors are present in this business offering:
A tailored and completely customized sponsorship inventory, which aims to bring commercial partners to fans without making it intrusive and by means of 'precision marketing'.
Gathering the 'right' data in real-time, which allows for decisions to be made almost instantly and based on evidence. This facilitates the ability to make strategic decisions on an individual event (or game) basis. Therefore, rights holders and affiliated brands can constantly adapt their promotional messages and initiatives to current demand.
An asset concerning this technology is the power to throw the bargaining power in the rights holder's hands. In other words, this process emphasizes the frequency in relation to how commercial partners choose to work with rights. By providing exclusive and tailor-made commercial options, this technology gives rights holders the opportunity to leverage its strategic relationships via co-branding and co-creation. While being a strong quantifiable tool, the technology also assists qualitative and uniquely negotiated commercial opportunities in an era where fans want authenticity and positive disruption that doesn't interfere negatively with fans' experiential needs.
Thus, Fanpictor's technology creates relevance for rights holders as well as their commercial stakeholders, which builds a commercial bridge to the entire value and supply chain within this context via utilization of fan engagement. That is exactly what rights holders and their commercial stakeholders are looking for when striving to capitalize on the intersection between fan engagement, technology and commercialization in the sports industry. Hence, it becomes easier to provide a specific valuation concerning the offered assets.
The hype around big data is manifested in the ability to produce a tangible business development exchange relationship between rights holders and commercial stakeholders, including fans. However, in order to quantify the big data several questions need to be answered:

Can rights holders and their commercial stakeholders realize behavioral and buying patterns based on the data gathered?
Can rights holders and their commercial stakeholders take advantage of these patterns in order to modify and leverage strategic offerings?
Do rights holders and their commercial stakeholders have the required proficiencies to implement an new niche of strategic partnerships, which specialize in data driven and fan engagement-related content?
Photos: Fan engagement in relation to EHC Biel ice hockey team in Switzerland.
Alignment with the enormous media interest in sports
Innovative technology solutions as those represented by Fanpictor also exemplify a new edition of commercial fan engagement tools for media rights holders in sports. Consider the astronomic amounts of money that media companies invest in sports rights. Combine these investments with similar investments made by media companies in mobile networks and additional digitization and add the business opportunities associated with access to millions of subscribers and the production of relevant social media content to be leveraged via branded apps, YouTube channels and supplementary platforms. Think about the commercial opportunities across various sports, platforms and markets. Now, that is something that can take strategic alliances in the business of sports and fan engagement to the next level, e.g. consider the Chinese investments in football at the moment. I mentioned the fact that the technology can be implemented in various scales and in different sports, i.e. there are also creative options in less dynamic sports such as cricket or golf. These sports have strong foundations and traditions and that goes with my point that this technology provides commercial openings across various sports, platforms and markets; no sport is fully protected from reductions in fan bases or resistant to interchangeable fan experience needs. Keep in mind that some sports are very conservative in terms of sporting practices and business development but may benefit from being revitalized in this manner.
Balancing analogue and digital business development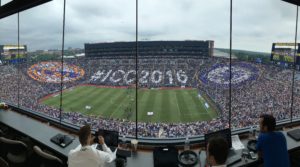 Photo: Fanpictor showcasing the logos of Real Madrid and Chelsea.
The technology is a perfect supplement to live experiences in that it complements the comprehensive fan experience while recognizing that the live experience is unique. Digitization is a great asset but until it can substitute Lionel Messi and Cristiano Ronaldo, nothing can replace live events. Therefore, it is about investing in tools to enhance the live experience. The fan engagement agenda highlights the balance between analogue and digital experiences and fans are demanding more and more. Therefore, being able to expand the event period (before, during and after) in a relevant way is crucial to maintain interest among audiences. Ergo, rights holders and their commercial stakeholders in the business of sports must find ways to increase demand via innovative and appropriate modes of interaction (including new activation ideas). With a significant focus on the supply/demand relationship found in the junction between trends in the sports business and Fanpictor's technology, this article hopefully constructs an applicable narrative and depicts a clear picture illustrating how the rights holders and their commercial stakeholders can disrupt the current sports business landscape in an optimal manner.
Video: Fanpictor's involvement in the Porsche Tennis Grand Prix 2016.
For more information about the interesting innovative solutions from Fanpictor, check out the videos below:
Video: Fanpictor presentation from the 2017 MIT Sloan Sports Analytics Conference.
Video: Interview with Fanpictor CEO Stephan Schuerer by #Startupnews.
This article is written by Kenneth Cortsen with Ivan Nalbantov as co-author. Ivan Nalbantov is an ambitious young sports business professional who studies sport management at University College of Northern Denmark while working within the areas on sponsorship, digital strategies and content production and how that relates to sports business and corporations using sports as a marketing vehicle. Ivan strives to gain a better understanding of the connection between sport institutions and their intermediaries and how they work together. For Ivan, the business of sports is more than just a career path. He believes that it will dictate his life and legacy for years to come.