With the awareness and the attention-grabbing role of collegiate athletics in the US, it is interesting to explore the commercial landscape tied to collegiate sports rights and events. As it is noted by Rein et al. (2006), "established professional teams in leagues such as MLB and NBA are fighting for an ever-fragmented market share in cities with competition from other professional, college and high school teams." In that regard, it serves a purpose to emphasize what sport business agency IMG has done to position itself in this context. With IMG College, the company has worked well to highlight the value-adding commercial opportunities in collegiate sports. Among other things, this means that corporations aiming to promote themselves via sport can take advantage of tapping into the business of collegiate sports given the passionate texture of this sports environment and the long-term affluent consumer character of collegiate sports fans. Thus, it gives corporate sponsors a chance to target a large and very appealing foundation of sports consumers.
To give an example of the staging of commercial options linked to collegiate sports, just take a look at this year's March Madness. The NCAA Men's Tournament offered collegiate sports fans an excellent window to follow the success stories of Kentucky and Connecticut. People didn't expect these two teams to end up in the final and their runs to the final offered fans the appeal of uncertainty linked to sports events and hence the surprising and fun nature of collegiate basketball, which took place at AT&T Stadium in Texas in front of a record attendance of 79,444 fans for one of the games of the NCAA Final Four. Additionally, the event was watched intensively on cable TV where 16.3 million viewers watched Kentucky vs. Wisconsin while 11.7 million viewers watched Connecticut vs. Florida. The games also reached 3.8 million live streams (+76% over 2013), more than 1.8 million tweets that were noticed by 200 million followers (+36%) and over 1 million hours of video consumed (+37%).
These numbers were interesting given the fact that both teams have not been enjoying this installation in the championship for many years. Kentucky is the first tournament team to win four straight games by five points or fewer and the 'American Conference' is the first conference to ship a team (Connecticut) to the Championship Final in its initial season. Connecticut ended up winning the Championship Final 60-54 and showed that a re-generated mission proved to come out strong after a period of academic disruptions with point guard Shabazz Napier as a strong performer.

Photo: A visual depiction of the business of March Madness (source: ESPN).
March Madness is a valuable sports event and the rights holders experienced records concerning television audience, live attendance digital and social media. This helps to position collegiate sports as a powerful and valuable property for the corporate world. From a brand transfer perspective, it is also essential to stress that commercial partners in this context may benefit from values from displayed in this year's tournament, i.e. discipline, groundwork, persistence, keeping to the game plan, team spirit and the raise to greatness that is so visible in the elite sports world. This context is all about exploiting the cultural capital of collegiate sports and mixing that with commercialization. The event is a perfect example of fan engagement in sports. Everyone at your work place, at your school, at home around the dinner table are going to become a basketball expert when the event takes place. Thus, conversations about brackets, tournament seeds, defenses and offenses are debated at any occasion for what reason the financial value of collegiate basketball for promotional purposes is enhanced.
Check the video below to check what IMG College has done for West Virginia University – a showcase of what collegiate sports has to offer.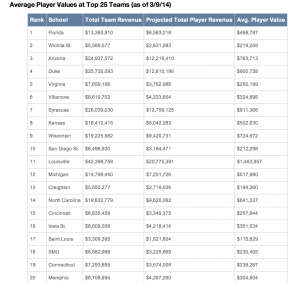 Photo: Average player values at top 20 collegiate basketball teams (source: nerdwallet finance).
Source: 
Rein, I. J., Kotler, P., & Shields, B. (2006). The elusive fan: Reinventing sports in a crowded marketplace. McGraw-Hill Companies.