The professionalization of football brings up new innovative ways to connect with fans and it offers new touch points that blends digital and face2face breeding grounds in terms of additional monetization opportunities.
Every match day is an excellent sports event, which is the core of the operations of a professional football business and whether the aim is to target different segments of the home and/or the away crowd there are new and positive stories to emphasize in the business of sports. One example is Manchester City's implementation of a new app for away fans, see the picture below. Smart phones are part of people's lives and consumption patterns for what reason this move seems to a good offensive playing pattern that will give Manchester City a good touch point to engage with a wider group of football fans while also striving to maximize match day revenues and commercial revenues via enhanced sponsorship integration.

Photo: An example of the CityHome Manchester app.
Manchester has been a football destination for many years, especially given Manchester United's proud sporting history and traditions. With Manchester City's regeneration and the new-found position among Europe's top teams, Manchester's role as a city that attracts international visitors has been intensified. For that reason, it makes perfect sense that Manchester City wants to tap into an tremendous commercial opportunity to build on the city's and the club's role as a location for world class football, which is accompanied with a great deal of positive hospitality. Regarding the latter, the app is constructed to make sure that visiting fans can obtain information that will assist in offering them a good match day experience and impression of what Manchester has to offer. The app was launched in relation to Manchester City's match against FC Barcelona in UEFA Champions League. The app can be downloaded with Android and iOS app stores and is also available in other languages than English. The app is tailored the specific visiting team and visiting fans can gain information about what to do in Manchester, places like restaurants, bars and general shopping opportunities. The app will also take the function as a potential event calendar in terms of what kind of entertainment that takes place in the city before the football match. The app also entails information about Etihad Stadium that can guide fans concerning where they have to go at the stadium.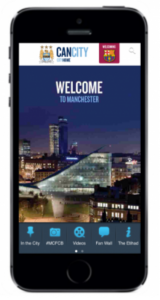 Photo: An example of the app's tailored design for the game against FC Barcelona.
Source: