Photos: From AaB's training match vs. HSV from the German Bundesliga in Flensburg.
Due to the professionalization and commercialization of football (and sports in general), the postmodern football economy is characterized by increased focus on fan relations. In that regard, the Danish Super League and its clubs have joined this trend and hired fan coordinators. This development is a mature step in meeting the fact that competition in the football economy deals with the balance between sporting and commercial considerations. Therefore, the management and control of fan relations go beyond the traditional product and service offerings.
Aalborg BK (AaB) is an example of a Danish top club that has strived to improve its fan relationship management by hiring a full time fan coordinator. The club won 'the double' in the 2013/2014 season and to support the sporting legacy AaB welcomed the club's new fan coordinator Christian Golding Andersen this summer.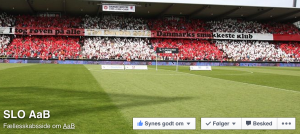 Photo: From AaB's SLO page on Facebook.
In the video below, Christian gives a few insights into what this means for the club, its fans and the overall business model of a football club.
Other clubs in the Danish Super League have found some international benchmarking examples and have followed the footsteps of clubs in the most commercialized bigger European leagues and prioritized a full time fan coordinator as an essential operational tool when optimizing fan relationship activities. This concentrated effort on fan relationship management works as an important revenue source in the intersection between a club's sporting and business performance. Therefore, fan relations have come to take a vital position in a club's strategic direction because clubs have realized that it is a winning combination to display and accommodate a better understanding of the needs concerning different fan segments. The meaningful aspect in this regard concerns how football and sports clubs are characterized by cultural and emotional ties that distance these sports brands positively from the majority of brands outside the world of sports measured on loyalty and adoration. Football and other sports are to be found in a passion-oriented business. Despite the fact that the passionate approach to sports consumption is a huge competitive advantage for football and sports clubs, fan relationship management is also about managing complexity. From an economic standpoint, this passionate context creates a brand equity level, which requires carefully contemplated strategies and concrete actions concerning fan expectations.