Since David Moyes took charge as manager of Manchester United after Sir Alex Ferguson, the sporting position of Manchester United in the English Premier League has gone downhill. This development is hurtful for the fans of the club and it has caused lots of turmoil around United that the club hasn't come positively out of the last two transfer windows to secure the necessary transformation, which can create an optimistic turnaround. The international football business is very dynamic and a few 'negative transfer windows with too much panic attached' may cause lots of harm given the intensive competition in the Premier League and at the UEFA Champions League level. Last year, Manchester United experienced a positive spill-over effect on its revenue generation based on its successful 2012/2013 season, which culminated with its 20th Premier League title. Manchester United recently displayed a new record revenue generation in terms of its 2014 first quarter result but overall the club's current sporting position isn't good for neither its long-term profit optimization nor the English Premier League's monetization of commercial rights. This is especially true if Manchester United does not succeed in eliminating Bayern Munich in the second leg of the quarterfinals of the UEFA Champions League.
The latter relates to the importance of good UEFA Champions League performances as a driving force for current popularity and revenue generation as it refers to 'commercial negotiation power'. So does Premier League performances as Manchester United's legacy and popularity are among the KPIs when evaluating the commercialization of Premier League rights in connection with revenue generation from global media audiences and fan bases. Given Manchester United's overall global popularity and its brand impact on the Premier League brand, it does not benefit neither Manchester United nor the Premier League that Manchester United has not reached a high performance level on the pitch. Manchester United is among the world's most valuable and widespread sports brands so there are lots of fans worldwide that would like to see that the club does better.
Although, there are many professional football clubs that struggle in terms of finding the right balance between revenue generation and costs, Manchester United has generally done well in terms of securing revenue growth. Though, one vital factor for all professional football clubs links to the ability to secure positive long-term cash flows and operations. That is a TOUGH ambition in a business where unpredictability is an integrated detail. Liverpool FC is an excellent example. The club has similarities with its rival Manchester United concerning its proud legacy and winning traditions, its Premier League association and its global appeal. Liverpool FC found itself in a difficult situation (as I wrote about earlier on this blog, see here) regarding the ownership of Hicks and Gillett. Though, after years away from the sunshine of domestic titles and strong international appearances the club has fought back and seems to be a strong contender for this year's Premier League title despite Chelsea's and Manchester City's peculiar cash flows. My point is that Manchester United MUST take Liverpool FC's lessons into consideration and evaluate how hurtful it will be to end up in a similar situation where it will be hard to recruit the best players and to optimize revenue generation because the club does not participate in the UEFA Champions League. There is no doubt that the current situation of the Manchester United will test the loyalty of the club's global fan audiences and the club must hope for UEFA Champions League miracles to happen this season (winning the title). The team's performance against Bayern Munich was fine and it gave them a little positive reputational capital at a time where the future outlook has been better.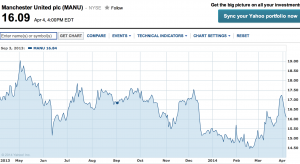 Photo: The price for Manchester United shares (source: Yahoo).
Of course, I know that Manchester United's global fan base does not disappear just like that but we saw that last year's UEFA Champions League tournament showed that the successful German teams Borussia Dortmund and Bayern Munich experienced a positive spiral around revenue generators like merchandise sales and European prize money. At the same time, there is a positive correlation between a growing global fan base and sponsorship revenues and other revenue streams. When trying to win market shares in lucrative markets like Asia there is no doubt that winning matters and Bayern Munich's fantastic European performances have paved the way as the club has surpassed Manchester United measured on revenue generation. I am also positive that the massive amount of goals from Luis Suarez and Daniel Sturridge from Liverpool FC and the team's winning streak have boosted revenues related to Liverpool FC. Manchester United is a fairytale in terms of attracting global fans and its broadcasting revenues have been astronomical so far but there is no doubt that this point in time is a good test for the club's business model, which has been among the best in global football. In that regard, it will also be interesting to see how much the club can capitalize on the upcoming kit supply deal negotiations. The club's shirt sponsorship deal with Chevrolet will also kick in to affect revenue generation and that forms a good financial basis in a time of turmoil.
All sports enthusiasts know that professional sports entail unpredictability and Manchester United's comeback against Olympiakos was significant and we never know what will happen against Bayern Munich? Though, the result will influence the team's financial outlook. 'The transformation power', which Manchester United must invest in during this summer's transfer window, will have the same effect. It will be interesting to see if the club can rebuild itself via cash flows rather than via selling of shares. Nevertheless, the next months and this summer's transfer window and its impact will certainly show how Manchester United will perform on and off the pitch.
Additional inspiration:
An interesting article and some videos, see below:
Source:
Manchester United's web site.