Usain Bolt, the fastest man on Earth[*], symbolizes the meaning of the Olympic motto and adds to bringing the Olympic substance to life. In its recent Olympic Charter, which was put in play in August 2015, the International Olympic Committee (IOC) writes that "the Olympic motto 'Citius – Altius – Fortius' expresses the aspirations of the Olympic movement." The motto is Latin for 'Faster – Higher – Stronger' and it reflects the core principles of Olympism in the sense that it requires the development of humankind in a way that combines bodily and mental actions on the foundation of full determination, grace and joy.
Video: IOC's 'Olympic Channel' applies Bolt's brand in the channel's content generation.
Usain Bolt is an athlete brand that mirrors a relational and cultural brand perspective that is shaped by the many positive interactions associated with winning sporting performances, strong endorsement deals and the emotional and symbolic needs of sports fans consuming these performances and activities. Bolt is a dynamic personal sports brand that has understood the importance of revitalizing himself on and off the track for more than a decade at the heart of the most prestigious disciplines under the umbrella of the IAAF, e.g. men's 100m. The 'Usain Bolt brand' makes sense for many sports fans in that regard. It is a good match with fans in terms of the construction of a meaningful lifestyle and thus the identification with these (for most people) untouchable performances and the associated positive emotions. Fans can get a feeling of these performances through Usain Bolt. Thus, Bolt is a superior athlete that tells a relevant story; the story is strong because fans can relate to it. Although Bolt's performances on the track are unattainable in the eyes of fans, these fans can all relate to the meaning of positive human development and the positive emotions associated with setting new standards for their personal performances and meeting personal goals. This process establishes a good connection between Bolt's brand and individual sports fans (brand users and consumers) but also builds a suitable bridge to the social relations between Bolt and groups of fans (brand users and consumers) via Bolt's behavior that stimulates fans worldwide to imitate his behavior and manifest his brand personality in their actions. These elements lead to a better understanding of the economics of Usain Bolt's brand.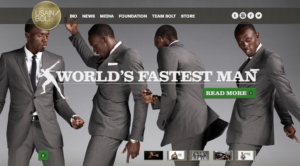 Photo: World's Fastest Man (source: Usain Bolt's official web site).
Winning boosts the economy of sports stars
"When a brand name is at the heart of the action, on a players uniform, or in the hand of the actor on the screen, it comes alive and, importantly, it is difficult to edit out of the picture." (Cornwell, 2014, p. 4)

The citation above partly illustrates the economic value of sport given that sports fans' consumption habits are driven by the need to consume Usain Bolt's and other great sporting performances in real time. Immediate consumption drives engagement and real time connectivity via other platforms that extends the consumption of the Usain Bolt experience and opens up for commercial opportunities, e.g. sponsorship integration and other commercial events like a 'Puma Google+ hang out'. On top of being an incredible athlete, Bolt's enjoyable personality attracts sports fans and other stakeholder groups like the media and corporate sponsors to engage with him. He has already built a legacy around his persona that attaches labels like athletic legend status and iconic sports star and that captures human imagination, motivation and desire. He knows how to entertain all these stakeholder groups and he excels in this kind of brand execution. He even understands the notion of 'hybrid sports branding' (Cortsen, 2016) and shines in brining it into play, e.g. in the visibility associated with his Manchester United fandom. His persona and fan appeal combined with performing in a discipline like the men's 100m is a winning and profitable formula that explains why broadcasting companies like NBC pay huge chunks of money to broadcast the Olympic Games and why corporate sponsors open their wallets to do business with Bolt. This is the essence of 'hybrid sports branding' and the fact that collaborating brands with sport as a platform interact with the right degree of mutual understanding and execution lead to future brand interactions and outcome in the positive way. Winning means high demand and it is easier for athletes to monetize on their performances if they are number one for a consecutive long period like Bolt and professional corporate brands know how to put that in play. So does Bolt.

Video: Example of Puma's activation of the Bolt partnership.

Therefore, Bolt is no longer constrained by a reality characterized by narrow sponsorship revenues and limited appearance money. That reality has been turned into an athlete that is capable of cashing in on his success. His presence adds to the value of NBC and other broadcasting companies airing the Olympics.

Bolt is premium content in return for large sums of money to the IOC and part of a complex calculation that integrates advertisers paying to communicate corporate messages along with Olympic prime time content and the associated Olympic and sporting values and hence the access to interesting sports fans worldwide.

It is a reinforcing circle in which Bolt's excellent sporting performances and 'winning' persona spills over on his sponsorship revenues and the related consumption patterns of sports fans whether that involves consumption of television packages, filling venues or products of Bolt's corporate sponsors. As long as there is enough fan interest, the circle keeps running.….
Usain Bolt is a perfectly blended sports and entertainment cocktail
Enhancing the fan interest in addition to performing on the track is Bolt's core business strength. His entertaining approach to the sport during the Olympics while engaging with fans establishes exciting expectations for his running events in the post-Olympic phase. People are interested in seeing him run and beating competition but also in witnessing his entertaining dancing and 'to the World' signature celebration. That particular pose has already been turned in to a trademark to capitalize on its commercial value and it has also become a well-known Usain Bolt athletic trademark (i.e. the lightning Bolt'). The same is to be said about Bolt's ability to adapt to different markets in the sense of paying tribute to the American anthem during the 2016 Rio Olympics or by carrying the flag of event hosts when celebrating a win. Bolt acts according to what fans want anno 2016 (authenticity) and displays the image of an enjoyable, fun-loving and well-mannered (not caught in much devastating brand behavior) athlete with a money-spinning global fan base.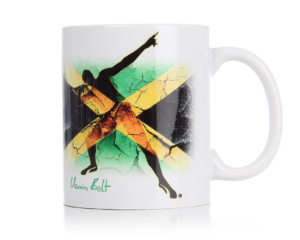 Photo: The trademark of the 'Lightning Bolt' (source: Usain Bolt's official web site).
With a sponsorship portfolio containing strong corporate brands like Puma, Visa, Gatorade, Virgin Media, Hublot and Nissan, Usain Bolt is home safe concerning marketability. He is the David Beckham or Michael Jordan of running. Gatorade ran the 'Be Like Mike' campaign years ago to exploit the strong fan identification with Jordan and saw a significant impact on the brand's revenue generation. Naming a product after Bolt has followed this. In a 2016 commercial under the name 'Never Lose the Love', Gatorade features Usain Bolt and tennis star Serena Williams while telling the compelling story that athletes know the intrinsic motivation from being a kid falling in love with sports and never looking back – see video below. The point of the story is that 'the best never lose that love'. Commercialized content in sports anno 2016 includes high-quality sporting performance, true passion and entertaining aspects.
Video above: Gatorade featuring Bolt and Serena Williams in the 'Never Lose the Love' campaign.
Video above: Exemplification of the Bolt-Gatorade partnership.
Video above: Another example of Puma's branded Bolt content.
The Bolt brand demonstrates this mix and exploits in offering a clothing line like other celebrity sports stars. Additionally, there is always buzz (and mostly positive) around his persona and brand. For instance, all the stories that associate him with playing for soccer powerhouse Manchester United play a role. Under the guidance of great soccer managers like Alex Ferguson, Louis Van Gaal and latest Jose Mourinho, there have been media talks about Bolt playing for Manchester United and even though Bolt's speed surpasses that of Zlatan Ibrahimovic there is no doubt that the English club thought Zlatan was a safer transfer bet in terms of footballing qualities 😉 However, the story is appealing for sports fans and sporting history reflects interesting stories when it comes to athletes playing at a professional level in different sports (e.g. Bo Jackson and Michael Jordan – Jackson's story is more genuine than Jordan's angle in terms of performance quality) but also when it comes to a story with similar appeal as reflected by Annika Sörenstam's appearance in a men's tournament given her superior performance level in women's golf. People are inspired by such stories and there is global reach in these stories and especially when combined with top-notch sporting quality continuously over a long period of time.
Video above: Virgin Mobile commercial featuring Bolt.
Video above: Bolt appearing on David Letterman's Late Show and cementing a status as pop culture icon.
Bolt equals entertainment and global brands or brands in sports-savvy markets (e.g. the US) know that Bolt can move customers. His vibrant and entertaining personality and sporting dominance also make a difference outside the track from a CSR-angle. He runs a foundation under his brand umbrella, which is devoted to provide happiness and better lives for kids via educational and cultural development through economic donations and equipment that facilitate sports participation. That is fuel on the commercial engine of corporate brands while adding even more value and authenticity to Bolt's brand and the respective brands of his sponsors. For instance, long-term partner Puma is highly integrated in Bolt's CSR-activities, i.e. the German sportswear brand assists in donating sports equipment. In another example, Bolt's partnership with Samsung has led to photo workshops to students.
[*] Keep Justin Gatlin's 9.45 seconds from 2011 in mind! The record was set under circumstances characterized by a very strong tail wind and Gatlin's trustworthiness suffers from being banned due to drug-related violations.
Source:
Cornwell, T. B. (2014). Sponsorship in marketing: Effective communication through sports, arts and events. Routledge.
Cortsen, K. (2016). Strategic Sport Branding at the Personal, Product and Organizational Level. Doctoral thesis from Aarhus University, Business and Social Sciences.