The increase of social media in recent years has offered stakeholders in the business of sports a new and very powerful platform for brand activation. Although research years ago pointed to the fact that sports stars did not use social media to activate endorsement deals, today's sports marketing trends tell a different story. As of right now, the most professional sponsors are cognitive about exploiting the huge commercial potential linked to the followers of their associated sports rights.
Postmodern sports marketing is very much about sponsors taking advantage of the unmediated access to sports events, sports governing bodies, sports leagues, sports teams, and sports stars that social media offer fans and other stakeholders. Hence, social media offer these groups an interactional platform, which is of great value for sponsors given sports entities' improved opportunities to influence these stakeholders. There is still many unexploited development openings tied to sports entities, which aim to boost how they leverage sponsorship and branding prospects. This development is and will be sparked by the sports industry's ongoing investigations of new technologies that do or may facilitate and enhance these commercial solutions and the investment in these. For fans and other commercial stakeholders in sports, the BIG DRIVER is the proximity to sports stars, i.e. current and former sports stars as well as current and former coaches. Social media have a rare ability to meet this demand and even though social media primarily mean 'virtual proximity', these platforms still do the job in terms of getting fans closer to their idols on a recurrent basis than ever before. Today, social media in sports commercialization are the norm rather than the exception. It has become legitimate and authentic that the SMART sports entities are very strategic about how to make the best of social media use.
There is a strong cohesion between sports and traditional mass media and that relationship is reflected in the highly inflated amounts of money flowing into the business of sports from broadcasting deals. However, from a sports entity's and from the traditional mass media's perspectives, it should be evident that social media provide the business of sports with a modernized and stronger engagement platform that acts as a great supplement to sports' portrayal and exposure in traditional mass media because the ordinary sports fan gets the chance to perceive a sports star's uncensored opinions via social media. This gives connecting sponsors a very direct path to fans and other customer groups, through which they can give away tickets, get 'behind the curtains of a sports star's everyday life' and in general to understand and exploit the fact that marketability is a product of good stakeholder relationships. More importantly, the sports stars find themselves in a virtual environment in which they feel that they can be themselves, be engaging, and be funny without feeling the pressure of a clingy audience related to an ordinary fan-encounter in the arena, at the training ground etc.
Moreover, it gives sports entities the chance to maintain a good and strong commercial relationship with vital stakeholder groups even after the active career of specific sports stars. Thus, that spills over to the athlete's brand in a positive way since social media provide an athlete with a method to connect with fans that want to follow him/her after the end of his/her active career. All in all, social media have transformed the business of sports and have shown stakeholders a good bridge back to their idolized properties that physically disappeared when the rapid increases in wages turned athletes into over-protected properties distanced from ordinary people. The American Professor James Santomier (2008) once mentioned that "the integration of new media technologies has changed the manner in which sport is produced, marketed, delivered and consumed" and he is very right in that statement. Social media have offered a new road map that can show how sports properties can go from being recognizable brand to become household names and how that links with a more profitable reality for all engaged business partners. So whether we are discussing what social media can bring to personal sports brands, product sports brands or corporate sports brand, it is clear to me that social media will continue to evolve in the context of sports business and is very applicable when sports entities (and brands doing business with sports entities) seek to enhance their marketing, advertising and sponsorship activities. Social media is key in sports entities' CRM practices as fans and other stakeholders act as creators or influencers of content and with the development of Internet solutions that is a good way to see profitable viral marketing activities as fans share and send this content to their respective network(s). And this is particular powerful because this relationship between sports entities and their stakeholders lead to new 'materialized' innovations exemplified by how the interactions may lead to production of new merchandise or alternative tribal fan behaviors as a symbolic reflection of higher identification levels and thus new understanding of a given sports entity's identity.
To exemplify how social media application can benefit sports entities, UConn Huskies and IMG College implemented the great idea of activating the university's official transportation partnership with Chevrolet by taking the UConn Chevy Sonic to Final Four in Texas. Basketball and March Madness is a major event in the collegiate sports landscape and UConn's proud legacy in collegiate basketball worked as a perfect strategic activation platform that succeeded in turning the Chevy 'Road Warriors' into a highly conversed commercial asset and national hit among sports fans. UConn IMG Sports Marketing general manager Tom Murphy orchestrated the activation plan along with IMG College account reps Erik Antico and Brett Greenfield. The plan included a substantial social media manifestation. Brett paid close attention to details and dressed as Jonathan the Husky (UConn's mascot) and would share UConn gear and pose at landmarks to highlight the importance of 'Kodak moments' along the journey to AT&T Stadium in Arlington while adding interesting content for the road trip's growing social media supporters. The road trip integrated some smart pit stops at competing schools Villanova and St. Joseph's, at national landmarks and offered some drama when clashing with law enforcement and tornado warnings on the path to witness the UConn men's title win in Arlington followed by a trip to Nashville to watch the UConn women's team do the same.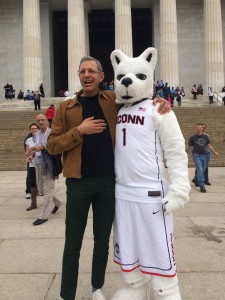 Photo: Actor Jeff Goldblum posing for a picture with Jonathan the Husky at the pit stop in Washington, D.C. (source: IMG).
Some experiential elements of the road trip:
When taking pictures at the Washington Monument and Lincoln Memorial in Washington, D.C., Antico and Greenfield had to leave when U.S. Park Service Rangers asked about their 'promotional services' permit while answering "Jonathan the Husky can't talk" 🙂
When stopping by theGeorge
Washington Bridge for Jonathan the Husky's first picture, the authorities did not share the positive emotions and Antico and Greenfield had to leave in a hurry and almost had the car confiscated.
Antico took care of most of the driving, which gave
Greenfield some rest between the swag giveaways and photo shoots. However, it was not easy to sleep in the car with the relentless honking of delirious UConn fans (the Sonic sported a "Honk if You Love UConn" sign). "On the way down, this created a lot of fun. On the way home, it got a bit aggressive," Antico said. "A group of Kentucky fans in a blue painted minivan, flags and all, were not in the greatest mood. They tailgated us pretty good for a few miles. At one point, I was worried we'd be run off the road."
Pictures from the road trip, see below:
Photos: Some of the Twitter-post photos sent by UConn along the road trip (source: IMG).
From my desk, the beauty of this campaign is that a relative cheap campaign of about $2,000 in gas, food and accommodation and a 1,700-mile journey leading to 52 hours in the car generated so much positive buzz and approximately 1.6 mio. media impressions. The 'Road Warriors' posted 13 official photos, averaging 1,300 likes per photo and more than 17,000 total likes so this is a story of why social media give sports entities a fine chance to produce campaigns that are rich in owned and earned content and thus pays off in terms of ROI, ROE, and ROO measurements. It shows that creative and fun activation solutions via social media platforms is an effective sports marketing tool with positive economic implications and although these initiatives require competent resources it can be done with minimal lead time and reduced hard costs compared to paid content.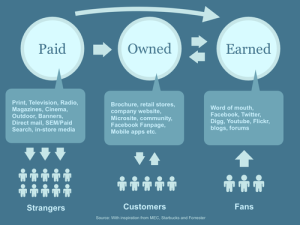 Photo: Differences between paid, owned and earned content (source: Social Media Today).
Another good example of social media implementation in sports marketing stems from UC Berkeley's Facebook 'Q & A session' with head football coach Sonny Dykes. Coach Dykes talked with fans and gave them the opportunity to engage at a deeper level and to discuss diverse topics like personnel and windsurfing. In Alabama, the University of Alabama applied the hashtag #BamaSalute to involve student-athletes and coaches from track and field, baseball, tennis and soccer in tweeting to salute the university's and nation's veterans. #BamaSalute was incorporated throughout the Alabama Athletic Department and was leveraged as clear, simple and honest communication and the university asked its fans to submit their care on social media platforms and hosted the images via RollTide.com. In that regard, it makes sense to underline that on specific holidays or days of tribute, it may be wise not to participate in the conversation at all, check here. Another example shows University of Michigan Wolverines using #MichTape when presenting their new #MichTape warm ups, see here. Such hashtags on playing fields, on jerseys or official balls present another method for bringing social media into real life and the university also brought its fans into the team's post game 'Hail to the Victors' with this interesting Vine.
Photo: University of Alabama's #BamaSalute initiative (source: Alabama Athletics) and University of Michigan's #MichTape initiative (source: Twitter).
University of Notre Dame hosted a Halloween party via social media and 'Fighting Irish' fans were convinced to submit their Notre Dame experiential pumpkins by October 30th to win a 'Proud to be ND' prize. Notre Dame applied #NDHalloween and produced a Facebook album of best submissions and @NDFootball shared childhood pictures and Vines of their players dressed up for Halloween. Nebraska's creativity came out when U.S. Army Golden Knights landed on the Memorial Stadium from 12,000 feet. The Huskers promoted the action in real-time from the field and from the plane and shared it via different platforms and the Huskers Facebook video was seen by more than 516,000 people. Kansas University has a tradition of celebrating holidays like New Years, July 4th and Halloween with its fan base and the Jayhawks designed specific graphics for their winter sports and they also did well when congratulating the Royals on a great season.
Photo: #NDHalloween initiative and Kansas University's winter sports initiative (source: Twitter).
The above-mentioned road trip example from UConn is great given the fact that it mirrors a good balance between paid, owned and earned media content. The script is aligned with Visa's Super Bowl activation and Heineken's UEFA Champions League activation and it presents a fine bridge to fans' identification and engagement levels in terms of sports entities understanding the DNA of major sports events, see videos below.
Santomier, J. (2008) 'New media, branding and global sports sponsorship', International Journal of Sports Marketing & Sponsorship,Vol. 10, No. 1,