The primary goal of large professional sports team is to be the best at their sport. However, a secondary goal is to provide an entertaining and positive experience for their fans while they are at games. Teams do this through marketing efforts, in-game entertainment (apart from the actual game), promotional items and gate giveaways, and by keeping fans safe. Major League Baseball is no different. However, the league was recently scrutinized for the dangerous situation its fans are encountering by just being at the ballpark – being hit by foul balls and even bats.
What about traditions for fan engagement?
One of the oldest traditions at baseball games, and an arguably important portion of the fan experience, involves bringing a glove to the ballpark and catching foul balls and home runs. Sometimes fans make spectacular catches (often those are situations that involve a beer in one hand and a glove on the other). However, there is always the potential for serious issues and injuries to arise. The experience of catching foul balls needs to be balanced out with the importance of keeping fans safe.
The benefits of protecting fans
There have been countless stories, videos, and experiences over Major League Baseball's existence of fans being hit in the head and often severely injured by baseballs that enter the stands. While the potential for injury has always been in place it has garnered a lot more media attention, in part thanks to the increase in popularity of social media, over the past few seasons with many accusing Major League Baseball of not doing enough to ensure the safety of the fans.

Before the 2016 season Major League Baseball issued a statement encouraging and recommending that all teams to "add netting, or some sort of protective barrier, to shield fans from balls and bats that sometimes go into the stands in all field-level seats between the near ends of both dugouts and within 70 feet of home plate" (Hagen, 2015).

Teams made adjustments.

Here is a comparison of the netting before 2016 and the netting after 2016 – see photos below:

Pre 2016 netting at AT&T Park                                    2016 netting at AT&T Park

(Hample, 2013)                                                                             (Shank, 2018)

The San Francisco Giants witnessed the benefits of an extended netting a few times throughout the 2016 season when catcher Buster Posey's bat slipped out of his hands and launched into the new part of the netting.

Video: Baseball bat flies into netting (source: MLB)

In September 2017 while at a New York Yankees game a two year old girl was hit in the head by a baseball traveling 105 miles per hour. She had multiple facial fractures and bleeding in her brain, and may have permanent vision issues. Their seats were not behind protective netting. She was sitting on her grandfather's lap and while he put his hand in front of her face to protect her, it was not enough. The image of her grandfather carrying her out of the ballpark was splattered across sports networks and news sources. Players were emotionally rattled and fighting back tears on the field. Todd Fraizer who hit the baseball was seen kneeling on the field, and was clearly affected emotionally. Increasing the netting will not only keep fans safe it will also prevent players from feeling responsible for injuring those in attendance when they are just doing their jobs.

Photos: The daughter of Geoffrey Jacobson was hit by a foul ball at Yankee Stadium and carried by her grandfather on the 20th of September 2017. Yankees later announced that the team would extend the netting at the ballpark. Todd Frazier, who hit the ball (photo to the right) was one of the players to asked for the netting to be extended  (Witz, 2017 & New York Times).
The legal perspective and risk management
Major League Baseball teams are technically protected from lawsuits by the assumption of risk clause that is printed on the back of every ticket. However, much to the dismay of Major League Baseball courts have still allowed individuals to file lawsuits against them for liability when injuries have occured (Nocera, 2016).
Below is the Waiver and Release of Liability printed on the back of every San Francisco Giants ticket:
WAIVER AND RELEASE OF LIABILITY: Holder voluntarily assumes all risk and danger incidental to the game of baseball, including, without limitation, all risks occurring or originating on and off the playing field, spectator stands, concession areas, convenience areas, entrances, and other pedestrian areas, and all risks identified in the next sentence. Holder agrees that the Giants and their sponsors, contractors, vendors, Major League Baseball, the participating baseball clubs, their respective players, agents, owners, officers and employees (collectively, the "Released Parties") shall not be liable for any personal or bodily injury, damage to property, or other loss resulting from the negligence of the Released Parties or incidental to the Event, whether such injury, damage, or loss occurs prior to, during or subsequent to the Event, including specifically (but not exclusively) injury, damage, or loss from: thrown bats or bat fragments, thrown or batted balls, thrown, dropped, or launched items and projectiles, animals, spills, other hazards or distractions, or any incident associated with crowds of people or the negligence or misconduct of other attendees.  (San Francisco Giants)
Announcements are also made pre-game encouraging fans to be aware of their surroundings including bats and balls entering the area. However, is it rational to assume that the average fan sitting at a game has the ability to react fast enough to protect themselves, and potentially those around them, from a baseball or bat traveling upwards around 100 miles per hour? Can even the most die-hard fan who pays attention to every pitch, and is not the typical distracted phone glancing fan, really put up a glove or duck in time? And what if that is the moment they move their head in the other direction? Given a lot of fans are more distracted, posting on social media, talking with friends; it would be even harder for them to react in time. Baseball is a family sport and there are often a lot of kids in attendance. Can they really be expected to protect themselves and react fast enough? While some, including players, have argued that maybe they should not be allowed to sit outside of the protective netting, or in an area where foul balls might enter, enforcing that policy is simply not feasible (Witz, 2017). The little girl who was hit at the Yankees game was sitting past third base, yet the baseball was still traveling at a great enough speed to do serious damage when it reached them (Schuppe, 2017).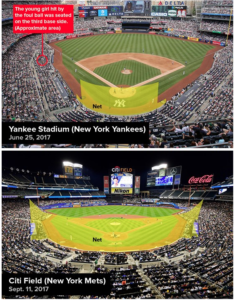 The above image shows where the little girl and her family was sitting and the netting at Yankee Stadium compared to the netting at Citi Field where the New York Mets play (Schuppe, 2017 & NBC News).
Unfortunately it took that little girl getting hit to reignite the protective netting debate. On February 1st Major League Baseball sent out a press release stating that all stadiums will now have netting that will go to the far ends of the dugouts by the start of the 2018 season (Schad, 2018). However, as teams increase the netting they do have to balance the importance of protecting their fans with how netting will impact everyone's experience at the ballpark.
How one fan's story contributed to a conversation about MLB's safety nettinghttps://t.co/doGM5DozVl

Six months after a terrifying scene, Major League Baseball's parks have extended the netting to protect more fans than before. It was the fifth inning of an afternoon game in … pic.twitter.com/M6eGNIilO7

— Grand News 24 (@grandnews24) March 31, 2018
How do season ticket holders react to netting?
A concern across teams is how individuals, often season ticket members, who occupy the seats that will now be behind netting will react. Often times those individuals purchased seats specifically to be away from the netting for uninterrupted viewing and to have the ability to try and catch a foul ball (Schuppe, 2017). Seats right along the fences are often the most expensive so it will be interesting to see how the markets, specifically secondary ticket markets, will react to them now being protected. While seats directly behind home plate are the most expensive it is expected and assumed that they will be behind netting. Seats in line with the bases have usually had a clear view of the field with plenty of opportunity to catch foul balls. Will seats further down the foul lines, even into the outfield, sell better than seats in line with the bases? When the Minnesota Twins extended their netting prior to the 2016 season they offered to move those now impacted by netting, they received minimal requests (Nocera, 2015). Looking through netting does impact a fan's view of the game. While those sitting directly behind home plate expect to look through a new in order to view the game, individuals sitting past the bases may not. It will be crucial for teams to communicate changes with all their fans so that they are prepared when they arrive at the ballpark during the 2018 season. Teams are also researching the best kind of netting to use. The Giants source their netting from a company in Japan who uses a grey material, instead of the usual black, making it fade from eyesight faster.
Despite receiving only a handful of requests, the Twins know that the new netting will impact the fan experience and potentially alter experiences that many have come to expect at baseball games – the ability to catch foul balls and interact with players. Another tradition, and an important part of baseball is that players will often throw balls to fans, often to kids, as they run onto or off of the field. Those moments, that interaction between fan and player, is part of what makes baseball unique, it is what differentiates it from other sports. Ballparks are smaller and more intimate than football stadiums, basketball players certainly do not pass out basketballs after they make a shot, and hockey players are separated from the fans by glass. The Commissioner of baseball, Rob Manfred, acknowledged in his statement before the 2016 season that while an important part of baseball was the ability to interact with the players it is also crucial that fans are kept safe during games (Hagen, 2015).
Adjusting to security risks in sports
While baseball teams are there to provide entertainment for fans it is assumed that they will take whatever necessary precautions to protect them. Fans now enter through magnetometer, like those used at airports, teams are adding barricades to the outside of stadiums to prevent cars from driving into crowds, and they should extend the netting in order to keep fans safe from foul balls and loose bats. Extending the netting will impact the fan experience at first but it will also make for a safer environment for everyone in attendance. The National Hockey League went through this same shift a few years ago when they increased the protection along the sides and back of the goals (Lapointe, 2002). While there was an initial adjustment for fans everyone adjusted. Major League Baseball teams do have to provide a good fan experience but they are also responsible for keeping everyone safe. They cannot hide behind the assumption of risk clause when there is a solution to the issue at hand. People will adjust, people will still be able to catch foul balls albeit from different places, and players will find ways to still interact with their fans. And most importantly kids and adults alike will be safer all throughout the ballpark.
Sources:
Brown, M. (2018, January 20). As 2018 MLB Season Approaches, It's Possible All MLB
Ballparks Will See Expanded Safety Netting. Retrieved January 29, 2018, from https://www.forbes.com/sites/maurybrown/2018/01/20/as-2018-mlb-season-approaches-its-possible-all-mlb-ballparks-will-see-expanded-safety-netting/#56caa3d97cb3
Hagen, P. (2015, December 9). MLB issues recommendations on netting. Retrieved January 29, 2018, from https://www.mlb.com/news/mlb-issues-recommendations-on-netting/c-159233076
Hample, Z. (2013, April 28). 4/24/13 at AT&T Park. Retrieved January 29, 2018, from
Lapointe, J. (2002, June 20). N.H.L. Arenas to Add Netting To Protect the Fans From Pucks. Retrieved January 29, 2018, from http://www.nytimes.com/2002/06/21/sports/hockey-nhl-arenas-to-add-netting-to-protect-the-fans-from-pucks.html
Nocera, J. (2016, April 15). A Fine Line Separates Ball and Fan (and Injury). Retrieved January 29, 2018, from https://www.nytimes.com/2016/04/16/sports/baseball/in-new-netting-minnesota-twins-see-a-line-between-intimacy-and-safety.html?action=click&contentCollection=Baseball&module=RelatedCoverage®ion=Marginalia&pgtyp
Posey's bat flies into netting. (2016, April 9). Retrieved January 29, 2018, from https://www.mlb.com/video/poseys-bat-flies-into-netting/c-580612583e=article
Schad, T. (2018, February 01). All 30 MLB teams will extend protective netting this season. Retrieved February 1, 2018, from https://www.usatoday.com/story/sports/mlb/injuries/2018/02/01/mlb-teams-extend-protective netting-season/1086019001/
Schuppe, J. (2017, September 22). More Baseball Teams Say They'll Expand Fan Safety Nets After Girl's Ballpark Injury. Retrieved January 29, 2018, from https://www.nbcnews.com/news/sports/more-baseball-teams-say-they-ll-expand-fan-safety-nets-n803726
Witz, B. (2017, October 01). Father of Girl Hit by Ball Recounts Ordeal, and the Yankees Promise Fixes. Retrieved January 29, 2018, from https://www.nytimes.com/2017/10/01/sports/baseball/yankee-stadium-netting-foul-ball.html
---
About the author:
Hannah Shank is currently a graduate student at University of San Francisco's Sport Management Program. After graduating from Kenyon College,  Hannah worked for the San Rafael Pacifics and oversaw the Fan Experience and Day of Game Staff. Currently she works for the San Francisco Giants in the Client Retention and Services department with premium season ticket members.