It is not undisclosed that sports act as a force of attraction on the global population. Brands of professional sports leagues, teams and athletes are constantly shaped and re-shaped (often to a higher degree than ordinary brands) for what reason decision makers in the business of sports should scan the environments around their brand(s) to make sure that the brand(s) has the sufficient amount of vitality to SPEAK in the marketplace with a leading voice. Thus, the products, services, experiences and transformations offered by sports brands must connect with the customers. Below, there is evidence of how different (primarily US-based) sports brands leverage their brands across various media platforms although this post focuses mostly on TV as a medium. Keep in mind that the strongest sports brands are capable of turning a higher amount of viewers into 'targeted reach' and hence making media platforms more effective in producing ROIs.

A new report by Nielsen exhibits elements of how Americans are affected by the magnetism of sports. According to the report, Americans consumed 33 billion hours of sports on TV in 2013. Additionally, the number of Americans opening sports content and spending time with that content via laptops or mobile phones grew 2013 compared to 2012.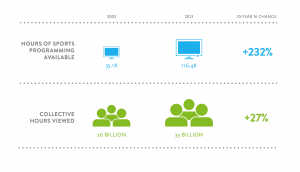 Photo: Sports content on TV in 2013 in the US (Source: Nielsen)
Based on the report, viewers of the NBA Finals sent 27 mio. Tweets when Miami Heat won the series. In the UK, 71% of the TV sets in UK homes showed Andy Murray's success in the Wimbledon Final while more than 21.6 mio. German viewers (61% of German homes) tuned to the UEFA Champions League Final when Bayern Munich faced league rivals Borussia Dortmund.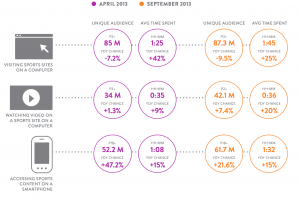 Photo: Sports content on other platforms in 2013 in the US (Source: Nielsen)
Of all sports in the US, NFL is still the leader in terms of driving TV-ratings. In 2013, NBC, FOX, CBS, ESPN, and NFL Network, which all show NFL games evidenced an enhancement in the amount of viewers compared to 2012. Mediated sport is about heroes and villains and Peyton Manning's top performances, which broke an individual NFL record, resulted in many Americans cheering for Manning and the Denver Broncos along the road to Super Bowl where Broncos ended up losing to Seattle Seahawks. Fans identify with heroes and Broncos featured in four of the six highest-rated NBC Sunday Night Football shows. The success of the Broncos and the Seahawks also meant that Denver and Seattle saw a significant increase in households, which tuned into regular season games.
Regarding basketball and the NBA, the high share of viewers under 34 years of age (45% of the total amount of viewers) may play an essential role in the fact that NBA games account for 5 of the most 10 tweeted sports events. That speaks for itself and may present some promising numbers for the NBA brand and related team and athlete brands because new online media and strong generations of positive engagement among young fans may create important future commercialization and revenue streams.
Speaking of heroes, the Boston Red Sox's fantastic path to the World Series Championship demonstrated a forceful storytelling. Though, it is remarkable that the TV market for major league baseball is characterized by regular season viewers getting older (55+ audience covers 50% of viewers) and more affluent (21% having household income of $100K).
NHL came out positively after the lockout and strike that reduced the number of regular season games. In 2013, average viewership improved by approximately 20% and like baseball the viewers tend to be more affluent with more than 50% of NHL's viewers having household income above $75K).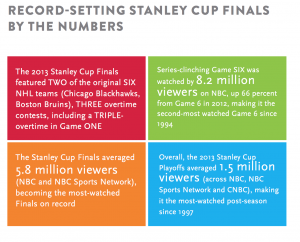 Photo: Good numbers for the NHL Stanley Cup Finals (Source: Nielsen)
The fifth major league in the US, Major League Soccer (MLS), also reported fine viewership numbers. The MLS has a good grip on young viewers (40% are under 34 years of age) as well as on the Hispanic market (34% of the overall audience). Overall, the league had viewership numbers, which went up by 9% during the playoffs compared to 2012. Especially, cities like Seattle, Kansas (that had Danish goalkeeper Jimmy Nielsen), Salt Lake, Houston and Portland reflect the leagues top local fan bases. The top 3 concerning MLS top advertisers are Continental Tires, Volkswagen Passat and Adidas Micoach. All these corporate sponsors have ties to European football (soccer) and have understood to connect with football (soccer) fans.
Source: 
Nielsen. (2013). Year In Sports Media Report 2013. See the report here.