Tell me, and I will forget.

Show me, and I may remember.

Involve me, and I will understand. (Confucius, BC 450)
Video: stimulating football fans before 'El Classico', i.e. FC Barcelona vs. Real Madrid.
Fan relationship management is a 'mind game' in the sense that the strongest sports entities are those capable of positioning themselves intensely in the minds of sports fans. Creating and staging 'state-of-the- art' or positively differentiated fan experiences, sports entities can bridge the gap to connect with sports fans. Such sports experiences are linked to 'involvement', which marks the energy and liveliness of the above-mentioned citation and that operates as a smart door via which sports entities can transform 'fan engagement' into ROIs (return on investments) and ROOs (return on objectives).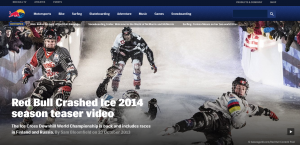 Photo: from Red Bull's official web site.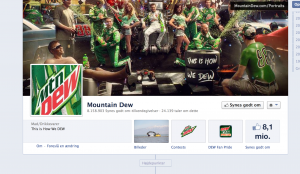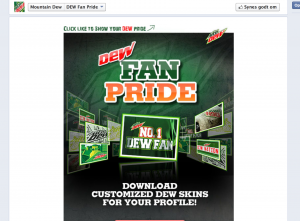 Photos: the two Mountain Dew photos are taken from the company's official Facebook account – check also Mountain Dew's official web site.
Football (soccer) and its massive media exposure is an example of a sport with a great capacity to connect with fans given the fact that 'media appeal' is a huge strength for sports aiming to connect with fans. Other sports (e.g. niche sports) may find it difficult to position themselves strongly due to a lack of media attention but this post will also emphasize that there may be other paths to 'fan engagement' under such circumstances. The 'hybrid sports branding interrelationship' (Cortsen, 2013), e.g. the relationship between 'corporations-products-sports-athletes-fans', in the cases of Red Bull or Mountain Dew (owned by Pepsi) present this scenario. These two 'energy drink' brands have 'shown the way' to succeed when working with extreme or niche sports and hence to work with sports and athletes, which measured on 'traditional media' attractiveness were not the strongest brand assets. Though, sports entities have the power to change the ordinary picture of reality; that is true if we analyze the popularity, commercialization and brand status of some of these extreme sports and involved athletes (e.g. skateboarding or snowboarding) over a long period of time. This is also true if we analyze the involvement of strong corporate brands as a vehicle to drive the popularity, commercialization and brand status of these sports and athletes, cf. 'hybrid sports branding'.
The impact of corporate involvement and popular culture (i.e. Hollywood) has given some of these sports a slight 'mainstream aspect' although there is still some distance to cover to get to a point of 'full drawn picture', i.e. a fully integrated mainstream understanding of the key elements of these sports. Movies such as Point Break, Chasing Mavericks, and Lords of Dogtown have taken some of these sports into our living rooms, which imitate the influence of popular culture. Somehow, that expresses TV's ability to encapsulate the excitement of these sports, which is difficult to portray in ordinary TV-coverage of results and standings from competitive environments in these sports. In general, Mountain Dew has monetized on action sports and its sponsorships activities concerning X Games and elite athletes in sports such as BMX biking, skateboarding, inline skating, snowboarding and freestyle motocross to position itself in the minds of young people with active lifestyles (Amis & Cornwell, 2005). Red Bull has also capitalized on the corporation's involvement in sports although Red Bull has extended its reach from action sports (e.g. motocross, snowboarding, mountain biking, BMX biking, surfing etc.) into more mainstream sports such as football (soccer). Red Bull sponsors a wide variety of sports properties and the corporation's entrance to mainstream sports is evidenced in its sponsorship of the football team New York Red Bulls from the MLS and the sponsorship extension (facility sponsorship) to encompass the arena in which the team plays (Masteralexis, 2011). Moreover, these corporate brands have fruitfully strategized their application of new ('real time') media to enhance the connection to younger generations and to achieve strong 'viral width and depth'. With this in mind, sports entities must strategize their communication loads given the fact that communication plays an extremely central role in connecting with sports fans. Research has shown that it is possible to link sports sponsorship activities to product sales. It has also been stated that sponsorship measurement should consider sponsorship-linked marketing activities and that these measurement tools should be closely aligned with the intend to enhance product sales (DeGaris & West, 2012). Red Bull and Mountain Dew have performed well in 'playing that game'. This is also backed by the following citation from Bennett et al. (2009), which states that "understanding the use of the brand among young males involved with action sports seems important given the history of Mountain Dew's commitment to action sports sponsorship." The research also suggests that brand managers and sports entities should consider the effectiveness of different communication platforms in relation to targeting. Targeting is an interest of all parties so for any sports entity it is vital to focus on communicating well with fans and to create powerful touch points. Mountain Dew's application of Tony Hawk as a product endorser is an example of excellent communication targeted towards 'teens' and 'tweens' (Sponsorship Works, Issue#2). Mountain Dew's 'This is How I DEW' campaign featured in the video above is another example. And talk about extreme: take a look at Red Bull's Felix Baumgartner record-breaking freefall, which resulted in more than 35 mio. views on the corporation's official YouTube channel, see video above.
In particular, 'viral width and depth' is a meaningful concept in online communication but the concept is also relative in the sense of other areas of personal face2face communication. Personal recommendations and hence 'tribal elements' of fan relationships may be a powerful tool for sports entities aiming for enhanced fan relationship management. Rhetorical expressions a.k.a. 'join me for the next game' or 'fan-ticket giveaways' where one fan buys/gives a ticket to a friend/relative may be examples of marketing stunts, which are synchronized with this mindset. Sports entities are in a beneficial situation when they plan to take advantage of this during a winning streak but 'fan stimulation' may also occur through such 'framed rhetorics' in less fortunate sporting situations. Though, it is very important that sports entities are transparent in terms of giving access to their brand assets, i.e. players and coaches, at times where winning is a problem. Application of the Internet, e.g. Facebook, Twitter, chat forums, and blogs facilitate fine supplements to face2face encounters and act as tools to strengthen the impact of personal recommendations (e.g. from brand ambassadors). FC Barcelona's membership demand is exposed in the way that newborn babies receive 'membership potential' as a christening gift.
Additional sources:
Amis, J. M., & Cornwell, T. B. (Eds.). (2005). Global sport sponsorship. Berg.
Bennett, G., Ferreira, M., Lee, J., & Polite, F. (2009). The role of involvement in sports and sport spectatorship in sponsor's brand use: The case of Mountain Dew and Action Sports sponsorship. Sport Marketing Quarterly, 18(1), 14-24.
DeGaris, L., & West, C. (2012). The effects of sponsorship activation on the sales of a major soft drink brand. Journal of Brand Strategy, 1(4), 403-412.
Masteralexis, L., Barr, C., & Hums, M. (Eds.). (2011). Principles and practice of sport management. Jones & Bartlett Publishers.