Denver Broncos from the NFL experienced its 'first loss' of this year's NFL-season when the team played Indianapolis Colts this weekend (7th game of the season). Broncos won the first 6 games of the season and quarterback Peyton Manning has played a leading role in this great accomplishment with new 'passing records'. The ironic echo of his season was that Denver Broncos' (and Peyton Manning's) first loss of the season came in Indianapolis; Manning played against 'the Colts', which he guided to the Super Bowl title in February 2007, for the first time while representing Denver Broncos.
There is no doubt about Manning's 'long-proven' sporting impact. Numerous NFL MVP awards and a Super Bowl ring signify Manning's collection in the NFL. In addition, the quarterback's power also breaches into the commercial facets of sport. Financially, Peyton Manning has built a solid position, which reflects a positive story seen from an individual, team or league perspective. Manning's brand status and 'brand equity level' translates into economic impact at all levels.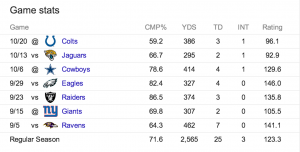 Photos: Peyton Manning's career statistics, including this season (source: Google).
In professional sports (and in the US in particular), fans love 'a good story'. Peyton Manning is a good story. He is 'flying' this season. On top of a successful recovery from a neck injury, which questioned his future on the field, Manning has performed well. That way, he has displayed the power of sport concerning its ability to depict the 'fairytale character' of sports stars. At the age of 37, Manning is directed for a 'happy ending' where he may take Denver Broncos to a new Super Bowl title and from an individual-oriented angle he aims for excellence and a 'fairytale storyboard' replicated in his ability to set new records in touchdown passes, yardage and precision.
He is one of the 'actors', which is SO vital for the strength of the total NFL product. His presence leads to revenues at all levels of NFL's business model. His story and success can be directly linked to 'eyeballs', which spill into enhanced TV-ratings, ticket prices, merchandise sales etc. Furthermore, Peyton Manning is a perfect example of an athlete reproducing the significance of a 'sound balance' between what happens on and off the field. His statistics on the field speak their own language. So do the statistics regarding his off-the-field behavior. Looking at the interest for the Denver Broncos (even for the team's away games), Manning's impact is clear. Fans want to see Manning in action and that signal penetrates into the analysis of 'live audiences' as well as TV-ratings. In reference to Nielsen, Broncos has experienced better television audiences since Peyton Manning replaced Tim Tebow (see more).
In 2012, Manning's jersey was the 3rd best selling ever in the NFL. Manning is also NFL's top sponsorship target. He earns $12 mio. annually in addition to his salary from the Broncos and thus acts as a product endorser for brands like Buick, Wheaties, Reebok, DirecTV, Papa John's, and Gatorade (Forbes, 2013a). In terms of sustainability, it is always interesting to look at the lifecycle of a sports brand. In that regard, Manning will also do fine as he has built a brand strength, which can give him long-lasting revenue streams. As a businessman, Manning has also been smart enough to sign a franchise-deal with Papa John's, which gives him ownership of 21 stores in the Denver area. He is also highly involved in charity and CSR-initiatives via his 'PeyBack Foundation' – another important element of his long-term business appeal.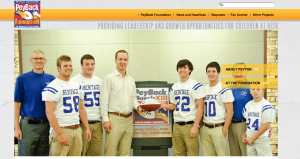 Photo: One of Peyton Manning's CSR-initiatives (source: his official web site).
Additional sources:
ESPN.
CBS.
Forbes, 2013b.