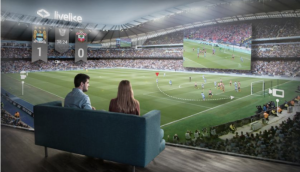 Photo: Illustrating the digital evolution and sports consumption (Fortune Magazine, 2015).
An increasing number of sports businesses focus on enhancing their digital presence as a path to make their brands more accessible to commercial stakeholders and hence to grow revenues. If done correctly, this development catalysts positive brand identification and customer ownership.
So, investments in digital platforms hold great ROI-potential. This is especially evident when the digital strategies are interconnected with areas like CRM to stimulate specific revenue sources, e.g. sponsorship, merchandise and ticket sales. Adapting and leveraging digital solutions to customers is a vital operational tool to develop the interactions that sports businesses already have with their commercial stakeholders so that these interactions accommodate these stakeholders' needs.
Today, sports business innovations sometimes end up dying because the digital solutions are too complicated or sometimes they involve solutions without considering the important balance between analog and digital. Therefore, it is significant that sports businesses carefully analyze their marketing channels. As illustrated in the model below, digital technology influences marketing channels and therefore the business models in the sports economy. In the production, promotion, selling and consumption of a sports brand, this illustration can aid an understanding of how sports marketers can improve its brand interactions and thereby increase its stakeholder engagement and revenue potential most efficiently.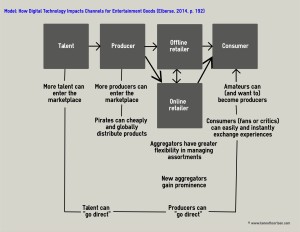 Source:
Fortune Magazine, 2015.