The case of the Golden State Warriors
The Golden State Warriors (GSW) has made a huge bet on esports. In 2018, the Golden Guardians (owned by the GSW) participated in the League of Legends Championship Series (LCS). This blog post takes a deeper look at this investment and its associated business reasoning while providing access to a podcast (find it below) about the development of esports and its business potential.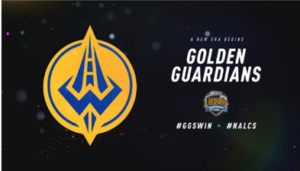 Important growth factors
Most people don't consider esports a viable investment option, but that's mostly because it is difficult to understand the full impact of a game without playing it or in another sense following or studying esports to comprehend the various mechanisms influencing the context of the sport and its business ecosystem. However, the ownership group behind the GSW submitted a proposal to League of Legends game developer and esports tournament organizer, Riot Games, to fill one of their open slots for a team franchise under the GSW organization. With a franchise fee of $13,000,000 (Khan, 2017), the GSW had to make a strong case regarding the stability of their organization and the possible return on investment (ROI). This is clearly backed by various parameters like a) the growth rates in the esports industry, b) the professional formation of League of Legends franchises, c) the increased player focus in an esports industry heavily boosted by the driving force of the role of players in the current 'influencer culture', d) and the technological opportunities to provide great media experiences and engagement with valuable target demographics.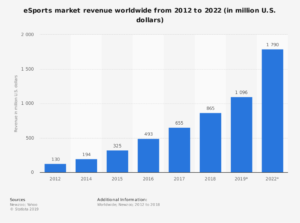 Strategic investments and sustainable business development
One crucial element when making viable investment decisions in a sport organization is the potential financial upside tied to the positioning of the organization in relation to the different stages of its lifespan. This is important when investing in a team because the 'timing of entrance' makes a difference, e.g. investing in an organization in the early stages filled with growth potential compared to investing in a team, which has already maximized its potential. In terms of the latter, there is a high risk of arriving too late for the party. Therefore, it is also interesting to compare the investment of the GSW in esports to the entry fees for investing in major sports franchises, which has increased considerably over the years, e.g. the New York Yankees, the Los Angeles Lakers, the Dallas Cowboys, or other teams listed on the Forbes list of most valuable sports teams in 2018 (the GSW is no. 10 on that list with a valuation of $3.1 billion). The latter is a significantly higher amount and thus a riskier investment.
On the contrary, investing in a team, which is barely tapping into its market potential, or where the investment is associated with developing a whole new industry, e.g. Team Solomid, Cloud 9, 100 Thieves, or any new esports organization, then the potential ROI will most likely be higher. Of course, there is a role of cultivating[1] the esports market as part of the growth process. Esports now has an audience size of 167 million monthly. This number is projected to hit 276 million by 2022 (Goldman Sachs, 2018). So, the market for esports does not reflect a maximized market cap.

Sports and branding settings are changing
At the same time, League of Legends has made a name for itself by becoming one of the most watched and played global esports with the 2018 LCS increasing average concurrent viewership by 41% percent over the last year and hitting a peak of over 200 million viewers (Li, 2018). This type of growth is substantial considering that viewership for all the major sports has experienced a different growth process recently, in which the leagues are very aware of viewership challenges concerning younger generations and are appreciating any annual increase. In the book Good luck have fun: The rise of eSportsi, Roland Li (2017) clearly grasps the fact that many of us did not see this exponential growth coming by stating that "no one got into eSports originally to get rich, but now you can." Monetizing your skill in gaming can be done in so many ways from tournaments to training players, but with the most popular and lucrative option being streaming[2].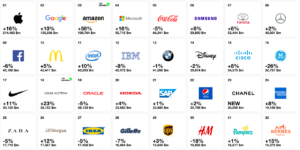 Infographic: Interbrand's Best Global Brand 2018.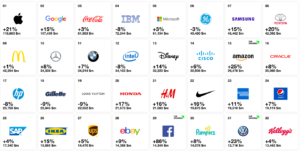 Infographic: Interbrand's Best Global Brands 2014.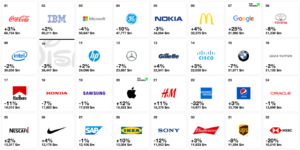 Infographic: Interbrand's Best Global Brands 2009.
One primary consideration, which probably comes to mind when analyzing the three attached infographics depicting the development among the world's top of mind brands over the past ten years, is that Amazon was not even a part of Interbrand's top 100 brands in 2009. Maybe that is not surprising as the company was not founded until the mid 1990s. However, one could consider the growth potential of esports in relation to the exponential growth and the brand development of Amazon, which features Amazon climbing from a position of not even being amount the top 100 brands globally in 2009 to a position as no. 15 in 2014 and as no. 3 in 2018. In this context, it is noteworthy that esports live streaming platform Twitch was acquired by Amazon in 2014 for reportedly $970 million. Just like global players in the IT sector, e.g. Apple, Google, Amazon, and Microsoft, Twitch is subject to the large growth rates mirroring the esports universe. Twitch saw a 58% increase in total minutes viewed from 2017 to 2018 with over 560,000,000,000 minutes viewed this past year (Goldman Sachs, 2018).
This development taps into or is intertwined with younger generation growing up with technology being a large part of their lives. However, it is an interesting twist to reflect on how a corporate giant like Amazon has developed and how its brand equity reveals massive consumer appeal in the market place?
Amazon, Microsoft and other corporate brands are cognitive about marketability and power in our global society of mass consumerism and corporatism.
Consequently, these brands have an interest in growing esports, e.g., Amazon's acquisition of Twitch, in this interplay where brands and consumers define a controlling discourse while brands are thriving because of consumption and thus the growth of esports in its role as stimulating consumption. One could also consider that value of data in this interplay, which definitely holds commercial worth. If one goes to a Microsoft store, e.g., the one on 5th Avenue in New York City, there is a visible and commercial display of esports.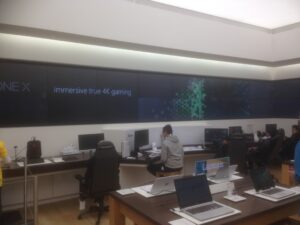 Photo: Microsoft store in the US.
It is interesting to see how many consumers and organizations in sports are driven by the commercial potential and therefore uncritically join the bandwagon without critically assessing if esports (in relation to some sports joining forces with esports) may cannibalize other sports platforms in the long run? However, thoughts derived from consumer behavior and behavioral economics may explain why esports is so brand driven in a dynamic setting where the role of the corporate giants join forces with the pervasive 'influencer-culture', e.g., Ninja, in both consumption and esports settings (see video example below).
A virtuous esports ecosystem
The Twitch growth rate illustrated above has been accomplished for two main reasons. First, the average concurrent viewership continues to rise every year. Second, the number of people streaming has continued to rise every year providing Twitch users a wide range of viewership options and thus keeping the platform fresh and competitive. 2018 showed a massive jump in monthly broadcasters and the increase in Twitch partners/streamers is simply unwavering.
Twitch has provided numerous streamers with the opportunity to connect with the gaming community and become content creators in the process. Establishing events like TwitchCon where content creators can network, but also where fans can meet their favorite streamers in person to create an even deeper connection are factors leading to even more viewership in this virtuous esports ecosystem.
A reinforcing element in that ecosystem is that many streamers seem humble and appreciative about people tuning in to watch them on a daily basis and this is one of the key points of differentiation between traditional sports and esports.
There is a close connection between fans and the streamers because streams allow fans to see the gamers' reactions, to communicate in the chat and have questions answered, and in that sense get a feeling of the personalities of the streamers. As with any sports league, the esports industry is driven by the players and streamers, who attract large crowds to watch them play or simply practice. Kirk Lacob acknowledges this unique ecosystem when noting that "it's a totally globally-connected ecosystem" in an interview with SportTechie (Booton, 2017). Riot Games certainly exemplifies how beneficial it is to possess the ability to connect with the players and thereby the fan base to continuously improve the League of Legends Series.
The importance of competition formats and structure
Riot Games made some important changes to the value provided to franchises in their North American League, which made it even more intriguing for the GSW to take a stake in the growing market. One change was executed in the competition format in moving away from a promotion-relegation format. This change decreases the risk of the investment if a team of players has a bad season and therefore would lose vital sponsorship or future media deals. In response to changing the nature of the competition format, Riot stated that "removing the uncertainty around relegation will enable teams to be able to better plan for their future, and to make long term bets and investments in the league" (Khan, 2017). The new direction proves super important for building a culture of success over time, which is something the GSW organization is known for rather than conducting business with a short-term mindset. With the removal of the promotion-relegation format, Riot Games decided it was best to also remove the Challenger Series, a competitive pool of teams below the Pro level, and establish an Academy League. Riot Games made it clear that the 10 teams that were franchised prior to the 2018 season would field an Academy League team, which Riot Games hopes will meet a variety of needs of pro teams, e.g., managing deeper rosters to encourage faster development of younger players (Khan, 2017). Talent development is a top priority for every organization in the world. In acknowledging that, Riot Games follows similar footsteps of the NBA and its NBA G League, in which all NBA teams are required to operate a minor league team to also get players, coaches, other sporting staff members, and the administrative side ready for the major league while performing as the NBA's research and development laboratory.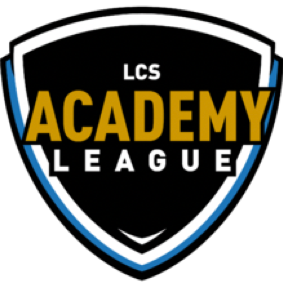 Riot Games understands the importance of taking care of their players by using a part of the franchise fee to establish a Player Association where players can get legal and financial advice while setting a $75,000 minimum player salary for the season (Ashton, 2017). This comes on the back of a new league-based revenue sharing agreement that influences all parties involved in the league to be at their best and succeed as a cohesive league. The revenue sharing will provide the players the largest split at 35 percent of league revenue going back into the hands of the pros, another 32.5 percent will be shared with the teams; (half equally, and the other half based on competition performance), and Riot Games will retain the final 32.5 percent (Ashton, 2017). This reformation of the league is groundbreaking in terms of prioritizing the players over the host organization and this company wide mentality Riot Games has for providing the best experience is a fundamental driver for building their young audience.
Connecting with young audiences = investing future cashflows
The GSW has seen the massive opportunity that lies within establishing a team in an industry where the audience is comprised of 79% of viewers being under 35 (Goldman Sachs, 2018) while rightfully expecting that there is even more value to be gained through the understanding of how to connect with a young audience through technology and digital platforms. When asked about the proposal to invest in the franchise Kirk Lacob pointed out that "what's interesting about esports being endemic to streaming is they've figured out a lot more of how people like to view media" (Booton, 2017).
Streaming has opened the door for widespread distribution and access to a global audience, in which brands with the touch of a button can reach a digitally cultivated community,  where players and fans are already accustomed to engaging online.
The knowledge that the GSW can gain from improving the experience provided to their established audience is valuable while underscoring the opportunity to gain new young fans. Kirk Lacob supplements that "when you look at esports as a whole, it's incredibly young, yet massively huge. We need to capture some of that same magic on the basketball level going forward, but we also thought we could learn from it as world shifts the way it consumes" as he considered the changing landscape and how technology is changing the way we engage with content in general as we cut away from cable options. Roland Li captured this phenomenon when stating that "technology's penetration into virtually every aspect of our lives has made gaming ubiquitous" (Li, 2017). The organizations embracing the challenge of understanding this youthful audience will come out on top of this expansive esports industry and will benefit the most from capitalizing from esports as a promotional scene or commercial vehicle. The GSW made the choice to commit to this audience and it will be exciting to follow their journey as they adapt along the way and aim to drive the industry forward.
References:
Ashton, Graham. "Riot Details NA LCS Franchising Model for 2018." The Esports Observer , 16 July 2017, esportsobserver.com/na-lcs-franchising-plans/.
Booton, Jen. "The Golden State Warriors Invested Millions In League of Legends." SportTechie, 28 Nov. 2017, www.sporttechie.com/golden-state-warriors-betting-millions-league- legends-team/.
"ESports Joins the Big Leagues." Goldman Sachs , May 2018, www.goldmansachs.com/insights/ pages/infographics/e-sports/?cid=scl-np-twitter-evergreen-post-20171&sf200426269=1.
Khan, Imad. "Riot Releases Details on NA LCS Franchising with $10M Flat-Fee Buy-In." ESPN , ESPN Internet Ventures, 1 June 2017, www.espn.com/esports/story/_/id/19511 222/ riot-releases-details-na-lcs-franchising-10m-flat-fee-buy-in.
Li, Roland. (2017). Good luck have fun: The rise of eSports. Simon and Schuster.
Li, Xing. "Peak Viewership for Worlds 2018 Nearly Doubles from Last Year." Dot Esports, Dot Esports, 6 Dec. 2018, dotesports.com/league-of-legends/news/peak-viewership-for- worlds-2018-nearly-doubles-from-last-year.
[1] http://kennethcortsen.com/cultivating-market-places-business-sports-part-2/ – this is also a relevant piece of cultivating sports markets.
[2] The value of media income is also extremely valuable in other sports, e.g. the NFL, the NBA or international soccer, given the astronomic value of media deals and digital platforms influencing the business model. However, esports is perfectly orchestrated for the digital media landscape.
For additional inspiration on the business of esports, listen to the following podcast:
---
This post is co-created by Kenneth Cortsen & Christopher Bernal.
Christopher Bernal is an avid gamer and esports fan. He is also the President of the USF Sport Marketing Club, which among other things has a
sponsorship agreement with the Esports Arena Oakland and works to plan and execute esports events. Moreover Christopher serves as a Founding Partner of MARCOM Group, which believes that the "world has the necessary resources to tackle our most pressing problems, but need the active participation of more people– as innovators, entrepreneurs, educators, and investors– if we are to harness the power of disruptive innovation for a more sustainable future. To do this we created this investment fund to bring together the misused philanthropic dollars and connected them to the creative leaders who are tackling pressing global issues from the ground up."