When following the world of professional sports and especially football, you will recognize Emirates. In an investigation of sports sponsorships, the brand from Dubai comes to mind as a key player in the management of various sponsorship assets in different sports.
In terms of football sponsorships, Emirates has taken a dominant role. The brand has been associated with football clubs such as Arsenal, Paris Saint-Germain, Olympiakos, AC Milan, and Hamburger SV. Recently, Emirates signed a new 5-year shirt sponsorship deal with Spanish powerhouse Real Madrid, which will pay Real Madrid approximately $39 mio. per year (Forbes, 2013; Sport Marketing Frontiers, 2013). This adds to the existing deal, which Emirates signed with Real Madrid in 2011 concerning other rights than the shirt sponsorship deal. That deal allocates $7mio. annually to Real Madrid until the summer of 2016 (Sport Marketing Frontiers, 2013). Moreover, Emirates signed an 8-year partnership deal with football's global governing body FIFA (signed in 2007), worth approximately $24 mio. annually for FIFA. Emirates also has a sponsorship deal with the Asian Football Confederation. In the US market, Emirates has engaged in a 3-year shirt sponsorship with re-branded and newly founded New York Cosmos ($1.5 mio per year). On the 1st of August, 2010 world football (soccer) legend Pelé declared the return of The New York Cosmos at halftime of the final of the second Copa NYC in Flushing Meadows, Queens during a game/event where Poland defeated Jamaica on penalties after a 3-3. From a branding perspective, Emirates not only buys into a nation and metropolitan market, in which football becomes more popular; Emirates can also draw on the brand equity associated with the legacy of the time when New York Cosmos for a short period of time swept a 'distant football nation', i.e. the US, away with the introduction of world class footballers ala Pelé and Franz Beckenbauer. See more about New York Cosmos' legacy here.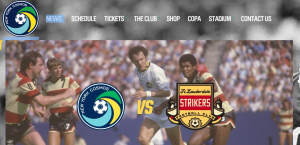 Photo: Franz Beckenbauer in action for New York Cosmos (New York Cosmos).
Furthermore, Emirates has smaller sponsorship deals within the world of football and football shines through as a very important marketing vehicle for the Dubai-based brand. Below are some video examples of how Emirates utilizes its football involvement in brand activation and how the brand in general is to be perceived as a company leveraging the essence of experiential marketing:
Though, Emirates is also involved in other sports as a sponsor, e.g. Rugby World Cup, Formula 1 (McLaren F1 team), Melbourne Cup (horse racing), various tennis events (US Open as a big investment over 7 years with a value of almost $13 mio. per year), cricket, golf, American football etc.
Photo: Melbourne Cup website, an event sponsored by Emirates.
Flightdeck, the social media tracker from Havas Sports and Entertainment, looks into the amount of online citations across different online platforms (news outlets, social media, websites, and blogs). The measurement relates to citations per day over the last six months and in such it reveals the power of online 'thrill' between the brand (Emirates) and its sponsorship markets. Mirroring all the sports tracked, football produced the most citations in relation to the Emirates brand. Football comprises almost half (49.8 %) of all online exchanges focused around Emirates and sport. No. 2 is golf (16.2 %) and no. 3 is cricket (14.8 %). Tennis, rugby, and sailing represent the rest of the brand's online conversation. Although, Emirates sponsors both the football and rugby World Cups, the FIFA sponsorship deal produced twice as much online exchange during the tournament than its equivalent in rugby. See the measurement below: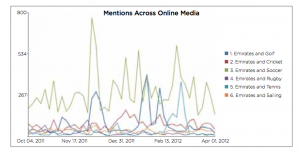 Photo: Emirates – 'Mentions Across Online Media', October 2011 – April 2012 (Havas Sports and Entertainment).
More information about Emirates sponsorships: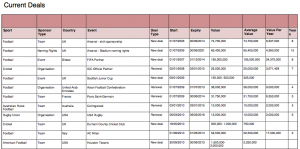 Photo: Some current sponsorship deals from Emirates (Sport Marketing Frontiers).
Emirates talks highly about its engagement in football on the brand's website:
"Football is a truly global sport and consequently has always been an important strand to Emirates' sponsorship portfolio.  Through the acquisition of sponsorship rights with governing bodies and leading clubs teams, Emirates has arguably become one of the most prominent brands within football. 
Emirates' sponsorship of FIFA sits centrally to its football strategy and facilitates connection with football fans across the world, through events such as the FIFA World Cup, the FIFA Women's World Cup and the FIFA Club World Cup.  A partnership with the Asian Football Confederation allows Emirates to be visible within the important markets in Asia." (Emirates, 2013)
As you can see above, football sponsorship at this level is a result of highly strategic decision-making and through football sponsorships and activation of these assets Emirates has found a fine way to connect emotionally with fans worldwide. The brand is present in major cities in Europe and football sponsorship is a good way to emphasize and exploit that presence given football's role in Europe. Sport (and especially football in Europe) is a very powerful vehicle to drive recognition in front of a massive amount of eyeballs while building emotional equity tied to purchase decisions. Emirates is trying to convince audiences that the brand is a lifestyle brand and in that regard recognition and brand awareness is only the start. For instance, the first-class seats of Emirates have been showcased as part of U.S. Open where fans got the chance to sit in the fancy leather seats to experience the level of comfort and relaxation. That is a great way to activate a sponsorship and to build a bridge between brand awareness and customer experiences. So a sponsorship is not enough. It also takes heavy investments in these types of brand activation.
Sources:
Havas Sports and Entertainment.
Sport Marketing Frontiers.
Forbes (additional information).
New York Cosmos.